Category: RFID, Automated Data Collection, and Internet of Things
Supply Chain News: Weeks after Walmart Expands Vendor RFID Mandate, Nordstrom Announces Its Program


Majority of Categories will Require Item-level Tagging

| | |
| --- | --- |
| March 2, 2022 | SCDigest Editorial Staff |
| | |
A few weeks ago, SCDigest reported that Walmart was expanding its item-level RFID mandate, adding a broad swath of "home products" and consumer electronics to its existing requirements for tagging many apparel SKUs. The memo to Walmart vendors also suggested more product categories will have similar tagging mandates in the future.

Supply Chain Digest Says...

Retailer mandate compliance is still the primary driver for most retail suppliers to implement item-level RFID tagging.

---
What do you say?
Click here to send us your comments

Click here to see reader feedback
The driver of that Walmart move? The need for highly accurate store-level inventories to support ecommerce processes such as buy on-line and pick-up in-store and store fulfillment – all the more so because rival Target is well down the RFID path. (See Walmart Expands Item-Level RFID Mandate for Home Goods.)
And sure enough, last week department store chain Nordstom announced its own item-level RFID vendor tagging mandate.
According to the RFID Journal website, some suppliers for all Nordstrom channels except drop shippers will need to add RFID tagged goods
In a letter to its vendors reviewed by RFID Journal, "Nordstrom said its long-term goal is to implement passive UHF RFID-encoded tickets across all product types and categories, and that it currently requires tags only on the product types and categories that have been tested and confirmed as reliable in the retail environment."
That includes the vast majority of products sold by Nordstrom, including apparel, accessories, home and gift products, baby gear, shoes and some cosmetics.
Categories not yet require RFID are mostly cosmetics, jewelry and some household products.
Nordstrom is leaving it vendors as to whether they will print RFID-based apparel tickets and labels, or use a so-called service bureau that delivers pre-printed tag/labels.
However, Nordstrom called the third-party approach "quicker and easier to implement than other RFID ticketing solutions as it usually requires little adjustment to your factory or warehouse processes."
Is there any ROI for vendors from RFID tagging? After all, a lack of clear benefits from tagging was a huge factor in the ultimate demise of the original Walmart case-level tagging mandate first announced in 2003.

(See More Below)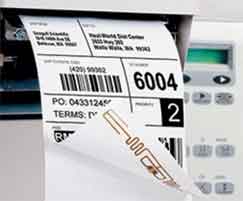 While some vendors may use the RFID tags they have to apply to shipments to Nordstrom to automate outbound shipment verification and advance shipping notification (ASN) generation, "Retailer mandate compliance is still the primary driver for most retail suppliers to implement item-level RFID tagging," Steven Davidson, SVP at RFID firm FineLine Technologies, told RFID Journal.
It is not clear the date by which Nordstrom vendors are supposed to begin the tagging.
Any reaction to Nordstrom' s tagging program? Let us know your thoughts at the Feedback button below.
Features

Resources

Follow Us

Supply Chain Digest news is available via RSS

Newsletter

Subscribe to our insightful weekly newsletter. Get immediate access to premium contents. Its's easy and free
Enter your email below to subscribe:
Join the thousands of supply chain, logistics, technology and marketing professionals who rely on Supply Chain Digest for the best in insight, news, tools, opinion, education and solution.