Category: RFID, Automated Data Collection, and Internet of Things
Walmart Expands Item-Level RFID Mandate for Home Goods

Move is Driven by Need for Inventory Accuracy for On-Line Orders

| | |
| --- | --- |
| Jan. 25 2021 | SCDigest Editorial Staff |
| | |
Walmart is expanding its item-level RFID mandate to home goods, the retailer recently announced in a recent letter to its vendors.

Supply Chain Digest Says...

Macy's and key Walmart rival Target have both made major invenstments in tagging requirements for a high percentage of products they carry.

---
What do you say?
Click here to send us your comments

Click here to see reader feedback
According to a report last week week in AdWeek magazine, which saw a copy of the Walmart letter, Walmart said it has been implementing item-level RFID tags on apparel over the past year and now is expanding that to home goods.
That includes including kitchen and dining products, home decor, bath and shower, bedding, furniture, and storage and organization products.
The memo also suggests more categories will have similar tagging mandates in the future.
As Walmart expands this item-level tagging program, it naturally leads to memories of its famous case tagging mandate accounced in 2003 for a 2005 rollout across its larger vendors.
By 2005, the program was already wobbly, and ultimately was simply shut down a few years later.
A few years after that, Walmart said that it would launch an item-level program, but that never went anywhere - until it appears now.
What's the difference? In a word, ecommerce.
Store-level retail inventory accuracy is notoriously poor. That's costly enough due to lost sales for in-store customers, but the impact has always been tough to quantify, and consumers seem to just accept they couldn't find what they need today.
But inventory inaccuracies are brought into sharp relief in an ecommercee world when a retailer is using stores for order fulfillment, either shipping goods from a store or supporting store or curbside pickoup.
Promising an order will be fulfillled and then later having to withdraw that commitment results not only in a lost sale, but also likely a very unhappy customer who may never come back.
So use of RFID, with its capabilities to quickly and accurately perform inventory counts, is increasingly seem as a must-have for leading retailers.
(See More Below)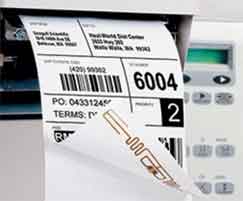 That includes Macy's and key Walmart rival Target , which have both made major invenstments in tagging requirements for a high percentage of products they carry.
RFID could also help identify when inventory needs to be moved from the backroom to Walmart store shelves.
"Over the last year, we have successfully implemented RFID technology in our apparel departments and have seen dramatic results," the Walmart letter said, adding "We have improved on hand accuracy, which has grown online order fulfillment. These dramatic improvements have had major impacts on sell through and customer satisfaction."
All Walmart home goods products will need to be RFID tagged by Sept 2, the letter said. Walmart also said it will hold a training webinar next month in partnership with the Auburn University RFID Lab and GS1 US.

Any reaction to Walmart's tagging program? Let us know your thoughts at the Feedback button below.
Features

Resources

Follow Us

Supply Chain Digest news is available via RSS

Newsletter

Subscribe to our insightful weekly newsletter. Get immediate access to premium contents. Its's easy and free
Enter your email below to subscribe:
Join the thousands of supply chain, logistics, technology and marketing professionals who rely on Supply Chain Digest for the best in insight, news, tools, opinion, education and solution.