Category: RFID, Automated Data Collection, and Internet of Things
RFID, AIDC, and IoT News Round Up for March 28, 2023

Zebra Ups its Visibility Game with New Sensor Solution; Research Firm IDTechEx Sees Strong Growth for RFID in Retail; How a Pack of Wrigley's Juicy Fruit Gum became the First Retail Item Bar Code Scanned


| | |
| --- | --- |
| March 28, 2023 | SCDigest Editorial Staff |
| | |
Here are a few of the top stories on RFID, bar code data collection, and supply chain IoT over the past couple of weeks.
Zebra Ups its Visibility Game with New Sensor Solution
Food, healthcare/pharma and other sectors are increasingly interested in more granular visibility to the environmental conditions their products are exposed to.
Supply Chain Digest Says...

It turns out the fact that Wrigley's Juicy Fruit chewing gum was the item to herald a new age in grocery-store checkout wasn't happenstance.

---
What do you say?
Click here to send us your comments

Click here to see reader feedback
Though hardly the first to do so, Zebra Technology has released a new line of sensors that up the company's game in this area substantially.
The new Zebra lineup includes the ZS300 sensor, ZB200 Bridge and Android Sensor Discovery app, which together, the company says, expands its opportunity to "transform environmental exposures into customer insights."
Using ZS300 sensors, companies in the food, pharmaceutical and healthcare industries can achieve cloud-based visibility into a range of environmental factors, including temperature monitoring and moisture detection, according to Zebra, and for how long.
Zebra says the sensors also help improve profitability by allowing users to take corrective action in real time if say a product is reaching its max"time out refrigeration" (TOR) and improving their productivity with a more efficient data capture and logging capability.
Research Firm IDTechEx Sees Strong Growth for RFID in Retail
IDTechEx, a research firm. has issued a new report that is bullish on the growth of RFID in retail.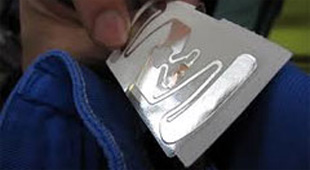 The company forecasts that nearly 24 billion RFID chips will be used globally in retail apparel tagging by the end of this year.
IDTechEx notes that although 24 billion may appear to be a big figure, it represents only 30% of the total addressable market for retail apparel alone.

It adds that in addition to the success of RFID in the retail apparel industry, IDTechEx anticipates strong growth in RFID tagging other retail product categories such as electronics, soft furnishings, home appliances, and so on.
(See More Below)


According to primary information gathered by IDTechEx through various interviews, Walmart's mandate – which includes requiring tagging products in a number of product categories besides apparel - is a major driving factor for the growth in these areas.
How a Pack of Wrigley's Juicy Fruit Gum became the First Retail Item Bar Code Scanned
SCDigest has written many time that a pack of Wrigley's Juicy Fruit Gum became the first item bar code scanned in a real retail setting, on June 26, 1974, at a Marsh Supermarket in Troy, Ohio.

But we did not know how it happened to be a pack of Wrigley gum was the first to be scanned.
As recently reported by Smithsonian magazine, during the inaugural demonstration, Clyde Dawson, a Marsh Supermarket executive, reached into his shopping basket, pulled out the pack of gum, and handed it over to store cashier Sharon Buchanan for the first even scan.
But why the gum versus other items in the cart?
It turns out the fact that Wrigley's Juicy Fruit chewing gum was the item to herald a new age in grocery-store checkout wasn't happenstance. Dawson's choice of item, he later explained, was his way of showing his appreciation to the Wrigley brand for helping develop and print the scannable bar codes, obviously requiring changing the external packaging.
It was a good decision for Wrigley, which has had its name in the story of the first bar code scan many times, while other products in that cart are lost to history.
Any reaction to this week's RFID and bar code news? Let us know your thoughts at the Feedback button below.
Features

Resources

Follow Us

Supply Chain Digest news is available via RSS

Newsletter

Subscribe to our insightful weekly newsletter. Get immediate access to premium contents. Its's easy and free
Enter your email below to subscribe:
Join the thousands of supply chain, logistics, technology and marketing professionals who rely on Supply Chain Digest for the best in insight, news, tools, opinion, education and solution.