Category: RFID, Automated Data Collection, and Internet of Things
Supply Chain News: Amazon Gunning to Get Rid of Bar Codes, to Remove Barrier to Fulfillment Automation




Imaging System Replaces Picking Robots Trying to Find Bar Codes

| | |
| --- | --- |
| Dec. 21, 2022 | SCDigest Editorial Staff |
| | |
Use of bar codes to identify items in distribution centers has beencommon for almost 50 years, and indeed scanning bar codes with mobile terminals to confirm activities such as putting away or picking inventory is part of what defines a modern Warehouse Management Systems (WMS).

Supply Chain Digest Says...

Amazon says the technology may even find its way into its Whole Foods grocery store chain, replacing scanning of UPC codes at point of sale with imaging.

---
What do you say?
Click here to send us your comments

Click here to see reader feedback
Amazon uses lots of bar code scanning in its fulfillment centers too – but is on a mission to eliminate them in some applications in favor of imaging technology that can visually identify a SKU.
Why? Because it turns out some robots in DCs have trouble dealing with bar codes.

A recent article on the CNET.com web site on this topic noted that on many SKUs the bar codes can be hard to find or access, especially on oddly shaped products – and automation such as robotic picking arms cannot twist and turn items to present the bar code to a scanner array.
In fact, a a few weeks ago, Amazon says that it has a plan to kill the bar code.
And what might that plan be?
CNET reports that Amazon is busy using pictures of items in Amazon FCs to train a software application so that a new camera system can monitor items flowing one-by-one down conveyor belts to make ensure they match images captured in the FCs.
In the end, and of course using AI, Amazon plans for its robots and other materials handling systems to auomatically identify each item from its image, not its bar code.
"Solving this problem, so robots can pick up items and process them without needing to find and scan a barcode, is fundamental," Nontas Antonakos, an applied science manager in Amazon's computer vision group in Berlin, said to CNET.
Amazon calls the approach "multi-modal identification."

(See More Below)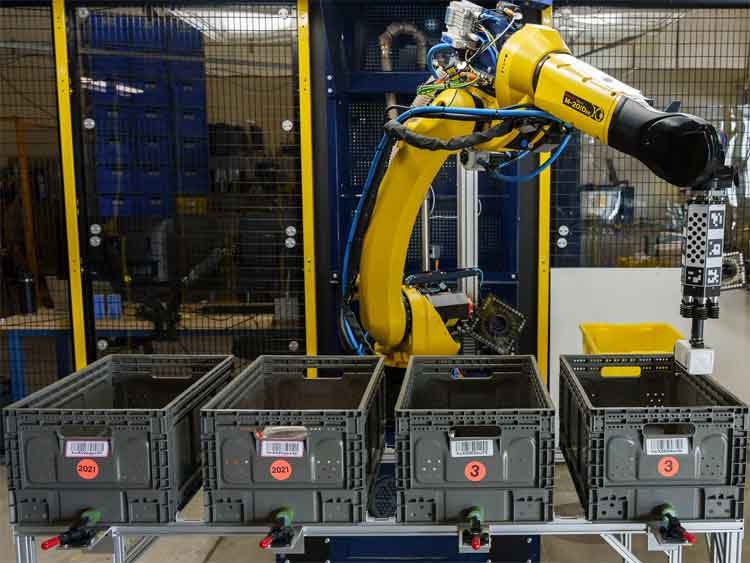 The goal is not to universally replace bar code scanning at its FCs, but in certain applications the new technology is already proving itself.
CNET reports that Amazon's new system is already in use in FCs in Barcelona, Spain, and Hamburg, Germany, and Amazon said that it's already speeding up the time it takes to process items.
Amazon says the technology may even find its way into its Whole Foods grocery store chain, replacing scanning of UPC codes at point of sale with imaging.
To be clear, it's not as if imaging was invented by Amazon. The technology for a variety of applications has been demonstrated at various trade shows for years.
But Amazon appears to be taking it to new levels, with the piece picking using robotic arms off conveyor belts its "killer app."
To create the system, Amazon started by building up a library of images of products, something the company hadn't had a reason to create prior to this project, CNET reports. Cameras continually capture new images of items to train the model with.
Amazon says the algorithm's accuracy rate was between 75% and 80% when first deployed. It sometimes had trouble distinguishing colors. But with improvement, accuracy is now at 99%, Amazon says.

Any reaction to Amazon's strategy? Let us know your thoughts at the Feedback button below.
Features

Resources

Follow Us

Supply Chain Digest news is available via RSS

Newsletter

Subscribe to our insightful weekly newsletter. Get immediate access to premium contents. Its's easy and free
Enter your email below to subscribe:
Join the thousands of supply chain, logistics, technology and marketing professionals who rely on Supply Chain Digest for the best in insight, news, tools, opinion, education and solution.