Category: Transportation and Logistics
Supply Chain News: Tesla Semi Finally Hits the Road


PepsiCo takes First Delivery of Truck Said to Go 500 Miles on a Charge

At a launch event on Friday, the Tesla Semi was launched as a commercially available product, with news that PepsiCo receiving the first vehicle.
Surpply Chain Digest Says...

The top version of the truck, with the 500-mile range, will set a company back $180,000 to $200,000. Experts expect to also see a $150,000 model with a lighter battery

---
What do you say?
Click here to send us your comments

Click here to see reader feedback
It's been a long haul for the electric truck. The company's CEO Elon Musk first announced the cargo truck plans in 2017, with stated expectation for a commercial launch in 2019.
That of course didn't happen, with lack of key components being blamed earlier this year for part the schedule miss.
But now it's here, with its sleek design, ready for prime time. Musk said on Friday that the truck had been subject to some "hardcore" testing in a range of conditions.
Tesla has longed maintained that the Semi uses the same drive train technology as its Model S Plaid electric car, which the company claims gives it three times the power of any diesel truck on the road.
That's quite a claim indeed.
At the announcement, Musk also said that on a November 25 test drive, a fully-loaded Tesla Semi weighing 81,000 pounds traveled 500 miles on a single charge.
Tesla also says the truck will go up hills with speed. As part of the presentation, Tesla played a video of a Tesla Semi blowing by a traditional truck on an uphill grade.
"This wasn't some ultra-clean, precise test track simulation, or something where we shut down a road," said Dan Priestley, head of engineering for Tesla, adding "Nope, this is real-world. This is with traffic, this is true 500 miles."
The truck has a centered seat for the driver, who will use touch screen displays on either side relevant information, rather than the usual wall of gauges and controls inside a normal truck. The cab is large enough that Tesla says it will allow a driver to change clothes standing up – a small but probably welcomed feature for many truckers.
New Tesla Semi with Pepsi/Frito-Lay Graphics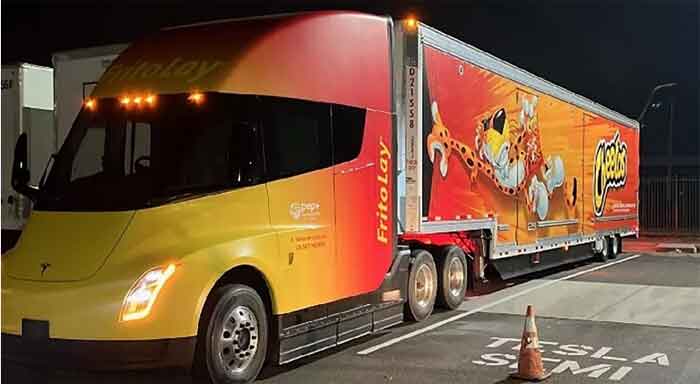 (See More Below)


Tesla also claimed a breakthrough in charging technology which uses liquid-cooled cables to more deliver more rapid charging cycles. A 70% charge is said to take 30 minutes, not far behind today's best e-cars for charging, though specialized truck "charging depots" will be required.
All very cool – but it won't come cheap. The top version of the truck, with the 500-mile range, will set a company back $180,000 to $200,000. Experts expect to also see a $150,000 model with a lighter battery that might be capable of going only 300 miles on a charge.
But the federal government helps with a new $40,000 federal tax credit that is available for large electric trucks, with relatively few strings attached.
According to CNET, by comparison Volvo's electric VNR delivers 275 miles, Freightliner's eCascadia offers 230 miles, and the Nikola TRE boasts 330 miles of range.

CNET added the Tesla Semi event was "more than just a product launch, and something of a category legitimization" for electric big rigs.

Any thoughts on new Tesla Semi? Let us know your thoughts at the Feedback section below.

Features

Resources

Follow Us

Supply Chain Digest news is available via RSS

Newsletter

Subscribe to our insightful weekly newsletter. Get immediate access to premium contents. Its's easy and free
Enter your email below to subscribe:
Join the thousands of supply chain, logistics, technology and marketing professionals who rely on Supply Chain Digest for the best in insight, news, tools, opinion, education and solution.
h e