Category: Transportation and Logistics
Supply Chain News: Scandal in Autonomous Truck Sector, as Leader TuSimple Fires CEO Founder, amid Allegations He Shared Technology with Chinese Firm


CEO Says he will be Vindicated, as US Goverment also has Concerns over Chinese Ties



The self-driving or autonomous truck driving sector was rocked on Sunday, as one of the clear leaders, San Diego-based TuSimple, announced it had let go of its CEO and co-founder Xiaodi Hou, among allegations following a board member's investigation that he had shared confidential company information with a startup autonomous truck company Hydron, which has mostly Chinese operations and investors.
Supply Chain Digest Says...

TuSimple has its roots in China, though it has taken pains to rapidly move its mass into the US over the last few years.

---
What do you say?
Click here to send us your comments

Click here to see reader feedback
This after a number of years of TuSimple being criticized for being was too close to Chinese interests.

Hou was also board chairman and TuSimple's chief technology officer.

A company statement said that "Fundamentally, we lost trust and confidence in Dr. Hou's judgment, decision-making, and ability to lead the company as CEO."
In a filing with the Securities and Exchange Commission (SEC), the company also said that Hou's decision to share the confidential information with Hydron hadn't been disclosed to the board before TuSimple entered into a business relationship with Hydron.
Shares of TuSimple fell sharply following the news, closing down over 45% on Monday, and are now down more than 90% for the year.
The SEC filing also says TuSimple believes some of its employees spent paid hours in 2021 working for Hydron.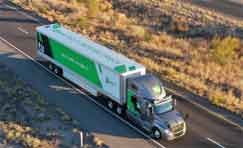 In a statement posted to LinkedIn on Monday, Hou said that he was removed "without cause" and that he is confident he will be "vindicated" in time, and that "I have nothing to hide."
Hou co-founded TuSimple in 2015 and became its CEO in March of this year.
Meanwhile Hydron was founded in 2021 by Mo Chen, also co-founder of TuSimple who had also served as its executive chairman. Chen is also TuSimple's largest shareholder, owning about 11.8% of its shares.

(See More Below)


TuSimple makes a self-driving system that can be applied to existing trucks. It has claimed several successful on the road tests of its technology.
TuSimple has its roots in China, though it has taken pains to rapidly move its mass into the US over the last few years. The company's two co-founders, Chen and Hou, both worked at Chinese companies before setting up TuSimple in 2015 with headquarters initially in both Beijing and San Diego.
The US government has expressed national security concerns due to the company's potential future possession of sensitive data on US trucking patterns.

Any thoughts on theTuSimple scandal ? Let us know your at the Feedback section below.

Features

Resources

Follow Us

Supply Chain Digest news is available via RSS

Newsletter

Subscribe to our insightful weekly newsletter. Get immediate access to premium contents. Its's easy and free
Enter your email below to subscribe:
Join the thousands of supply chain, logistics, technology and marketing professionals who rely on Supply Chain Digest for the best in insight, news, tools, opinion, education and solution.
h e