Category: RFID, Automated Data Collection, and Internet of Things
RFID, AIDC, and IoT News Round Up for Oct. 12, 2022




Differences between RFID and the Internet of Things (IoT); Still more Bar Code Theft at Retail; First Bar Code Patent Issued 70 Years Ago

| | |
| --- | --- |
| Oct. 12, 2022 | SCDigest Editorial Staff |
| | |
Here are a few of the top stories on RFID, barcode data collection, and supply chain IoT over the past couple of weeks.
Differences between RFID and the Internet of Things (IoT)
RFID is seemingly gaining some recent market momentum, nearly 20 years after the failed "RFID mandate" from Walmart announced in 2003.
The driver: the need for highly accurate in-store inventory levels to support ecommerce processes such as buy on-line, pick up in store (BOPIS) and store-based fulfillment, which RFID can well deliver versus the low levels of inventory accuracy historically seen in retail.

Supply Chain Digest Says...

Inventors Bernard Silver and Norman Joseph Woodland came up with the idea for the code. Woodland was inspired by the Morse code he'd learned as a Boy Scout.

---
What do you say?
Click here to send us your comments

Click here to see reader feedback
This RFID push from retailers, including Macy's, Walmart, Target and others, is in turn driving so-called source tagging by retail suppliers, coming as mandates from the chains, and which just may push those vendors to find ways to use the technology themselves.
There is also some level of interesting in use of Internet of Things (Iot) in supply chains as well, though we are very early in that journey, with to some extent IoT being a solution in search of a problem.
But there would seem to be some overlap between RFID and IoT technologies. With that in mind, a recent article by TechTarget tried to shed some light on the differences between the two, which it said are as follows:
• IoT can support any network, while RFID requires a specific radio technology.

• IoT can work over short-, medium- and long-range networks, while RFID only works over a few inches or feet.

• IoT can support any kind of data communications, while RFID is only suited for brief tags or authentication tokens.

• IoT is better for capturing real-time sensor data, while RFID is better suited for recording objects' proximity.

• IoT devices tend to be more complex and expensive, while RFID tags are generally optimized for low cost and simplicity.

• IoT can exchange data across wireless and wired networks, while RFID reads data in one direction from nearby tags.

TechTarget adds that less common types of RFID that can use much more expensive active tags can support longer read ranges and two-way communication in some use cases.
Still more Bar Code Theft at Retail
We periodically summarize local stories of thieves switching bar codes at retail stores to rip off the merchants, such as by purchasing expensive items for a fraction of the real cost.
They are usually pretty interesting – here is another one of many in the news:
A Walmart thief facing 10 years in jail for stealing $80 worth of goods at self-check has successfully appealed, as judges branded the charge "unfair."

(See More Below)


Chasity Shirley, 34, faced the lengthy sentence after swapping the bar codes of two items when she was at a Kentucky store in 2018.
According to the-sun.com web site, Shirley was convicted on a charge of "unlawful access to a computer".
Typical shoplifting crimes for items less than $500 carry just a $250 fine and up to 90 days in jail in Kentucky.
But prosecutors and Walmart had argued that when Shirley swapped bar codes at the self-checkout, she was unlawfully accessing the store's computer system.
Unlawful access to a computer is a Class C felony punishable by five to 10 years in prison.
But the Court of Appeals argued Shirley and other Walmart customers have "effective consent" to use the self-checkout to pay for groceries.
A couple of weeks ago, the Kentucky Supreme Court ruled that Shirley should not face a felony or such a lengthy sentence.
The decisions is in agreement with the Kentucky Court of Appeals which unanimously agreed that the conviction was "inherently unfair", according to the Louisville Courier-Journal.
So Shirley is likely to now go free.

First Bar Code Patent Issued 70 Years Ago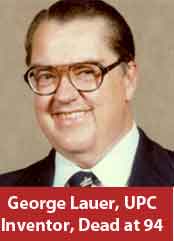 On October in 1952, a patent was granted for the optically scanned bar code. It's now universally recognized as a series of vertical lines, but was originally designed as curved lines in concentric circles.
Inventors Bernard Silver and Norman Joseph Woodland came up with the idea for the code. Woodland was inspired by the Morse code he'd learned as a Boy Scout.
"So he experimented with, you know, was it possible to use things like lines and dots and dashes to be able to come up with a two-dimensional code," said Jamie Martin, corporate archivist for IBM – where Woodland was employed when he was granted the patent.
The company then developed a system using a laser that could read the bar codes. But it was more than two decades before it was used in a store in 1974 – a period in which another IBMer George Lauer, redesigned the bar code into the linear format all now recognize as the Universal Product Code (UPC), winning a design contest held by a group of US grocers.
Lauer passed away in 2019.

Any reaction to this week's RFID and bar code news? Let us know your thoughts at the Feedback button below.
Features

Resources

Follow Us

Supply Chain Digest news is available via RSS

Newsletter

Subscribe to our insightful weekly newsletter. Get immediate access to premium contents. Its's easy and free
Enter your email below to subscribe:
Join the thousands of supply chain, logistics, technology and marketing professionals who rely on Supply Chain Digest for the best in insight, news, tools, opinion, education and solution.