Category: Transportation and Logistics
Supply Chain News: Cass Freight Index for August Defies Recession but Rates Still Likely to Fall


Cass and ACT Research Predict Rate Declines in 2023



Cass Information Systems is fresh out with its freight report for August, and results we surprisingly strong given other signs of an economic slowdown.
Surpply Chain Digest Says...

Summing the market situation up, Denoyer observes that "The shipment rebound is, so far, not enough to outweigh the 4%-5% growth rates in the driver and Class 8 tractor populations presently."

---
What do you say?
Click here to send us your comments

Click here to see reader feedback
The monthly report from Cass and partner Tim Denoyer of ACT Research is based on data from the billions of dollars of freight bills that Cass pays for its shipper clients.
The Cass Shipments Index, which includes multiple modes but is weighted towards full truckload freight, was up a modest 1.9% in the month versus August 2021. However, month-over-month it wa seven stronger, up 5.5% versus July a seasonally adjusted basis.
That put the index just 1.2% below the record in December 2021.
Cass note its numbers are higher than most other August freight indicators, but several of the soft August indicators are from the spot market.
"So, to some extent, the stronger Cass data reflect the ongoing shift from spot to contract," Cass notes.

However, Cass also says that the improvement may not be sustainable, especially as pressure increases on interest rate sensitive sectors like capital goods and housing. Cass also says the August strength also likely reflects a combination of:

• Successful discounting campaigns by retailers
• Seasonal inventory building ahead of the holidays
• Easing of many supply constraints, particularly in auto production
• Reversal of Chinese lockdown effects in June and July

The August expenditures component of the Cass Freight Index, which measures the total amount spent on freight, was up 20% versus 2021, down from a 29% year-over year gain in July. Expenditures also rose 2.1% month-over-month seasonally adjusted in August. with shipments up 5.5% but rates down 3.2%.
s
Cass notes that an important part of the year-over-year increase in the expenditures index was the increase in fuel price, and that part of the month-over-month decline in rates was also due to lower fuel prices. However, the report notes that "with looser truckload market conditions, further deceleration in [rates and expenditures] is very likely."
The report also observes that "with the tight supply/demand balance in US trucking markets easing considerably this year, industry rates are topping out and set to slow sharply in the months to come," in good news for shippers, adding that "While shippers aren't seeing any real savings yet, such relief is now highly probable for 2023."

(See More Below)


Another look at rates comes from the Cass Linehaul Index, which measures US per mile contract truckload rates before fuel surcharge and other accessorials.

In August, that index was up 7.4% year-over-year, down from a 10.5% increase in July, taking the index to a level of 159.7. The index baseline is January 2010, set at an index level of 100. That means truckload rates are up about 60% since then, or about an average of 4.3% per year.
But on a month-over-month basis, the linehaul index has declined for three straight months, around 1.8% each time.
Cass adds that "This index excludes fuel and accessorial charges, so when factoring in sequential declines in fuel surcharges, which should continue near term, the deceleration in freight costs is accelerating/"

Each month, Cass nicely summarizes the state of freight, as seen in the graphic below for August: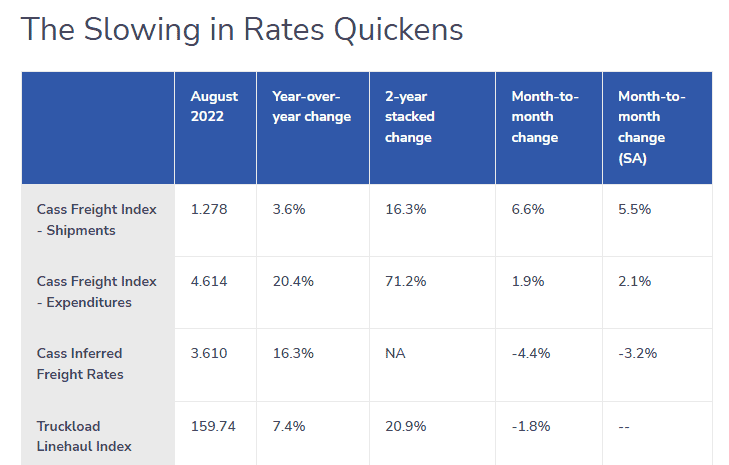 Source: Cass Information Systems

Summing the market situation up, Denoyer observes that "The shipment rebound is, so far, not enough to outweigh the 4%-5% growth rates in the driver and Class 8 tractor populations presently."


Any thoughts on the Cass report? Let us know your at the Feedback section below.

Features

Resources

Follow Us

Supply Chain Digest news is available via RSS

Newsletter

Subscribe to our insightful weekly newsletter. Get immediate access to premium contents. Its's easy and free
Enter your email below to subscribe:
Join the thousands of supply chain, logistics, technology and marketing professionals who rely on Supply Chain Digest for the best in insight, news, tools, opinion, education and solution.
h e