Category: RFID, Automated Data Collection, and Internet of Things
RFID, AIDC, and IoT News Round Up for Aug. 9, 2022




Zebra Pays Large Sum to Settle Scanner Patent Suit by Honeywell;

Impinj Stock on Recent Tear

;

QR Codes being Used to Scam Consumers

| | |
| --- | --- |
| Aug. 9, 2022 | SCDigest Editorial Staff |
| | |
Here are a few of the top stories on RFID, barcode data collection, and supply chain IoT over the past couple of weeks.
Zebra Pays Large Sum to Settle Scanner Patent Suit by Honeywell
Catching up on some news in late June, Zebra Technologies and Honeywell International settled a patent law suit over barcode scanners.
Under the settlement, Zebra will pay Honeywell $360 million for past damages as part of a license and settlement agreement to resolve all patent-related litigation between the two companies.
Supply Chain Digest Says...

If a shortened URL appears when hovering your camera over a QR code, there is no way of knowing where it will direct you once the link is followed.

---
What do you say?
Click here to send us your comments

Click here to see reader feedback
Outside of the payment, each company denied any liability and agreed to a mutual general release from all past claims and entered into a covenant not to sue for patent infringement, according to a securities filing.
That should leave users of the products of either company not to worry over potential legal issues with products they have or may in the future acquire.
The $360 million will be paid in equal quarterly installments over eight quarters, according to the filing.
Honeywell's initial lawsuit, filed in September 2021, sought to ban the import of several Zebra scanners that allegedly used patented Honeywell technology. Zebra then made similar claims.

Impinj Stock on Recent Tear
We occasionally like to take a look at the stock performance of Seattle-based Impinj, a pure play RFID technology company that focuses on RFID tags and readers. It had 2021 revenue of $190 million.
Since it went public in 2016, Impinj's share price has been on something of a roller coaster ride for investors, with the opportunity to make some real money if you bought during big dips.
That holds true even for just the past year, as seen in the chart below:
Note that share price reached over $90 in late 2021 – only to fall to $41 and change in May.
Impinj Stock Price Last 12 Months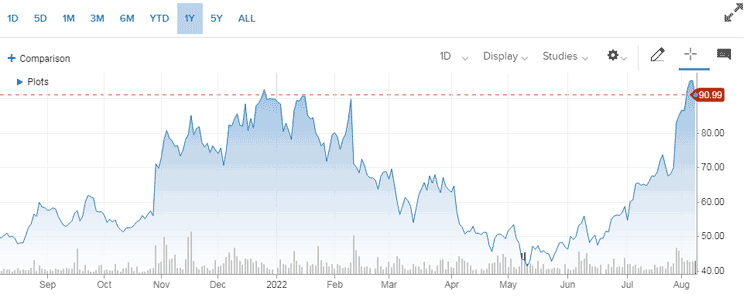 But since then: Up, up, up, with the stock reaching an all-time high of $96 last week.


(See More Below)


Where from here? Who knows, but Impinj's history might suggest it's wise for current shareholders to take some profits.
QR Codes being Used to Scam Consumers
Many companies are using QR codes to direct current or potential customers to their websites, mobile apps, digital marketplaces, or other information, often by scanning the code with their smart phones.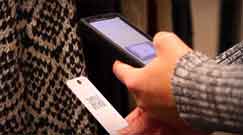 Now, some QR codes are being created to direct users to phishing websites, fraudulent payment portals, and downloads that infect devices with viruses or malware.
Examples include:
Parking meter payment: Fraudulent QR codes are often placed on the back of parking meters, leading victims to assume that they can pay for parking through the QR code if they do not have change. Con artists can easily create a QR code for free on-line, which they then print on stickers and either cover up an actual QR code or place where it makes logical sense. After paying for the spot through the fake QR code (and into the criminal's pocket), some victims return to find their vehicle has been towed or received a parking ticket for non-payment.
Phishing scams: The design of QR codes makes it impossible for the user to know where the code will direct them after scanning, allowing scammers to send victims to phishing websites or downloads that will infect devices with malware. After scanning a code found in an email, text or on a flyer, some victims are directed to a website that requests personal information that can lead to identity theft, compromised passwords for online accounts, or downloads that track the user's activity on the device.
Identity theft: Many phishing attempts begin with notification of 'suspicious activity' on an online account and include a link or QR code for the user to verify their identity. In reality, the information provided is going to a scammer, which they then use for other purposes.
There are several other common scams.
What are consumers to do? The Better Business Bureau recommends:
• Do as much checking as you can before scanning a code
• Don't open links from strangers
• Be wary of short links - If a shortened URL appears when hovering your camera over a QR code, there is no way of knowing where it will direct you once the link is followed.
• Check for tampering on public codes, such as the parking meter scan.

Any reaction to this week's RFID and bar code news? Let us know your thoughts at the Feedback button below.
Features

Resources

Follow Us

Supply Chain Digest news is available via RSS

Newsletter

Subscribe to our insightful weekly newsletter. Get immediate access to premium contents. Its's easy and free
Enter your email below to subscribe:
Join the thousands of supply chain, logistics, technology and marketing professionals who rely on Supply Chain Digest for the best in insight, news, tools, opinion, education and solution.