Category: RFID, Automated Data Collection, and Internet of Things
RFID, AIDC, and IoT News Round Up for June 29, 2022




Impinj Releases New Chip It Says will Speed RFID Tag Reads;

Leading VAR Peak Technologies on Acquisition Tear after it was Acquired itself by PE Firm; Israeli Grocer Using New Technology to Track Produce from Farm to Shelf

| | |
| --- | --- |
| June 29, 2022 | SCDigest Editorial Staff |
| | |
Here are a few of the top stories on RFID, bar code data collection, and supply chain IoT over the past couple of weeks.
Impinj Releases New Chip It Says will Speed RFID Tag Reads
This week, leading RFID chip and reader provider Impinj, based in Seattle, released the Impinj E910 RAIN RFID reader chip for enterprise-grade readers, which it says "can quickly and reliably discover and engage a high-volume of connected items such as retail apparel, pallets, airline baggage, and automobile parts."
Impinjj also says that the Impinj E910 provides the highest receive sensitivity of any reader chip available today, enabling reader manufacturers to meet the speed and distance requirements of applications such as fast-moving boxes on conveyors and high-bay warehouse rack systems.

Supply Chain Digest Says...

"Being able to see in real time that produce shipments were kept at the right temperature and knowing exactly how many days passed from when it was picked to when it arrived in stores has been eye-opening," said Zvika Fishheim.

---
What do you say?
Click here to send us your comments

Click here to see reader feedback
Impinj offers a portfolio of "E" chips, which it says together deliver:
• Up to 80% smaller RFID system designs ideal for small, next-generation readers and IoT devices

• 50% lower chip power consumption, supporting battery-powered, energy-efficient readers and IoT devices.

• Software- and pin-compatible designs for easy performance upgrades and design reuse between E family chips

The E910 is available now to select Impinj partners, the company says.
Leading VAR Peak Technologies on Acquisition Tear after it was Acquired itself by PE Firm
Peak Technologies, one of the US' largest value-added resellers in the bar code, RFID, wireless systems, etc. market, has made numerous acquisitions site it was acquired by Sole Source Capital in 2021.
According to a recent blog post on the web site of VDC, an analyst firm, "These acquisitions have grown Peak's geographic footprint, diversified its portfolio and expanded its end markets."
According to VDS, the deal include:
April 2021: Optical Phusion (OPI) Acquired

Headquartered in Littleton, Massachusetts, OPI was acquired simultaneously with Peak. They are a solution provider of automatic identification and data collection (AIDC) hardware and software solutions primarily centered on the grocery, pharmacy, and retail markets. OPI presents an important shift into the retail vertical for Peak through their click and collect lockers for grocery and pharmacy applications, self-service kiosks and enterprise mobility expertise. While Peak has built a strong presence in the retail space, it is mostly through back office solutions in the supply chain; thus, OPI provides Peak unique capabilities through their front office and in-store solutions.

May 2021: Inovity Acquired

Inovity is headquartered in Atlanta, GA., and primarily resells AIDC labels, media, and hardware for healthcare, manufacturing, and industrial markets. Inovity is an important geographical partner for Peak through their Southeastern market ties. While Peak historically has had success with large enterprise customers, Inovity provides an important bridge into their strong mid-market regional enterprise customers.
May 2021: Barcode Direct Acquired

Barcode Direct is headquartered in Littleton, MA, strengthening their ties in the Northeast markets. They are a reseller of AIDC solutions for manufacturing, retail, consumer, and healthcare markets. This acquisition provided Peak with new, unique capabilities not offered before, including call button solutions for retail, as well as two-way radios and a strong integrator of Motorola Solutions products.



(See More Below)


August 2021: DBK Concepts Acquired

DBK Concepts is headquartered in Miami, Florida, and offers end-to-end AIDC hardware and lifecycle repair services which it primarily sells to large enterprise customers in the grocery, consumer, retail, and supply chain end markets. DBK brings a new capability to Peak's portfolio through their large repair operation. This provides a larger infrastructure for Peak to handle repair and mobile managed service offerings.

January 2022: Avalon Integration Acquired

Avalon is headquartered in Lebanon, New Jersey. They are a systems integrator and provider of digital supply chain, retail, and mobile workforce solutions. Primary customers are enterprise-level organizations in the healthcare, pharmaceutical, grocery, and consumer channels. Their emphasis on solutions for manufacturing and pharmaceutical markets, as well as their SAP expertise, provides unique capabilities to Peak's portfolio.

April 2022: Graphic Label Acquired

Graphic Label is headquartered in Yakima, WA. They offer AIDC consumables, hardware, and software solutions. They primarily sell to consumers in the food and beverage industry. This presented Peak Technologies with its first West Coast acquisition, as well as a partner who provided specialty print solutions and an expertise in food and agriculture labeling and tracking.e
With these moves, VDC says they also enhance Peak's ability to be a large-scale lifecycle services depot repair partner, which extends Peak's traditional strength in onsite repair services.
Israeli Grocer Using New Technology to Track Produce from Farm to Shelf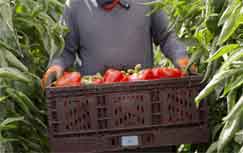 Israel's largest retailer, Shufersal, has become he first in the world to deploy a farm-to-store supply chain visibility system, using new technology, monitoring the location and temperature of produce to ensure freshness.
The technology, from a firm named Wiliot, is called Reusable Transport Item (RTI) system. It involves the company's IoT Pixels, an RFID-like chip the company says durably attaches to ordinary plastic crates and connects them to Wiliot's Cloud services platform.
The IoT Pixels built into the RTI solution's plastic crate are self-powered, postage stamp-sized computers that can sense a range of physical and environment conditions, such as temperature and location changes, as well as if the crate is full or empty.
The chips somehow use radio waves in the environment for powder.
Wiliot also says its RTI solution allows companies to monitor their containers – and the food, medicine, or other perishables inside – through proactive alerts of temperature thresholds.
With the Wiliot RTI solution, can also determine what percentage of the intelligent containers are being stocked and used; exactly how and where they're being used; and, whether they're not being used at all.
"Being able to see in real time that produce shipments were kept at the right temperature and knowing exactly how many days passed from when it was picked to when it arrived in stores has been eye-opening," said Zvika Fishheimer, Shufersal's Executive Vice President.
Based on the successful pilot, Shufersal is now rolling out the Wiliot RTI solution throughout the country, deploying more than 1 million RTIs and installing wireless communications infrastructure to support roughly 250 farmers and distributors and 300 Shufersal stores. The solution will even include wireless readers and mobile network gateways on farmers' tractors to ensure supply chain visibility out at the very edge.

Any reaction to this week's RFID and bar code news? Let us know your thoughts at the Feedback button below.
Features

Resources

Follow Us

Supply Chain Digest news is available via RSS

Newsletter

Subscribe to our insightful weekly newsletter. Get immediate access to premium contents. Its's easy and free
Enter your email below to subscribe:
Join the thousands of supply chain, logistics, technology and marketing professionals who rely on Supply Chain Digest for the best in insight, news, tools, opinion, education and solution.