Category: RFID, Automated Data Collection, and Internet of Things
RFID, AIDC, and IoT News Round Up for March April 13, 2022




Chipotle to Test RFID to Track Supplier Flow of Goods; Man Barcodes his Arm with Customer Loyalty Number; Six IoT Trends for 2022

| | |
| --- | --- |
| April 13, 2022 | SCDigest Editorial Staff |
| | |
Here are a few of the top stories on RFID, bar code data collection, and supply chain IoT over the past couple of weeks.
Chipotle to Test RFID to Track Supplier Flow of Goods
Fast casual restaurant giant Chipotle Mexican Grill is testing RFID at some of its stores and a DC to track food products from suppliers to improve traceability and overall inventory control.
In doing so, Chipotle becomes one of the few restaurant chains to use RFID, even in test mode.
"RFID labels transform inventory management into an automatic, digital function that optimizes restaurant operations and gives our Restaurant Support Centers access to inventory data in real-time," Scott Boatwright, chief restaurant officer at Chipotle, said in a press release.

Supply Chain Digest Says...

Just as with the RFID implants, we think we'll pass.

---
What do you say?
Click here to send us your comments

Click here to see reader feedback
The test will be held at Chipotle's Chicago distribution center and approximately 200 restaurants in the greater Chicago area. The initial test will on track meat, dairy, and avocados from five Chipotle suppliers.
Supplies are received at Chipotle restaurants with affixed RFID-enabled case labels. They are then read by handheld RFID readers as part of the receiving process. The RFID reads connect each case to a given supplier, farm and lot or batch number.
The system will enable Chipotle, which has had issues with contaminated foods at some of its restaurants in the past, to act on food safety and quality concerns swiftly, efficiently and precisely, the company says.

The system will also improve inventory management through better overall visibility, especially with regard to expiration dates.
The test system involved RFID software provider Mojix, RFID label provider Avery Dennison, and RFID reader and encoder provider Zebra Technologies.

Chipotle also says that it worked closely with the Auburn University RFID Lab to refine the pilot program.

Man Barcodes his Arm with Customer Loyalty Number
SCDigest has written a number of article over the years on people who have had RFID chips implanted in their bodies, usually in the hand(s) between the thumb and index finger.
These "bio hackers" then use the chips to do things ranging from opening garage doors, to turning on computers to using them to access the office copy machine with the wave of an arm.

But a bar code bio-hack is a new one.
There was news last week from the UK's The-Sun.com web site that a unnamed man in Australia had the bar code from his store reward card tattooed on his arm because he was always forgetting it.


(See More Below)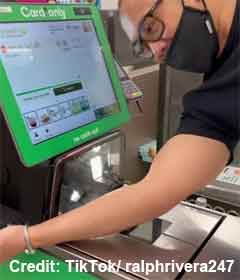 As captured in a tik-tok video, after scanning the products he was buying at a Woolworth's store down under, the man can be seen moving his arm to the checkout scanner, as seen in the photo nearby, which successfully read the bar code on his arm.
Just as with the RFID implants, we think we'll pass.
Six IoT Trends for 2022
Writing on the analyticsinsight.net web site, Madhurjya Chowdhury identified six IoT trends for 2022, most connected to the supply chain.
They are:
1. IoMT Continues to Expand
With the increased demand for hands-free health solutions, the COVID-19 pandemic has accelerated the adoption of the Internet of Medical Things (IoMT). In 2021, 64% of US households reported utilizing these services, with 43% intending to continue using them after the epidemic. These indicators lead to on-going IoMT growth in 2022.

2. Security Remains a Focus

As the Internet of Things develops in popularity, its security flaws become increasingly worrying. Breaching linked automobiles might result in around 3,000 deaths during peak hour traffic. As more IoT devices are produced and cybercrime increases, security will become a priority.
That of course has been said for many years.

3. 5G Drives IIoT Growth
One of the most potential applications for these technologies is industrial IoT (IIoT). Simultaneously, present networks' low capacity and excessive latency impede their deployment. The arrival of 5G in 2022 will change all of that.

Entire factories might be transformed into unified, interconnected entities, Chowdhury says.

4. IoT Delivers Supply Chain Resiliency

Businesses were affected by supply chain interruptions between 2020 and 2021. As a result, more businesses will integrate IoT connections into their logistical operations. Remote tracking will give the transparency required by businesses to detect and respond to disturbances before they occur, Chowdhury adds.
5. Edge Computing Grows
As IoT networks expand, they will pave the door for yet another unavoidable innovation: edge computing. Edge computing has the potential to make self-driving cars more practical while also addressing many of today's bandwidth, security, and cloud dependability issues. Despite these advantages, it is still a niche technology today, but that will change as the Internet of Things expands.

6. Wearables Reach New Heights

Wearables are among the most mainstream consumer IoT areas, and this trend is expected to continue beyond 2022. Wearables are currently dominated by smartwatches and wristbands, but they will become significantly diversified in the future. Smart rings, smart eyewear, linked fabric, and IoT ID tags are already on the market and will take off.


Any reaction to this week's RFID and bar code news? Let us know your thoughts at the Feedback button below.
Features

Resources

Follow Us

Supply Chain Digest news is available via RSS

Newsletter

Subscribe to our insightful weekly newsletter. Get immediate access to premium contents. Its's easy and free
Enter your email below to subscribe:
Join the thousands of supply chain, logistics, technology and marketing professionals who rely on Supply Chain Digest for the best in insight, news, tools, opinion, education and solution.