Category: RFID, Automated Data Collection, and Internet of Things
RFID, AIDC, and IoT News Round Up for Feb. 16, 2022


Macy's Using RFID to Combat Surging Shoplifting Levels; Zebra Debuts Four New RFID Portals; Avery Dennison Acquires TexTrace

| | |
| --- | --- |
| Feb 16, 2022 | SCDigest Editorial Staff |
| | |
Here are a few of the top stories on RFID, bar code data collection, and supply chain IoT over the past couple of weeks.
Macy's Using RFID to Combat Surging Shoplifting Levels
Retail shoplifting is reaching out of control levels in some metro areas.
As an example, Rite-Aid recently said an incredible $200,000 in merchandise was stolen in December and January from one of its drug stores in mid-town Manhattan, upon which the company last week closed the store. Meanwhile, one Bay Area crime ring stole an estimated $8 million in merchandise from CVS, Walgreens and Target stores in the area.

Supply Chain Digest Says...

Coll also said early on in the RFID deployment, Macy's found some of its own store employees were stealing merchandise, identified by readers at employee exits.

---
What do you say?
Click here to send us your comments

Click here to see reader feedback
"We have experienced a 300% increase in retail theft from our stores since the pandemic began." CVS spokesman Michael DeAngelis recently told the Axios web site.
Some retailers are now locking up aisles of seemingly ordinary items such as deodorant and toothpaste, and testing "smart" shopping carts with wheels that lock if someone sneaks it past the cash register.
Macy's, however, is hoping its investment in item-level RFID can provide an answer to shoplifting.
That according to Joe Coll, vice president of asset protection, operations and strategy at Macy's, during a recent webinar from RFID Journal.
Coll said RFID is helping in several ways. First, if someone leaves a Macy's store with stolen goods, the readers at store exits will capture what RFID tag numbers and thus what specific items walked out the door. Video cameras then capture the culprits, and Macy's can work with local police to seek out the shoplifters.
RFID also gives Macy's the ability to understand what types of items are more likely to be stolen at what times of year, Coll said on the webinar, giving Macy's a chance to beef up its defenses in those product areas.

Coll also said early on in the RFID deployment, Macy's found some of its own store employees were stealing merchandise, identified by readers at employee exits.
Zebra Debuts Four New RFID Portals
Zebra Technologies in early February unveiled a new portfolio of RFID portal readers for a variety of applications.
The Zebra Transition RFID Portal is used primarily at dock doors to automate and improve the efficiency of previously manual data capture and product flow operations where human intervention and/or manual barcode scanning is required.
The Zebra Wall-Mount RFID Portal is fully enclosed and easily mounts near doorways, storage rooms, and hallways in offices and warehouses to help track a variety of assets such as IT devices, pharmaceutical items, and retail inventory.

(See More Below)


Offering a unique form factor designed to automatically read assets traveling down a conveyer, the Zebra Fixed RFID Tunnel can monitor workflow, validate boxed products, and improve shipping accuracy.
Zebra's Integrated RFID Table uses a fixed reader mounted within a custom-built table supporting sorting, packing, and compliance workflows, for example lab and specimen tracking in healthcare.
Zebra says the four new portals are designed to be easily implemented.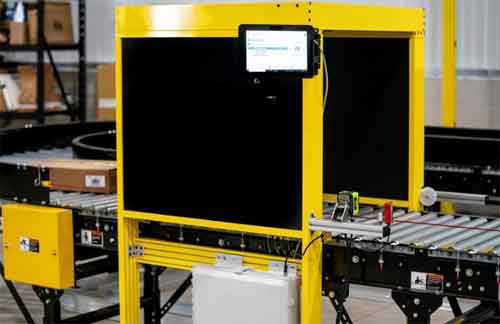 The Zebra Fixed RFID Tunnel

Avery Dennison Acquires TexTrace
Two weeks ago, Avery Dennison announced it has acquired much smaller company called TexTrace, which specializes in custom-made woven and knitted RFID products which can be sewn onto or inserted into garments.
Avery Dennison says the technology developed by TexTrace provides the opportunity to fully integrate RFID into garments, adding that items with built-in RFID can enable product branding, brand and theft protection, product availability, consumer interaction and enhanced convenience, such as self checkout.
TexTrace was based in Frick, Switzerland, and its employees will remain there. It has been in business for 10 years.

Any reaction to this week's RFID news? Let us know your thoughts at the Feedback button below.
Features

Resources

Follow Us

Supply Chain Digest news is available via RSS

Newsletter

Subscribe to our insightful weekly newsletter. Get immediate access to premium contents. Its's easy and free
Enter your email below to subscribe:
Join the thousands of supply chain, logistics, technology and marketing professionals who rely on Supply Chain Digest for the best in insight, news, tools, opinion, education and solution.