Category: RFID, Automated Data Collection, and Internet of Things
RFID, AIDC, and IoT News Round-Up for Nov. 3, 2021

MIT Robot Uses Vision and RFID to Find Lost Items; Wild Impij Stock Ride Continues, Headed Up; Malware in Bar Code Scanning App Still causing Problems

| | |
| --- | --- |
| Nov. 3, 2021 | SCDigest Editorial Staff |
| | |
SCDigest isn't quite sure how practical it is, but nevertheless it's interesting that a large group of researchers at MIT have developed a robotic system that uses a vision system combined with RFID-tag items to find lost things, such as a set of keys – and maybe somedays item to pick in a warehouse.
The system is called RFusion, is a robotic arm with a camera and radio frequency antenna attached to its gripper. It fuses signals from the antenna with visual input from the camera to locate and retrieve an item, even if the item is buried under a pile of something and completely out of view.
Supply Chain Digest Says...

So it's been a very good week for Impinj investors. We think we would take a bit of profits here.

---
What do you say?
Click here to send us your comments

Click here to see reader feedback
MIT says that the device uses machine learning, enabling the robotic arm to automatically zero in on the object's exact location.

If it encounters something on top of the item, such as clothes on a bed, it removes the items on top, grasps the object, and verifies that it picked up the right thing by reading the RFID tag.
MIT says the camera, antenna, robotic arm, and AI are fully integrated, so RFusion can work in any environment without requiring a special set up.

While SCDigest isn't so sure it wants one of these for the occasional difficulties finding keys or a wallet, MIT says RFusion could have many broader applications in the future, such sorting through piles to fulfill orders in a warehouse, identifying and installing components in an auto manufacturing plant, or helping an elderly individual perform daily tasks in the home - though the current prototype isn't quite fast enough yet for these appplications.

"Having robots that are able to search for things under a pile is a growing need in industry today. Right now, you can think of this as a Roomba on steroids, but in the near term, this could have a lot of applications in manufacturing and warehouse environments," said senior author Fadel Adib, associate professor in the Department of Electrical Engineering and Computer Science at MIT.
"Every year, billions of RFID tags are used to identify objects in today's complex supply chains, including clothing and lots of other consumer goods. The RFusion approach points the way to autonomous robots that can dig through a pile of mixed items and sort them out using the data stored in the RFID tags, much more efficiently than having to inspect each item individually, especially when the items look similar to a computer vision system," says Matthew S. Reynolds, CoMotion Presidential Innovation Fellow and associate professor of electrical and computer engineering at the University of Washington, who was not involved in the research.
You can find the full story from MIT here.

(See More Below)


Impinj's Wild Stock Market Ride Continues, this Time to the Upside
Since Impinj, a provider of RFID tags, readers and solutions, went public in 2016, investors have had a pretty wild ride up and down, depending on the latest quarterly result.

We've said before, if investors bought on all the big Impinj dips, they would have done awfully well over the past five years.
And that wild ride continued in the past week, but to the upside, rising to an all-time high of over $72 per share, as shown in the chart below.
Impinj's Wild Stock Market Ride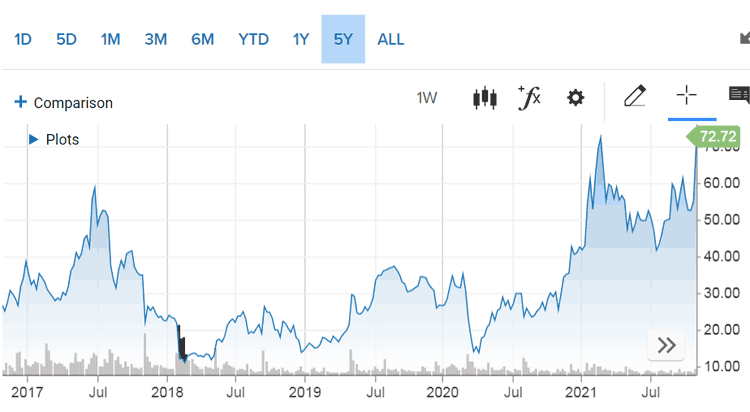 What sent Impinj's share price soaring?

First, the company's Q3 earnings beat expectations, losing just 4 cents per share versus estimates of 10 cents. The company has surpassed consensus EPS estimates four quarters in a row.
Its revenue jumped to $45.19 million in the quarter, up sharply from $28.2 million in Q3 2020, in a quarter impacted by the pandemic slowdown.

Then this week, Impinj announced a big bond deal expected to raise $225 million. Investors apparently liked the story that this will enable Impinj to retire other, more expensive debt.
So it's been a very good week for Impinj investors. We think we would take a bit of profits here.

Malware Downloaded with Popular App to Enable Android Phones to Scan Bar Codes still Causing Issues
Earlier this year, SCDigest reported on an odd story of how downloading a popular bar code scanning app downloaded from the Google Play Store put malware on the Android phones.
Those phones started displaying ads that would open the user's default browser even if they didn't interact with them. These ads could push fake app and browser updates, and offer free services or invite you to download an app - usually branded as antivirus or antimalware.
Depending on the malicious party's intent, falling for one of those ads could result in your data being stolen, encrypted and held for ransom, or deleted altogether.
Other symptoms include overheating, slow performance, and unaccounted-for battery use.
Google took quick action and removed the app from the Google Play store to prevent more unsuspecting victims from installing the malicious bar code scanner. But they didn't remove the app from the affected users' devices – with an estimated 10 million downloaders.
It appears likely many of those could still be operating on a large number of phones.

Any reaction to the stories in this RFID/AIDC/IoT round up? Let us know your thoughts at the Feedback button below.
Features

Resources

Follow Us

Supply Chain Digest news is available via RSS

Newsletter

Subscribe to our insightful weekly newsletter. Get immediate access to premium contents. Its's easy and free
Enter your email below to subscribe:
Join the thousands of supply chain, logistics, technology and marketing professionals who rely on Supply Chain Digest for the best in insight, news, tools, opinion, education and solution.