Category: RFID, Automated Data Collection, and Internet of Things
Supply Chain News: VDC on Using Tablets on Fork Trucks vs Tradition RF Terminals

Ruggedize Tablets Seem Cheaper to Start, but there are Other Factors

| | |
| --- | --- |
| Sept. 29, 2021 | SCDigest Editorial Staff |
| | |
For decades, fork truck-mounted wireless terminals, almost always with tethered bar codes scanners, have played a critical role in materials movement in both distribution and manufacturing, especially for tracking the movement of inventory on pallets.

Supply Chain Digest Says...

"Purpose-built computers on the market now are built with vibration resistance as a priority in durability requirements," VDC writes,

---
What do you say?
Click here to send us your comments

Click here to see reader feedback
However, these industrial strength terminals from equipment vendors such as Zebra, Honeywell and others have in recent years been facing a new challenge: use by companies instead of ruggedized tablet computers, generally at a perceived lower cost.
"Customers have caught wind to the trend and there is noticeable consideration for rugged tablets as mounted computer solutions when deciding on what vehicle mounted unit (VMU) to purchase,"
said the analysts at VDC Research, in a recent blog post, adding that "VMU manufacturers have expressed the demand from customers, saying that virtually all large deals have a rugged tablet option that is considered."
The main differentiators that are believed to benefit rugged tablets are the portability (being able to unmount the tablet from the forklift) and the perceived lower cost.
Ae those benefits real? And can the tablets really well replace the proven "purpose built" terminals?
VDC cautions that the ability to unmount tablets and use them outside of the forklift cabin may seem like a something useful, but many end-users report never using this capability, VDC says.
Also cited by VDC were complications that can result from having the tablet unmounted, which can lead to issues such as being lost, damaged, or stolen. Warehouse employees VDC interviewed also noted the importance of being able to get in the forklift and go, which can be slowed by allowing the VMU to be undocked.
However, makers of mounting equipment say many customers ask for tablet docks to be made "un-mountable." While this eliminates the issues cited above, it also negates the claimed portability advantage of the tablets
But the tablets are generally less expensive, especially for lower-end and mid-range semi-rugged tablet devices, VDC says. But, it warns that the total cost of ownership can quickly rise with rugged tablets for a number of reasons.
That includes that, according to VDC, overall durability still favors purpose-built computers. It says that the vibrations from forklifts, since they don't have suspension systems, can create quick deterioration of VMUs.

(See More Below)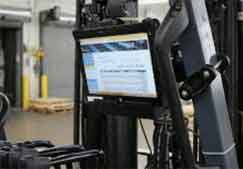 "Purpose-built computers on the market now are built with vibration resistance as a priority in durability requirements," VDC writes. "Rugged tablets may be built to withstand vibration to some extent, but they don't currently compete with purpose-built computers in this department."
Another total cost factor is battery life. Batteries are generally larger on traditional terminals compared to the tablets, meaning the tablet batteries must often be replaced more over a given time frame, adding to operational cost.
VDC also says the need for extra peripherals for rugged tablet-based VMU solutions can drive up the TCO. Examples include the need for antennas with tablets to provide the same Wi-Fi connectivity that purpose-built terminals achieve as delivered. However, VDC notes the advent of "5G" wireless technology may someday change this equation, replacing Wi-Fi connectivity.
In conclusion, VDC notes that "rugged tablets deployed as forklift computers continue to gain traction in this market."
However, for now for purpose-built manufacturers can leverage the advantages they have, as cited above, against the rise of the rugged tablet option.
SCDigest notes the market is not that big. In a separate report, it estimates the US fork truck terminal market as being about $172 million in 2020, rising to $203 million in 2025.

Any reaction to this fork truck terminal analysis from VDC? Let us know your thoughts at the Feedback button below.
Features

Resources

Follow Us

Supply Chain Digest news is available via RSS

Newsletter

Subscribe to our insightful weekly newsletter. Get immediate access to premium contents. Its's easy and free
Enter your email below to subscribe:
Join the thousands of supply chain, logistics, technology and marketing professionals who rely on Supply Chain Digest for the best in insight, news, tools, opinion, education and solution.