Category: RFID, Automated Data Collection, and Internet of Things
RFID in Retail – Nowhere to Go but Up

Garter Says Item-Level Tagging Deep in Trough of Disillusionment, but not Far from Delivering Real Value in eCommerce World

| | |
| --- | --- |
| Aug. 31 , 2021 | SCDigest Editorial Staff |
| | |
It is now 18 years since Walmart (famously or infamously, depending on your perspective) announced in 2003 its planned RFID mandate, with requirements that all its vendors over time begin to put RFID tags on case and pallets.

Supply Chain Digest Says...

Gartner notes that derive optimal benefits from implementations, items need to be tagged at the source. This is a challenge for retailers.

---
What do you say?
Click here to send us your comments

Click here to see reader feedback
Despite enormous media hype and major investments of time and money in the program by Walmart, the mandate started out slow, never got any real traction, and eventually just faded away.
In the last decade or so, the focus of RFID in retail has been much more on so-called "item-level" RFID tagging – where individual products are tagged, versus cases, especially in the apparel sector.

This allows retailers to either quickly or in some cases continuously take inventories of goods on store shelves. This results in highly accurate inventory counts, versus the notoriously inaccurate inventory levels traditionally found in retail.
That improvement always delivered big operational improvement, especially in terms of store replenishment, but has become even more valuable in this ecommerce era, as high levels of accuracy levels are need to support such processes as buy on-line, pick-up in store, or store-based fulfillment.
With that backdrop, the analysts at Gartner are out with one of their well-known "hype cycles" for retail technologies 2021.
As can be seen in the graph below, item-level RFID is near the bottom of the curve, in the "trough of disillusionment" – but also meaning the technology may not be far from starting to offer real value, as it moves - hopefully - to the next phase, the "slope of enlightenment."
In fact, Gartner analyst Sandeep Unni writes that the value of item-level RFID is "high," adding that "RFID capabilities provide easier facilitation of unified commerce processes and greater operational efficiency. It can also deliver an enhanced experience for store associates and improve the in-store consumer experience."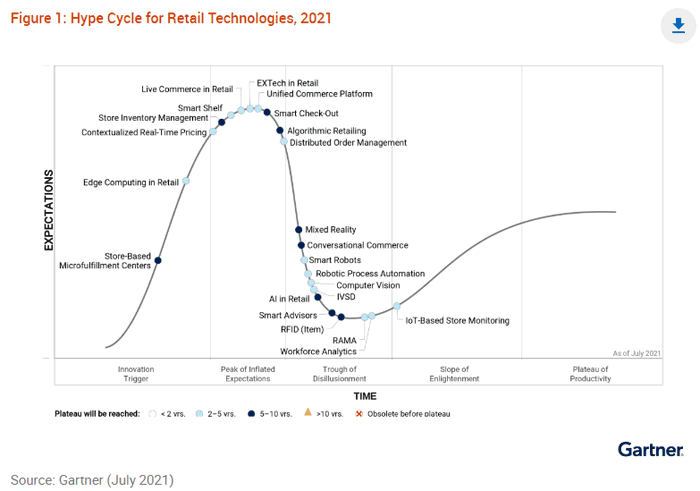 In terms of business impact, Gartner cites the following RFID opportunities:

• Significantly improve inventory accuracy, typically beyond 97%

(See More Below)


• Enable real-time visibility of inventory across the supply chain
• Increase speed and efficiency for store associates' workflows

• Improve loss prevention as well as accurate identification of counterfeit products, thereby reducing fraud

• Boost loyalty and retention through increased customer engagement by bridging the online and offline offerings
But Gartner says there are still some barriers to RFID adoption in retail. That includes readability challenges of RFID tags placed on metal containers, liquid products, or in variable temperature environments, though it says the technology is improving in this area.
Gartner says another barrier is that "While RFID's multiple use cases can deliver significant benefits when considered together, overall cost and competing investment priorities remain challenges for widespread adoption."
Finally, Gartner notes that derive optimal benefits from implementations, items need to be tagged at the source. This is a challenge for retailers, especially when they don't own the manufacturing or are reliant on many production sources.
In conclusion, Gartner recommends that retailers determine the value that implementing item-level RFID will provide to the overall solution by modeling the end-to-end business process beyond store operations, among other bits of advice.

Any reaction to this RFID analyis from Gartner? Let us know your thoughts at the Feedback button below.
Features

Resources

Follow Us

Supply Chain Digest news is available via RSS

Newsletter

Subscribe to our insightful weekly newsletter. Get immediate access to premium contents. Its's easy and free
Enter your email below to subscribe:
Join the thousands of supply chain, logistics, technology and marketing professionals who rely on Supply Chain Digest for the best in insight, news, tools, opinion, education and solution.