Category: RFID, Automated Data Collection, and Internet of Things
RFID, AIDC, and IoT News: Interesting Take on the State of RFID in Supply Chain

Still a Long Way to Go to Reach Mainstream Status in Supply Chain Applications, based on Interesting Market Summary by FiduciaSoft

| | |
| --- | --- |
| Aug. 11 , 2021 | SCDigest Editorial Staff |
| | |
This week, technology firm FiduciaSoft published a press release on its experience evaluating and implanting RFID-based systems.
It is objective enough SCDigest has opted to summarize the release below.

Supply Chain Digest Says...

FiduciaSoft says RFID is sometimes used to better track high value SKUs in a distribution center..

---
What do you say?
Click here to send us your comments

Click here to see reader feedback
The company notes that tag costs have been a real barrier to potential high volume RFID projects. While the price of tags continues to trend lower, a passive tag used in retail, consumer goods and many other use cases still costs about 10 cents – a lot of money even for tracking cartons and certainly individual items in distribution and retail.

At start of the modern RFID era, roughly in 2003, there was talk of how the "five cent tag" when achieved would cause RFID adoption to explode. Well, SCDigest notes, we're still not there in terms of price point, and the reality is the cost probably needs to get down to 1-2 cents to really open up general inventory tracking applications
As a result, "The only applications where RFID adoption is seeing a true resurgence is on the bulk level (multiple inventory items are stacked on the pallet and tagged under one tag) or with individual items of very high cost," FiduciaSoft says.
The release does note some interest in applications that use RFID such that the presence of a worker is completely eliminated from the data collection process. Most often, FiduciaSoft says, this involves reading tags on cartons on some form of conveyor, but SCDigest notes the same result can of course also be accomplished with in-line bar code readers or imagers, so it's not unique to RFID.
FiduciaSoft offers an example of using RFID to track pallets of goods in distribution by a large flower grower that tagged pallets used to move plastic raw materials and to track raw material receiving, inventory transfers, warehouse moves, and automated issue of materials to a job.
The RFID implementation automated capturing of data on pallet movements and transactions. It also was used to significantly speed up the flower company's quarterly physical inventory process by allowing associates with handheld units to simply walk down the aisle and rapidly read the pallet tags.
The same company uses steel carts to ship products to Home Depot and Lowe's stores and tracked the assets and if they were being returned after the flowers were unloaded.

(See More Below)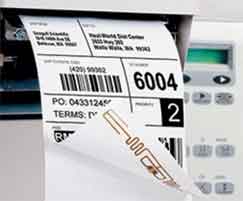 FiduciaSoft says RFID is sometimes used to better track high value SKUs in a distribution center. It cites one example of an electronics company doing that, but notes that for actual shipping it scanned a bar code because the associates loading trucks did not carry RFID readers, since most products it shipped were lower value and not tagged with RFID.
It also cites a high end men's clothing retailer that tagged at the item level to improve the checkout process, and quickly take periodic inventory counts. The release says RFID was also used to automate replenishment but without explaining how, and whether it was replenishment from the back room to the store shelf or from a DC to the store.
The article also cites some very simple use of RFID to support Lean Kanban, but in one case the company decided to stick with bar code scanning, and the other food industry application was just very basic.
The takeway from all this?

RFID has some useful capabilities, but still has a long way to go in manufacturing and distribution to reach mainstream status.
Any reaction to this RFID market summary? Let us know your thoughts at the Feedback button below.
Features

Resources

Follow Us

Supply Chain Digest news is available via RSS

Newsletter

Subscribe to our insightful weekly newsletter. Get immediate access to premium contents. Its's easy and free
Enter your email below to subscribe:
Join the thousands of supply chain, logistics, technology and marketing professionals who rely on Supply Chain Digest for the best in insight, news, tools, opinion, education and solution.