Category: RFID, Automated Data Collection, and Internet of Things
RFID, AIDC, and IoT News Round-Up for June 29, 2021

IoT Security Flaw for Leading Camera Maker; More Bar Code Retail Thievery; Robomart Offers Mini-Mart Hailing with RFID Self-Service

| | |
| --- | --- |
| June 29, 2021 | SCDigest Editorial Staff |
| | |
Below are three of the top stories in automated data collection, RFID and the Internet of Things relative to supply chain in recent weeks.
Security Flaw on Leading Camera Software Shows IoT Vulnerabilities
A security flaw in a popular on-line camera line illustrates the potential risk with Internet of Things (IoT) devices.
Nozomi Networks revealed the flaw in a popular software component from ThroughTek, which OEMs use in their systems for industrial, baby and pet monitoring cameras.

Supply Chain Digest Says...

The Robomart approach also removes lengthy, time-consuming shopping cart creation and checkout processes with a proprietary RFID-based checkout-free system.

---
What do you say?
Click here to send us your comments

Click here to see reader feedback
It is estimated there are millions of cameras installed globally that could be affected. As reported by InfoSecurity magazine, the flaw is found in application development kit produced by the firm. The issue stems from functionality that allows a client on a mobile or desktop app to access audio/video streams from a camera or device through the internet.
The problem: Nozomi Networks claimed that the protocol used for transmission of those data streams "lacks a secure key exchange and relies instead it on an obfuscation scheme based on a fixed key" – apparently not a good practice.
It means that unauthorized attackers could access it to grab the audio/video stream, enabling them to snoop on users remotely.
The case highlights the challenges facing users of IoT and other devices, which have complex supply chains, often using components from third parties.
Last year, several serious vulnerabilities were discovered in a widely used low-level internet software tools library that may have impacted hundreds of millions of IoT devices.
The latest version of the software closes the vulnerability, but many users have not upgraded or even know they need to.
Yet Another Fake Bar Code Retail Theft
Almost weekly there are reports of thieves using false bar codes to rip off retailers, often for large sums of money.
The scam is pretty simple – the thief removes barcodes from cheaper items and replace them with the ones on more expensive items – then either return the items for cash refunds or sell them on the internet.
Here is a recent example from last week in Bensalem Township, PA.
According to authorities in Bensalem Township, a man switched the barcode on a $400 Dyson vacuum cleaner, scanning the item at a self-checkout counter at a Lowes store and paying only $24.99 – quite a discount.

(See More Below)


Somehow, a store employee detected the scam and attempted to stop the thief from leaving the store. But he made it outside and fled in gray a newer model blue Volkswagen SUV.
The vehicle did not have a license plate, police said. But security cameras got great shot of his face, and it would seem likely will find the man soon enough.

New Snack Hailing Service Uses RFID for Self-Checkout
Robomart, which claims to be the world's first store-hailing platform, has officially launched its fleet of on-demand mobile mini-marts in West Hollywood, CA. The company successfully completed a pilot test in the area in December.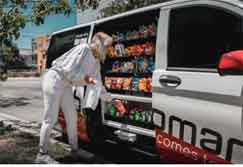 Using the Robomart app, consumers can hail an automated store on wheels and have it arrive at their location in less than 10 minutes, making it the fastest delivery service currently available, the company says.
Robomart works similar to Lyft or Uber, but for snacks and other categories. Users request that a mobile store to come to them, and when it arrives at their location, they open the doors with the app and select their own items.
The service enables consumers to view a list of all products in the app before they hail a mobile store, ensuring that shoppers get what they want. The Robomart approach also removes lengthy, time-consuming shopping cart creation and checkout processes with a proprietary RFID-based checkout-free system that lets users take their selected products, put them in a bag and walk off, without physically checking out and paying, similar to Amazon Go stores (which do not use RFID).
Robocart has partnered with Zebra on the RFID reading system.
According to Progressive Grocer magazine, the company is rolling out two types of mobile stores: a Pharmacy Robomart offering shampoo, hand sanitizer, ibuprofen and more, which was recently piloted in the area, and a ready-to-eat Snacks Robomart stocked with chocolates, chips, soft drinks and other snack products.
The company is still in the development phase with its Grocery Robomart, which will carry fresh fruits and vegetables as well as other refrigerated items. Robomart also plans to expand its fleet to include Pantry, Deli and Café Robomarts in the next few months.
For now at least, the delivery vehicles require a driver. The company says a "small hailing fee is added to the merchandise bill.

Any reaction to the stories in this RFID/AIDC/IoT round up? Let us know your thoughts at the Feedback button below.
Features

Resources

Follow Us

Supply Chain Digest news is available via RSS

Newsletter

Subscribe to our insightful weekly newsletter. Get immediate access to premium contents. Its's easy and free
Enter your email below to subscribe:
Join the thousands of supply chain, logistics, technology and marketing professionals who rely on Supply Chain Digest for the best in insight, news, tools, opinion, education and solution.