Category: RFID, Automated Data Collection, and Internet of Things
Supply Chain News: Researchers at North Carolina State Claim RFID Chip Breakthrough

Tiny Tag would Cost just Less than One Cent to Make

| | |
| --- | --- |
| May 19, 2021 | SCDigest Editorial Staff |
| | |
Researchers at North Carolina State Claim announced tihs week what could be a breakthrough in RFID chip design and cost.
The new chip, tiny compared to current designs, might cost less than one cent to produce.

Supply Chain Digest Says...

The research says this lower cost could even open the door to tagging of traditional consumer products at the item-level.

---
What do you say?
Click here to send us your comments

Click here to see reader feedback
In the early days of the EPC RFID movement, circa 2002, there was talk about a game changing "5-cent" tag coming to market soon, which would open up many applications for use of RFID.
But it turned out of course that even at five cents per tag, somewhere around where we stand currently, it costs too much for many use cases, certainly for putting a tag on a can of soup or box of laundry detergent, but also even to tag full carton of such merchandise.
The North Carolina State engineers think they have altered RFID cost dynamics. They say it starts with a design for the smallest passive Gen 2 RFID chip, which should drive down the cost of RFID tags.
"As far as we can tell, it's the world's smallest Gen2-compatible RFID chip," said Paul Franzon, corresponding author of a paper on the work and Cirrus Logic Distinguished Professor of Electrical and Computer Engineering at NC State, in an interview with the North Carolina State University News web site.
The new chips come in at just 125 micrometers by 245 micrometers. A micrometer measures as just one thousandth of a millimeter.(See graphic below).
In fact, it is their small size that is the main driver of the chips' lower costs.
The smaller the chip, the more chips you can get from a single silicon wafer. Realizing more chips from the silicon wafer, the less expensive they are to produce each one.

"In practical terms, this means that we can manufacture RFID tags for less than one cent each if we're manufacturing them in volume," Franzon said.

(See More Below)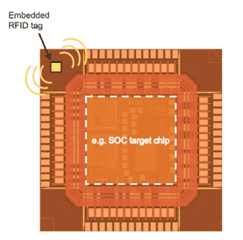 The research says this lower cost could even open the door to tagging of traditional consumer products at the item-level. That could enable grocers and mass merchants to get a near continuous view on what products and quantities are really on their shelves, reducing out of stocks.
The NC State researchers also say their chip is small enough to easily fit on other chips, such as found in a laptop computer.
This would make it possible for users to track the individual larger chips throughout their lifecycle. This could help to reduce counterfeiting, and allow users to verify that a component is what it says it is.
"We've demonstrated what is possible, and we know that these chips can be made using existing manufacturing technologies," Franzon added. "We're now interested in working with industry partners to explore commercializing the chip in two ways: creating low-cost RFID at scale for use in sectors such as grocery stores; and embedding RFID tags into computer chips in order to secure high-value supply chains."
Though it will take some time to commercialize the technology, this really could alter the market dynamics and rate of adoption of RFID tracking systems.

Any reaction to this new low cost RFID chip? Let us know your thoughts at the Feedback button below.
Features

Resources

Follow Us

Supply Chain Digest news is available via RSS

Newsletter

Subscribe to our insightful weekly newsletter. Get immediate access to premium contents. Its's easy and free
Enter your email below to subscribe:
Join the thousands of supply chain, logistics, technology and marketing professionals who rely on Supply Chain Digest for the best in insight, news, tools, opinion, education and solution.