Category: Transportation and Logistics
Amazon AWS Launches New Supply Chain Applications


Will Include Demand and Inventory Planning Capabilities, plus a New Approach to EDI



Just a couple of weeks ago, SCDigest reported Microsoft's apparent aggressive move into the supply chain software business, after the company released what it calls the Supply Chain Platform. That, Microft said, is a tool that is a combination of its artificial intelligence, collaboration, low-code software, security and Software as a Service (SaaS) applications.
Surpply Chain Digest Says...

AWS Supply Chain uses AI to normalize often varying EDI messages into consistent context, reducing effort to manage EDI and enhancing usability of the data.

---
What do you say?
Click here to send us your comments

Click here to see reader feedback
Part of the capabilities of the platform is the Microsoft Supply Chain Center, which it says will track world events that may impact a customer's supply chain, orchestrate actions across a supply chain, and use AI to reduce supply and demand mismatches. (See Microsoft Announces New Supply Center to Provide Visibility, Apps, and Data Harmonization across Other Software.)

Also announced was a suite of supply chain applications will that will run on the platform, from warehouse management to inventory optimization, though the details were lacking.
Now Microsoft's Cloud platform rival Amazon AWS has announced it is entering the supply chain application arena as well with a new demand ad inventory planning solution.
AWS, which provides application hosting and web services to customers, is an outgrowth of IT development for Amazon's own needs, including supply chain software.
Amazon says the new application will leverage machine learning in a way that will give companies greater insight into the current and future states of their inventory.
Amazon itself has touted its uses of machine learning and AI to anticipate what its customers will order, and therefore pre-position inventory across its vast fulfillment network.
Amazon says it will make some of these capabilities available to companies running in its existing software on AWS. "AWS Supply Chain," which was announced last week at a conference, integrates and analyzes supply chain data from different systems a company uses and is then able to produce a better demand forecast, Amazon claims.
AWS Supply Chain Platform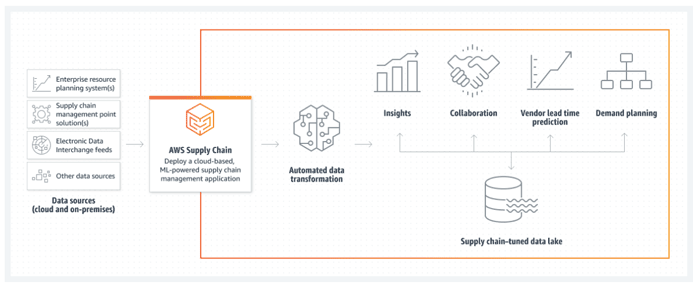 "We abstract, analyze, and aggregate data. We're able to provide value for each of those standalone applications that you might have in your network of solutions, and then we harmonize data across all of that, which is something that is very unique," Diego Pantoja-Navajas, vice president of new products for AWS Business Applications, said at the conference.
(See More Below)


Pantoja-Navajas added that AWS is able to bring data from numerous systems so companies can get much better visibility of the global supply chain, in remarks that sound very similar to how Microsoft pitched its new Supply Chain Platform just a few weeks before.
Part of the AWS strategy appears to be improved handling of electronic EDI messages, such Advanced Shipping Notices, or ASN's, sent by many companies, especially in the consumer goods sector to their retail customers, to let them know what inventory to expect before it arrives.
AWS Supply Chain uses AI to normalize often varying EDI messages into consistent context, reducing effort to manage EDI and enhancing usability of the data.
The new AWS solution can automatically generate insights about potential supply chain risks, such as overstock or stock out conditions, Amazon says. It also says that the state of each company's supply chain is managed via a "real-time visual map."
Amazon says inventory managers and demand planners, for example. can also create their own "insight watchlists" by selecting the location and type of risk they want to screen for.
The solution is now in Preview mode status.
For more detail , see aws.amazon.com/aws-supply-chain/features/.

Any thoughts on new AWS Supply Chain? Let us know your thoughts at the Feedback section below.

Features

Resources

Follow Us

Supply Chain Digest news is available via RSS

Newsletter

Subscribe to our insightful weekly newsletter. Get immediate access to premium contents. Its's easy and free
Enter your email below to subscribe:
Join the thousands of supply chain, logistics, technology and marketing professionals who rely on Supply Chain Digest for the best in insight, news, tools, opinion, education and solution.
h e