Category: RFID, Automated Data Collection, and Internet of Things
RFID, AIDC, and IoT News Round-Up for Dec. 29, 2020

Samsung Adds Bar Code Scanning to Select Smart Phones; Michelin to Put RFID in All Tires by 2023; Vibeq Networks Claims Breakthrough in RFID Tag Cost and Performance

| | |
| --- | --- |
| Dec. 29, 2020 | SCDigest Editorial Staff |
| | |
Below are three of the top stories in automated data collection, RFID and the Internet of Things in recent weeks.
Samsung Adds Scandit Software for Robust Bar Code Scanning with Smart Phones
South Korean electronics giant Samsung announced this week that it has released what it calls Samsung Knox Capture, a data collection solution that provides enterprise-grade bar code scanning capabilities for the Galaxy XCover Pro smart phone.
The capability will be achieved by bundling scanning software built for smart phones by a company called Scandit.

Supply Chain Digest Says...

French tire Michelin says it is making tires that "communicate" by linking them to a more global ecosystem through use of RFID.

---
What do you say?
Click here to send us your comments

Click here to see reader feedback
Samsung says Knox Capture delivers fast, accurate scanning for frontline workers across a variety of industries, such manufacturing, transportation and logistics, retail and healthcare.
There is growing interest in using smart phones for data collection application, such as scanning a SKU or location bar code for order picking in a distribution center or retail store, or to confirm what medicines a patient is receiving in a hospital, driven by the low cost and convenience of the familiar devices.
But smart phone scanning options have been limited, with low cost add-ons that can read bar codes using a phone's camera, but which are relatively slow and not really built for high volume applications.
Several years back, Scandit launched an app to address this market need.
Samsung says such capabilities will come out of the box with some of its phone portfolio.
Knox Capture allows Samsung rugged mobile device cameras to achieve robust bar code scanning by leveraging Scandit's mobile computer vision software, providing the performance and flexibility customers need for high volume scanning use cases.
While the solution has single-scanning options, it can also simultaneously scan multiple bar codes and support a wide range of the most commonly used industry linear and 2D bar codes, including EAN, UPC, GS1 DataBar, ITF, and Codabar.
Samsung says that by scanning multiple bar codes simultaneously with a single click, workers can reduce the amount of time spent on stock taking, allowing them to focus on other priorities and increasing efficiency across supply chains and operations.
Michelin to Track All Tires with RFID
Tracking consumer and commercial tires with some type of unique, readable serial number has been a goal for tire manufacturers and the extended supply chain for more than two decades, but getting there, starting with bar code-based systems, has remained a challenge.

(See More Below)


Now, French tire Michelin says it is making tires that "communicate" by linking them to a more global ecosystem through use of RFID.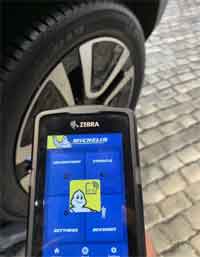 Michelin has been embedding some of its car tires with chips since mid-2019, and now says that by 2023, every new car tire will use the identification technology.
"We are currently working with car manufacturers on the development of algorithms," says Michael Ewert, vice president of global sales, original equipment at Michelin. "Since RFID technology ensures this exact tire identification, it is conceivable in the future that drivers will see a tire status display next to their fuel gauge."
This condition monitoring will become increasingly important, especially for vehicles that are becoming more and more automated, Michelin says.
The advantage of RFID technology in this application is that it is a relatively cost-effective way of identifying tires throughout their lifecycle and very robust compared to many other smart sensors.
For example, the Michilen says RFID technology will enable Advanced Driver Assistance Systems that leverage specific tire characteristics because of the reliable pairing of tire and vehicle. For example, a winter tire has different braking characteristics than a summer tire. These characteristics can therefore have an influence on the driver assistance system, which attempts to prevent the vehicle from skidding at the limit in curves - both when understeering or oversteering - by braking individual wheels in a targeted manner, thus ensuring the driver remains in control of his vehicle.
The RFID tags can also be used in repair shops to ensure the right type of new tire is used when a replacement tire is needed, and to keep better track of store inventories.
Vubiq Networks Adds to Chipless RFID Tag Patent Portfolio, Claims Tag Cost Breakthrough
An Irvine, CA company called Vubiq Networks announced this week it has acquire a third patent for its unique RFID technology.
The company in fact has a number of solution areas, RFID being just one, all utilizing a technology it calls "millimeter wave," which it describes in very technical terms on its web site.
The company says the technology has rather significant benefits, starting with much lower cost tags, using a "chipless design."
"Our portfolio of technology patents covers our unique data encoding technology that exploits the natural physics of antennas at a tremendously small scale," Vubiq says, adding the claim that "The result is a chipless RFID data tag that approaches the cost of printing a bar code, but with the ability to contain hundreds of data bits in the size of a postage stamp."
It also claims that by utilizing a technology it calls "polarimetric synthetic aperture radar (POLSAR) hyperimaging," its tags can not only communicate stored data such as a serial number, but also provide physical location information.
The company also says use of its technology as opposed to traditional RFID methods greatly expands the use cases by providing the ability to read multiple tags simultaneously, as well as determining their three-dimensional location. The technology can read tags through materials such as cardboard, pill bottles, and envelopes.
It appears these RFID technologies have not yet been commercialized by Vubiq.

Any reaction to the stories in this RFID/AIDC/IoT round up? Let us know your thoughts at the Feedback button below.
Features

Resources

Follow Us

Supply Chain Digest news is available via RSS

Newsletter

Subscribe to our insightful weekly newsletter. Get immediate access to premium contents. Its's easy and free
Enter your email below to subscribe:
Join the thousands of supply chain, logistics, technology and marketing professionals who rely on Supply Chain Digest for the best in insight, news, tools, opinion, education and solution.