Category: Transportation and Logistics
Supply Chain News: Amazon Strikes Deal to Do Fulfillment for Shopify Merchants
Amazon Makes Yet another Move to Expand it Logistics Business

What a difference a year can make.
At this time in 2022, ecommerce front end software vendor Shopify was still aggressively building out its vision for a fulfillment network that could challenge that of Amazon in terms of delivery for the some two million merchants that sell on the Shopify platform.
Supply Chain Digest Says...

This Shopify deal is just the latest in a string of moves from Amazon to grow its logistics business.


---
What do you say?
Click here to send us your comments

But that changed in May, as Shopify abruptly ended that logistics strategy, and sold off a couple of software companies it had acquired to support the plan, as well as a mobile robot maker it also acquired for a lot of money.
Now, ironically, Shopify and Amazon have announced a deal that will soon let Shopify merchants have an easy (and officially approved) way to offer Amazon's "Buy with Prime" to customers at checkout – if the consumer is an Amazon Prime member, and the merchant uses the Fulfillment by Amazon service to pick, pack and ship their customers' orders from Amazon's Marketplace.
Buy with Prime launched last year and enables shoppers on websites outside of Amazon.com to use their Prime membership to receive fast shipping and pay with their Amazon wallet.
Until this deal, Shopify's position was merchants which added the service to their ecommerce sites violated its terms of service and created a security risk.
While the terms of the new deal give the valuable payment processing revenue to Shopify, Amazon gains access to Shopify's merchants and customers, expanding its logistics segment.
Shopify says that it has 560 million unique customers across its platform, with gross merchandise volume (the value of ecommerce buys) of $197 billion in 2022.
The surprise announcement amounts to a truce between two of the biggest players in ecommerce.
As Amazon explained in its announcement, "Buy with Prime offers Prime members fast, free delivery and easy returns through Amazon's fulfillment network. After signing into their Amazon accounts, Prime members pay for their orders using a payment method from their Amazon wallets and Shopify Payments will process the payment through Shopify's Checkout."
(See More Below)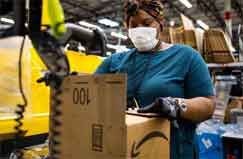 The program has started rolling out on an invitation-only basis to select Shopify merchants, and it will be available to all US-based Shopify merchants who are already using or want to use Amazon's fulfillment network by the end of September, the companies say.
This Shopify deal is just the latest in a string of moves from Amazon to grow its logistics business.
In August, for example, came news that Amazon was relaunching its Amazon Shipping service, in which its Marketplace sellers who have chosen not to use its Fulfillment by Amazon service, which holds a supplier's inventory and then manages the pick, pack and ship process as well as last mile fulfillment. For that shipping, Amazon uses own Delivery Service Partner (DSP) network.
Amazon Shipping was being tested when the pandemic hit and it was then put on hold, but now is being aggressively pitched to thousands of third party sellers.
Also in August, Amazon announced a new fee for members of its Seller Fulfilled Prime program, where merchants ship their own packages but can include the Prime badge on their listing. The fee – a steep 2% of the amount of the order value – is thought by some merchants as a move to drive them to use FBA to fulfill orders.
Any thoughts on this mobile robot hype cycle? Let us know your thoughts at the Feedback section below.

Features

Resources

Follow Us

Supply Chain Digest news is available via RSS

Newsletter

Subscribe to our insightful weekly newsletter. Get immediate access to premium contents. Its's easy and free
Enter your email below to subscribe:
Join the thousands of supply chain, logistics, technology and marketing professionals who rely on Supply Chain Digest for the best in insight, news, tools, opinion, education and solution.
h e