Supply Chain News: What Manufacturing CEOs are Thinking


More Talk about Reshoring - Will it Show Up the Numbers this Time?

A recent report from the Manufacturing Alliance (formerly known as MAPI) sheds some interesting insights into what CEOs are thinking as we head into the new year, based on a survey of an unspecified number of chief executives.
Surpply Chain Digest Says...

52% of respondents said they were planning on new construction facilities in the US, with another 28% saying such moves were being considered.


---
What do you say?
Click here to send us your comments

Click here to see reader feedback
Here are some highlights from the report.
We'll start with their top concerns for 2023. Not surprsingly, at the number one spot was worry about the state of the global economy.
That was followed by number 2 talent recruitment and retention; number 3 global supply chain disruptions; number 4 commodity and raw material price inflation; number 5 cyber threats; and number 6 the future of work and corporate culture.
That's a pretty good list.
But there was some decline in the level of supply chain disruptions still being felt. 69% of respondents said supply chain issues were improving, versus 24% who said they were about the same and just 7% who indicated supply chain disruptions were getting worse.
One of the most important findings of the research is that 79% of manufacturing CEOs are actively working to reduce risk in their Asian supply chains. As shown in the graphic below from the report, 26% of CEOs said they were moving to an "Asia for Asia" strategy, while 17% were moving alternative sourcing locations. But the majority, 57%, were trying a wide variety of other strategies.
When it comes toreshoring or keeping production in the US, the report notes that construction of new manufacturing facilities in the US has grown 116% over the past year, with chip factories being built in Phoenix, aluminum and steel plants being added across the south, and many companies expanding the size and production capabilities at existing plants.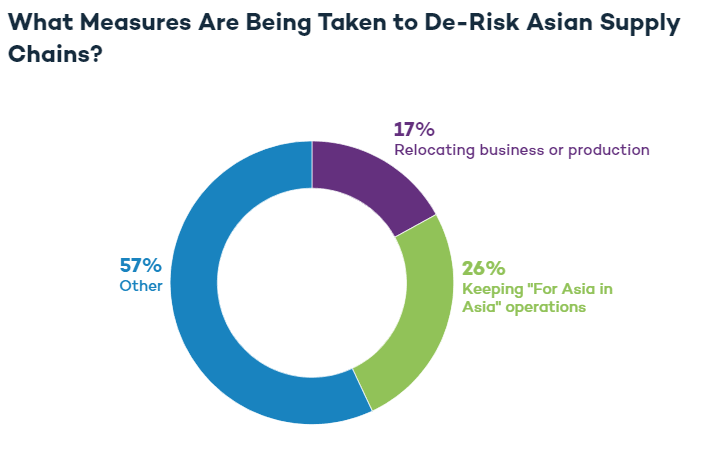 Source: Manufacturing Alliance
(See More Below)


Will this finally show up in the numbers in terms of measures such as growth in US manufacturing output? That is the key question, especially as such metrics have never really improved despite a number of anecdotal stories of production staying or moving back to America.
52% of respondents said they were planning on new construction facilities in the US, with another 28% saying such moves were being considered.
A strong 60% of CEOs from midwest companies were said to be adding new factories, versus just 13% in the northwest.

Any thoughts on Manufacturing Alliance report? Let us know your thoughts at the Feedback section below.

Features

Resources

Follow Us

Supply Chain Digest news is available via RSS

Newsletter

Subscribe to our insightful weekly newsletter. Get immediate access to premium contents. Its's easy and free
Enter your email below to subscribe:
Join the thousands of supply chain, logistics, technology and marketing professionals who rely on Supply Chain Digest for the best in insight, news, tools, opinion, education and solution.
h e