Category: Transportation and Logistics
Supply Chain News: Cass Report Shows Modest Freight Contraction in November, but also Takes a Look at the Available Market for the Tesla Semi


Analysis Charts Trip Length Segments by Mode

Cass Information Systems is out with its monthly freight report for November, finding a modest decline in overall freight volumes and truckload rates, then later offering an interesting analysis of the available US market for the new Tesla Semi.
Surpply Chain Digest Says...

Add it all up, an about 47% of dry van shipments are likely addressable by the Semi, Denoyer concludes.

---
What do you say?
Click here to send us your comments

Click here to see reader feedback
Month-over-month, Cass found a 1.9% decline in US freight shipments in November versus October, based on analysis of the billions of dollars in annual freight spend the company handles for clients. On a year over year basis, shipments fell 0.4%.
The Cass Linehaul Index, which measures US truckload rates before fuel surcharges and other accessorials fell 1.2% versus the previous month after a 1.5% decline in the measure in October. But rates were again up versus 2021, rising a little at 1.7%.
"Still a very stable environment overall, but still one with many headwinds" for carriers, Cass and partner Tim Denoyer of ACT Research say.

The report usually ends each month with some overall comment on the US freight market, but this time instead did an interesting analysis of the market share potential of the just released Tesla Semi, with its purported range of 500 miles fully loaded. (See Tesla Semi Finally Hits the Road.)

Denoyer queried the Cass database by mode and mileage to see specifically what proportion of shipments in each mode fall into each mileage bucket, looking at about 120 million shipments.
Denoyer starts with the dry van truckload market, the heart of the industry and where the Semi is targeted. About 47% of shipments are under a 450-mile length of haul, the analysis showed. Just 4% of shipments are under 150 miles, and another 25% are under 300 miles.

Then there is a 301-600 mile bucket in the data, and Denoyer erred on the side of caution, given the 500-mile range seems more like a stretch than a normal operation, and so he took half of the 37% bucket that segment represented as applicable.

Add it all up, an about 47% of dry van shipments are likely addressable by the Semi, Denoyer concludes.

(See More Below)


In the temp-controlled US truckload market, about 40% of shipments are under a 450-mile length of haul. A larger share (12%) of shipments are under 150 miles compared to dry van, and 15% are 150-300 miles.
However, with more long-haul, Denoyer estimates, using the same logic as above, that 41% of the reefer market is under 450-miles, and with refrigeration energy consumption to account for, he believes a lower threshold is appropriate, though noting that reefer truck makers have creative ways to support electrification as well

About 40% of LTL routes are also under the 450-mile threshold.

Below is an interesting chart from the report showing route distance segmentation by mode: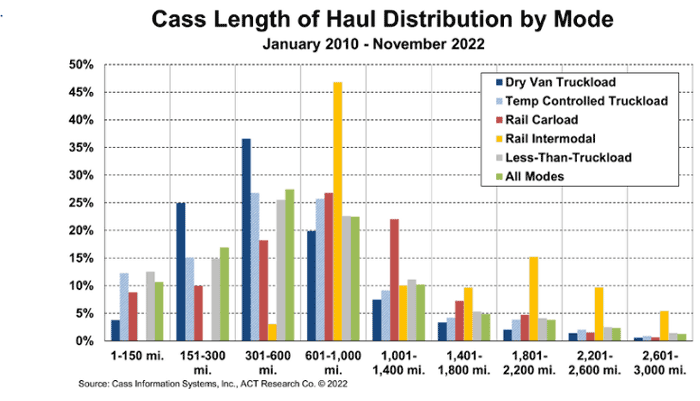 "If we take a fleet manager's perspective, the need for a larger safety buffer would suggest the vehicle should only go into shorter applications for a while," Denoyer opines, adding "if we take the buffer to 20% and ask the database what proportion of shipments are less than a 400-mile length of haul, we find about 37%."

Any thoughts on Tesla analysis? Let us know your thoughts at the Feedback section below.

Features

Resources

Follow Us

Supply Chain Digest news is available via RSS

Newsletter

Subscribe to our insightful weekly newsletter. Get immediate access to premium contents. Its's easy and free
Enter your email below to subscribe:
Join the thousands of supply chain, logistics, technology and marketing professionals who rely on Supply Chain Digest for the best in insight, news, tools, opinion, education and solution.
h e