Category: Transportation and Logistics
Supply Chain News: Amazon Announces New Delivery Drone Model


New MK30 Drone, with New Look, will be Faster and Safer, with Longer Range Amazon Says



It was during an interview with the 60 Minutes show all the way back now in late 2013 when Amazon CEO Jeff Bezos jolted the logistics world with the company's plans to use drones for ecommerce deliveries, with video of an Amazon drone smoothly and safely dropping off a parcel to a pretend customer, with promises for commercial launch of the technology within a few years.
Surpply Chain Digest Says...

While the MK30 is scheduled to be released in 2024 for tests and limited true commercial deliveries, operating in major cities is not likely until the end of the decade.

---
What do you say?
Click here to send us your comments

Click here to see reader feedback
Now nearly 10 years later, progress for Amazon and others has been slow, weighed down by regulatory issues and safety and noise concerns, while some recently said Amazon was falling behind in drone development compared to companies such as such as Zipline and the Alphabet company, parent of Google and drone provider Wing.
Amazon's drone program was even said to be troubled by multiple malfunctions, crashes, and even fires. (See Amazon Drone Program Struggling, Bloomberg Says.)

Some also say Amazon is lagging behind Walmart, which says it's expanding its DroneUp delivery network to 34 sites in six states.
Whether all that's true or not we're not sure, but Amazon clearly continues to invest. A couple of weeks ago, Amazon announced a new drone model that is says will be ready to deliver products in 2024.
The model - the MK30 - will be lighter and smaller than the MK27-2, its predecessor unit, Amazon says, and will also have increased range, expanded temperature tolerance, and new safety features.
The new drone will be put through "rigorous evaluation by national aerospace authorities like the Federal Aviation Administration to prove its safety and reliability," Amazon added in its announcement.
It will also add the capability to fly in light rain, enabling customers to choose drone delivery more often as their method of choice.
The MK30 will drop packages from about 12 feet in the air.
New Amazon MK30 Drone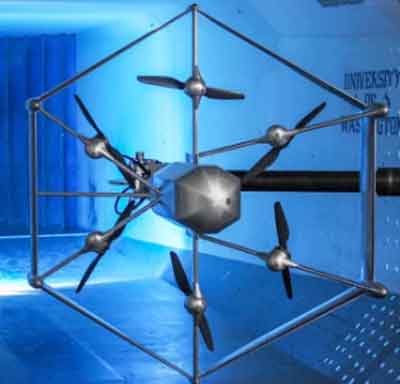 (See More Below)


It is a very different looking machine, as seen in the photo from Amazon above. The hexagon-shaped aircraft weighs 80 pounds and is about 5.5 feet in diameter. Custom-designed propellers reduce the perceived noise by 25%, Amazon said.
The drone can fly up to 50 mph. Amazon says that special sturdy packaging will be used protect fragile items.
While the MK30 is scheduled to be released in 2024 for tests and limited true commercial deliveries, operating in major cities is not likely until the end of the decade.

The goal is to deliver 500 million packages a year by drone in that time frame, Amazon Prime Air vice president David Carbon said.
Interestingly, the MK27-2 will begin its very first test deliveries in two markets — Lockeford, California, and College Station, Texas — in coming weeks.
Hundreds of thousands of items could be eligible for drone delivery as long as they fit in one box and weigh less than 5 pounds total.

Any thoughts on new Amazon drone? Let us know your thoughts at the Feedback section below.

Features

Resources

Follow Us

Supply Chain Digest news is available via RSS

Newsletter

Subscribe to our insightful weekly newsletter. Get immediate access to premium contents. Its's easy and free
Enter your email below to subscribe:
Join the thousands of supply chain, logistics, technology and marketing professionals who rely on Supply Chain Digest for the best in insight, news, tools, opinion, education and solution.
h e