Category: Transportation and Logistics
Supply Chain News: So Much for Shopify's Grand Fulfillment Strategy
eCommerce Platform gives Up on Wild Idea to Build Out Amazon-Level Capabilities
Shopify, a provider of software to power selling websites and ecommerce, announced last week it was ending its grand designs for building out a huge fulfillment network, selling of the key components of the strategy.
How did we get here?

Supply Chain Digest Says...

And just like that, Shopify's four-year quest to build out its own fulfillment network is ended.

---
What do you say?
Click here to send us your comments

In early 2022, Shopify, the Canadian ecommerce software platform that enables companies of all sizes to sell over the web, provided more details of its previously announced strategy to build out a fulfillment network to shorten the time it takes for its customers to deliver to their customers.

During Shopify's earnings call at the time, company president Harley Finkelstein said in effect that Shopify must Amazon-ify its business.

On the call, Shopify detailed its plans to significantly expand what it called the Shopify Fulfillment Network. And like Amazon's Fulfillment by Amazon (FBA) available to its marketplace customers, Shopify said it would greatly increase its role carrying inventory and picking, packing and shipping products from its ecommerce platform customers.

Shopify said that starting in 2023, it would invest about $1 billion over two years to significantly expand the number of mostly company-owned warehouses it manages. The objective, Shopify said: provide its customers the ability to offer two-day or less delivery to over 90% of the US population.

That billion dollar investment over two years by Shopify was about 10 times its average annual investment in distribution over the past three years.

"We are excited to update you today on what we've learned, how far we've come, and especially on where we're heading as we move out of the prototype phase and into the build phase," Finkelstein said on the call. He added that Shopify will consolidate its network into larger fulfillment centers and unify warehouse management that it's been building and testing over the past 18 months."

Finkelstein also said the network of centers would not be entirely Shopify owned, with a plan to match Shopify warehouses with 3PL partner facilities.

Wall Street was not impressed with the news, with the stock falling 26% the following day.

Reacting to the at the time, analyst Bhavin Shah of Deutsche Bank wrote that "we see greater risk of merely $1 billion in capex being insufficient to compete with industry leaders such as Amazon.

In 2019, Shopify had acquired mobile robot maker 6 River Systems for $450 million, similar to Amazon acquisition of another mobile robot developer, Kiva Systems, for over $700 million.

Then in May of last year, Shopify upped the ante with the acquisition of Deliverr for $2.1 billion in cash and stock, enabling what Shopify founder and CEO Tobi Lütke says will be an "end-to-end logistics" platform for millions of merchants. He added in a blog post that "Our goal is to not only level the playing field for independent businesses, but tilt it in their favor — turning their size and agility into their superpower."

(See More Below)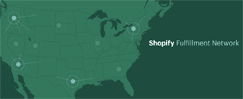 San Francisco-based Deliverr, founded in 2017, provided software that predicts the demand for each product by market based on a number of variables. That enables companies to more optimally position inventory across the network for ecommerce fulfillment.
And after all of that – poof it's all gone.

Last week, Shopify is selling its logistics business after top leadership said it became a distraction from the software company's core business.
First, Shopify said it is selling Deliverr to freight services provider Flexport, and 6 River Systems to UK-based Ocado Group, a provider of automated order picking systems.
And just like that, Shopify's four-year quest to build out its own fulfillment network is ended.
Shopify CEO Tobias Lütke said in an internal letter to employees that building the logistics infrastructure was a "side quest" for himself. He added that over the past year, Shopify has "been subtracting everything" that's in the way of making Shopify the go-to platform for merchants to build their ecommerce stores.
Lutke also announced that 20% of the company's workforce will be laid off as it rightsizes operations.
Critics say Shopify's strategy changed several times, and that hurt the execution.
For example, in early 2022, Shopify started terminating contracts with some of the warehouses it had been working with, Business Insider reported at the time. That seemed to suggest Shopify was paring back on its logistics ambitions but then, just a few months later, the company followed that up with the announcement that it was acquiring Deliverr.

Any thoughts on Shopify's odd saga?Let us know your thoughts at the Feedback section below.

Features

Resources

Follow Us

Supply Chain Digest news is available via RSS

Newsletter

Subscribe to our insightful weekly newsletter. Get immediate access to premium contents. Its's easy and free
Enter your email below to subscribe:
Join the thousands of supply chain, logistics, technology and marketing professionals who rely on Supply Chain Digest for the best in insight, news, tools, opinion, education and solution.
h e