Category: RFID, Automated Data Collection, and Internet of Things
RFID, AIDC, and IoT News Round-Up for Dec. 22, 2021

AmerisourceBergen to Source RFID Tag Drugs for Pharmacy Customers; Carter's Rollout RFID to Support Store Fulfillment; Blockchain and IoT, from HBR

| | |
| --- | --- |
| Dec. 22, 2021 | SCDigest Editorial Staff |
| | |
Here are a few of the top stories on RFID, bar code data collection, and supply chain IoT over the past couple of weeks.
AmerisourceBergen to Source RFID Tag Drugs for Pharmacy Customers

Leading prescription drug wholesaler AmerisourceBergen announced a new program last week under which the company's pharmacy customers nationwide can now choose to purchase product from with radio frequency identification (RFID) tags pre-applied.

Supply Chain Digest Says...

that "IoT refers to the capability of machines to use sensors to automatically collect data such as temperature, pressure, GPS location, and bar code scans, and to autonomously upload this data to a cloud server via the internet."

---
What do you say?
Click here to send us your comments

Click here to see reader feedback
These tags conform to the standards set by the RAIN Alliance and can be read and managed by any RAIN RFID-based technology system capable of reading RFID tags.
This technology-agnostic tagging service is enabled through an open-source model that freely discloses the tag decoding information to any interested technology provider.
RAIN RFID is a wireless technology that connects billions of tagged products to the internet, enabling users to identify, locate, authenticate, and engage each item regardless of where the product may have originated from. Adhering tags to standards set by the RAIN Alliance ensures that each tag has a unique company identification number (CIN), differentiating say AmerisourceBergen tags from those of other companies.
Under the program, the AmerisourceBergen tags will provide information such as a National Drug Code (NDC), batch/lot and expiration date.
It is not clear if there is a charge for the RFID tagging service.
Carter's Stores Rolling Out RFID to Support Store Fulfillment
Carter's, a retail chain of more than 1000 stores, recently announced its plans to rollout RFID tagging and tracking across its store network.
On its most recent earnings call, the company announced the completion of an initial deployment of RFID-tagged inventory and extensive training with its retail team. CEO Michael Casey said the project is expected to yield higher productivity of inventory and faster shipping by leveraging more than 70% of Carter's stores to fulfill on-line orders.
Key to being able to successfully execute store fulfillment is highly accurate inventory levels, a benefit the company says RFID will bring.

(See More Below)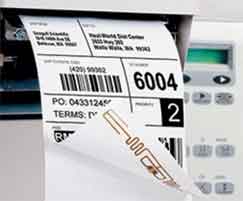 "Our retail field team is very excited about this new technology and what it will mean in terms of better serving customers, in addition to the numerous operational and profitability benefits we believe it will drive over time," said Richard Westenberger, executive vice president and chief financial officer.
The RFID rollout, which was inspired in part by the company's 20-plus year relationships with RFID using retail customers such as Target and Walmart, is expected to continue into the next year.

Bringing Blockchain, IoT, and Analytics to Supply Chains, from HBR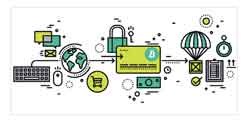 A recent column in the Harvard Business Review on-line by Vishal Gaur at Cornell's SC Johnson College of Business says his research shows that blockchain can greatly improve the performance of supply chains.
However, capturing its potential for doing so requires new permissioned blockchains (i.e., blockchains in which participation is restricted to known supply chain partners), data standards, and governance rules.
Gaur says that organizations should equip their supply chains with IoT functionality and the ability to track individual units of components and finished-goods inventory.
He adds that "IoT refers to the capability of machines to use sensors to automatically collect data such as temperature, pressure, GPS location, and bar code scans, and to autonomously upload this data to a cloud server via the internet."
IoT enables organizations to collect new types of data from different stages of their supply chain, Gaur notes. An example is for IoT devices can track the production of a packaged food product from the sourcing of ingredients to production, shipment, and retail, including the condition of inventory and working conditions in manufacturing and logistics facilities.

Gaur also says organizations should record transaction data from IoT devices on a blockchain, which can capture extremely detailed decentralized data and be used to verify that transaction records are authentic.
"A firm can utilize this data to ensure sustainable sourcing, improve the execution of supply chain contracts, and gain better financing," Gaur says.
All this data then of course can be used to develop predictive and prescriptive analytics.
You can find full article here.

Any reaction to the stories in this RFID/AIDC/IoT round up? Let us know your thoughts at the Feedback button below.
Features

Resources

Follow Us

Supply Chain Digest news is available via RSS

Newsletter

Subscribe to our insightful weekly newsletter. Get immediate access to premium contents. Its's easy and free
Enter your email below to subscribe:
Join the thousands of supply chain, logistics, technology and marketing professionals who rely on Supply Chain Digest for the best in insight, news, tools, opinion, education and solution.