The rules governing cold storage technology are changing. As the international community grapples with climate change, environmental regulations are driving the industry away from refrigerants with high global warming potential (GWP) and ozone depletion potential (ODP) toward more sustainable solutions. In 2015, the European Union set strict limits on the production and sale of high-GWP hydrofluorocarbon (HFC) refrigerants due to their significant climate impact. Last year the U.S. followed suit, passing the American Innovation and Manufacturing Act of 2019 (AIM Act), which will establish a timetable for the orderly phase-down of HFCs in the U.S. by 2036.

These changes mean that anyone with a stake in the cold chain, from growers and manufacturers to distributors, warehouses, and store owners, should pay attention to what's ahead for refrigerants. If you're still using high-GWP HCFCs and HFCs, namely R-22 and R-404A, it's important to understand that as supplies of these refrigerants dwindle, they will become more expensive and harder to acquire, creating cost and continuity risks.

Opteon Says...

The most effective technologies for addressing the phase out of HCFCs and phase down of HFCs are available to us right now.

What do you say?

Click here to send us your comments

The ideal replacements


The good news is that the most effective technologies for addressing the phase out of HCFCs and phase down of HFCs are available to us right now. Hydrofluoroolefins (HFOs)—a family of new, high-performance refrigerants—were designed specifically to address the regulatory challenges facing the industry today.
HFO and HFO blends such as XL20 (R-454C) and XP40 (R-449A) meet or exceed current international and U.S. environmental standards for most applications and are expected to do so for the foreseeable future. The benefits of these refrigerants don't stop at compliance, though: HFOs may also improve energy efficiency.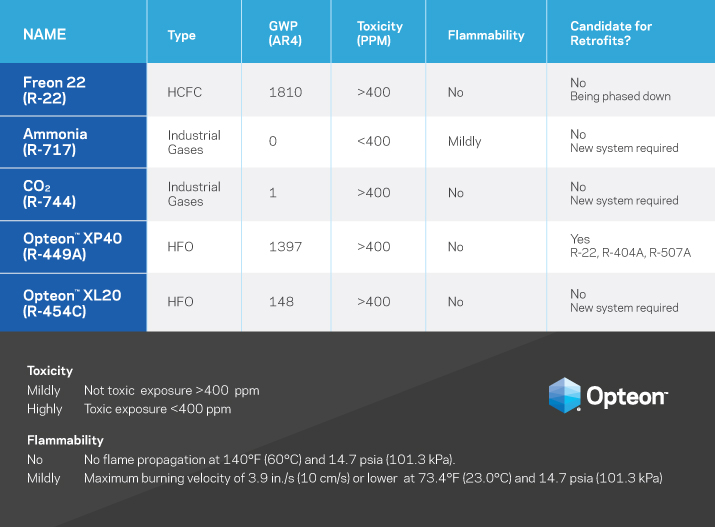 Any business operating a refrigerated asset will benefit from the fact that some HFO refrigerants can serve as in-field replacements for R-22 and R-404A in existing refrigeration systems. This ease of conversion means that you can minimize downtime during the retrofit and extend the usable life of your current equipment, reducing capital expenditures. In fact, for the purchase price of a single new cold storage system using CO2, you could potentially convert up to nine existing systems to HFOs. Other HFO refrigerants boast an even lower GWP but are more suited for use with new equipment. One of these, XL20 (R-454C), is already in use in Europe and is now available to equipment manufacturers in North America.
A path forward


For businesses that depend on reliable cold storage, the long-term availability of HCFC and HFC refrigerants should be a source of concern and a call to action. The "writing is on the wall" regarding the future availability of legacy refrigerants, and businesses must plan now by exploring the cost/benefit profiles of suitable retrofit and new installation solutions.
Currently, no other alternative refrigerants offer the unique combination of benefits that HFO technologies do, including:
Lower total cost of ownership
Low to ultra-low GWP
Easy retrofits (in many cases)
Reduced risk of business disruption
The supply of HFO refrigerants is robust. By converting to these next-generation solutions now, you can ensure that your existing equipment will continue to function safely, efficiently, and compliantly well into the future at a significantly reduced impact to both the planet and your bottom line. The team at Chemours is here to help, with engineering insight and regulatory guidance to assist your business in planning for the future.

Opteon™ refrigerants from Chemours were specifically developed to meet the changing global regulatory landscape while maintaining or improving performance compared to the products they replace, and to reduce the environmental footprint of specific applications. Low-GWP Opteon™ XP refrigerants are suitable for use in new equipment and system retrofits, while Opteon™ XL refrigerants are ultra-low GWP options for new equipment. Learn more about Opteon™ HFO refrigerants at opteon.com
Any reaction to this Expert Insight column? Send below.
Your Comments/Feedback