Category: Transportation and Logistics
Supply Chain News: Carrier ArcBest Corp. Hopes to Change Market Dynamics with Automation for Trailer Loading and Unloading

New Movable Racking System Reduces Times from 45 minutes to Less than 5, Company Claims

Arkansas-based trucking company ArcBest Corp. thinks it has found a new way to take market share in the freight sector: development of automation for the slow process of trailer loading and unloading.
Surpply Chain Digest Says...

For LTL, ArcBest says the system can dramatically reduce the time it might take to unload pallets to get to the one or more needed for a specific delivery


---
What do you say?
Click here to send us your comments

The company, known until 2014 as Arkansas Best and for its ABF Freight LTL unit, announced last week what it calls its Vaux Freight Movement System, a type of racking system (see photo below) that sits below and around cargo pallets or even loose cartons inside of trailers. Distribution center associates can somehow connect a forklift to the Vaux system (forks at about floor level) to push multiple pallets into a trailer or pull multiple pallets out in one move, versus loading and unloading pallets one at a time.
ArcBest says it takes less than five minutes to load or unload a full trailer versus 45 minutes or so for traditional pallet handling approach.
Not only would such a system reduce the costs to load and unload freight, it may reduce the time a trucker has to wait to move a load or an empty, a long-standing sore point for drivers.
Analysis in 2021, for example, from the American Transportation Research Institute (ATRI) found that truckers on average have to wait 1 hour and 54 minutes for loading and unloading. While the actually process of moving the pallets makes up only a portion of that wait or dwell time, cutting the wait by something like 40 minutes would be a homerun for truckers.
On this topic, Chris Caplice, executive director of the Center for Transportation and Logistics at the Massachusetts Institute of Technology, told the Wall Street Journal that "That's probably the biggest problem in truckload trucking because excessive dwell times mean the driver's not getting paid, leads to higher driver turnover, just messes up the system because it causes a ripple effect," adding that "If I'm late two, three hours in unloading, that means the next load is going to be two to three hours late, and you're going to run into hours of service."
"What our customers have been telling us is that they are really under pressure," ArcBest Chief Executive Judy McReynolds said in a statement. "They want to deal with the bottlenecks and inefficiencies that are inside their distribution facilities. They also see a greater efficiency that could be gained from the trailer turns in their yards and eliminating yard congestion."
(See More Below)


McReynolds added that while the Vaux system was designed to deal with loading and unloading LTL shipments, it also provides benefits truckload shipments
The Vaux Movable Racking System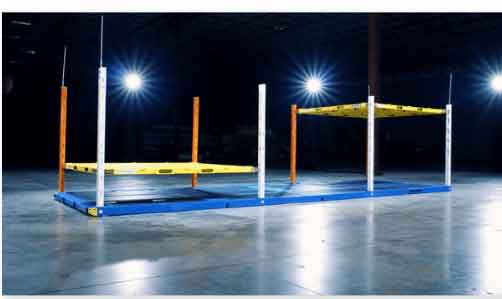 For LTL, ArcBest says the system can dramatically reduce the time it might take to unload pallets to get to the one or more needed for a specific delivery.
The Vaux MP system can be moved into and out of a trailer and around a warehouse using a standard forklift equipped with what it calls an MP Coupler, which is a patented device that enables a standard forklift to move the MP safely. The MP is moved out of the trailer in one swift movement, alleviating the need for multiple forklifts to enter trailers.
"The level of speed, efficiency and visibility Vaux offers is game-changing for companies facing supply chain challenges such as congested docks, damage, throughput issues and a need to operate more sustainably," said Michael Newcity, chief innovation officer at ArcBest and president of ArcBest Technologies.
ArcBest began piloting Vaux in 2019.

Any thoughts on this new Vaux System? Let us know your thoughts at the Feedback section below.

Features

Resources

Follow Us

Supply Chain Digest news is available via RSS

Newsletter

Subscribe to our insightful weekly newsletter. Get immediate access to premium contents. Its's easy and free
Enter your email below to subscribe:
Join the thousands of supply chain, logistics, technology and marketing professionals who rely on Supply Chain Digest for the best in insight, news, tools, opinion, education and solution.
h e