Category: RFID, Automated Data Collection, and Internet of Things
RFID, AIDC, and IoT News: Major Announcement with Chinese Province Should Accelerate GSI Push for 2D Bar Codes


It will Take some Years, but End is in Sight for the Venerable UPC Code in Retail and Beyond

| | |
| --- | --- |
| June 1, 2022 | SCDigest Editorial Staff |
| | |
GSI, the global standards organization with a large focus on both bar coding and RFID, has been on a major campaign to move the consumer goods to retail supply chain from the traditional linear bar code (what most still refer to as the "UPC code") to a new two-dimensional format.

Supply Chain Digest Says...

As a simple example, when a bar code is scanned at the checkout, customers can be alerted that the product is past its expiration date, and the POS system won't allow the purchase.

---
What do you say?
Click here to send us your comments

Click here to see reader feedback
It has recently gained some major traction in that quest with a new agreement in China.
Earlier this month, a deal was announced between the Chinese province of Zhejiang (65 million inhabitants), GS1 & GS1 China related to what GSI calls a "Global Migration to 2D" project.
The initiative is being driven in the end by consumers, as well as businesses and regulators, who are demanding more and better product information that can be accessed via a 2D code.
"It is now time to bring bar codes to the next level," GS1 said in a press release on the announcement.
A new project by GS1 China and Zhejiang Provincial Administration for Market Regulation (abbreviated as Zhejiang AMR) will gradually implement 2D barcodes for millions of products in the Zhejiang province. Over 7,000 food production companies will take part in this project and 200 stores of the largest merchandise retail chain in Zhejiang will undertake system upgrades to enable POS processing using the 2D bar codes.
The schedule is ambitious. The plan is that by the end of 2023, all products of 80% of all food companies in Zhejiang will have 2D bar codes printed on the item packaging.

GSI says the signing ceremony on May 19 of the 2D project announcement received extensive national and local media coverage in China.
The organization adds that use of 2D codes will enable consumers and others access to large amounts of information about products. That includes from where and how a product was produced, and how best to use and recycle it.
The ability of 2D codes such as QR Code to encode lots of data in a small format means information such as batch/lot number, best before date, use-by-date and weight can be encoded in the code itself.

(See More Below)


As a simple example, when a bar code is scanned at the checkout, customers can be alerted that the product is past its expiration date, and the POS system won't allow the purchase.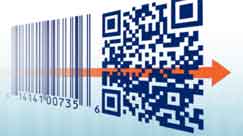 Other information, such as videos related to the product or more supply chain details, can be accessed through web site URLs embedded in the 2D codes.

The press release said 2D codes will also facilitate efficient factory inspection, supervision of sampling results, and qualification and disinfection certificates.
"Bar codes will keep beeping at the counter, but they will also "click", helping consumers and supply chain stakeholders navigate online to receive accurate product information," the GS1 press release adds.
GS1 launched the Global Migration to 2D program at the end of 2020 and thus far over 20 countries and districts, including China, US, Australia and Brazil, are participating in some way.
Retailers will not be required to change over to the new standard at any time. However, the project involves a phased migration plan for implementing 2D bar codes, dubbed "Sunrise 2027 – A New Dimension in Barcodes."
You can draw perhaps conclusions from that.

Any reaction to this news on GSI's 2D initiative? Let us know your thoughts at the Feedback button below.
Features

Resources

Follow Us

Supply Chain Digest news is available via RSS

Newsletter

Subscribe to our insightful weekly newsletter. Get immediate access to premium contents. Its's easy and free
Enter your email below to subscribe:
Join the thousands of supply chain, logistics, technology and marketing professionals who rely on Supply Chain Digest for the best in insight, news, tools, opinion, education and solution.