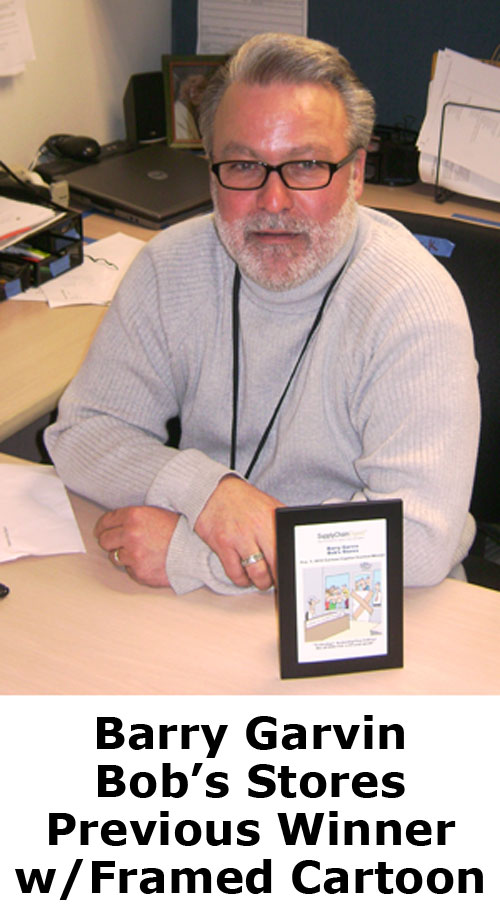 Other Good Entries:
Almost Winners:
"Don't you think they're taking this bio-fuel thing a bit far?"
Michael Gregorski
Medtronic

"I think it's about time to start giving more of yourself to the Company..."
Michael Peer
Abbott Labs
"I don't care that I'm the new guy! It is not going to happen Larry!"
Coleen Powell
Delhaize America
---
"Whose idea was it to buy this truck?"

Dave Jordan
Enchange

---
"Now I know why you were so eager to offer me a ride!"
Larry Maddox
Dell
---
"Not sure how this will work with our fuel surcharge program..."

Bill Davis
Lowes

---
"Boy you talk about having to live hand to mouth!"

Earl W. Engleman, C.P.M.
Bunzl

---
"Unfortunately, at those prices, you can only fill up twice."
Laura Willey
Trinity Customized Logistics

---
"You should see what the station down the road is charging.."

Adam Miller
Trinity Customized Logistics

---
"I don't want to know what they're asking for premium!"
Steve Hoper
The Progress Group

---
"Good thing we work for a mannequin company."

George Crawford
Graybar

---
"Keep driving! Our expense account limit is one hand and two fingers."

JUAN FRANCSCO SEMINARIO
RANSA COMERCIAL
LIMA, PERU

---
"Good deal! Last place I saw they wanted a kidney!"

Bert Moore
IDAT Consulting & Education
---
"Remember the good ol' days, when a fill-up was only the shirt off your back?"

Clint Donley
NCR

---
"It's been much easier to budget since they standardized gas pricing."

Jeremy Thompson, CPIM CSCP
Hadrian Manufacturing Inc.

---
"Do you understand now why I brought my mother in law on this trip?"
Stephen Scott
Woolworths

---
"I wonder if it matters whether you pay by Cash or Credit…"
Wil Biscardi
HALL'S WAREHOUSE CORP.

---
"WAIT Sam, I hear the "Trucker Buddy" gives "Fingers and Toes" discounts!"
and
"I'm positive, Charlie, it's YOUR turn to fill'er up!"

Andrea Willett
GT Nexus
---
"Arty, for goodness sakes keep quiet about the fact you have kids."
Matt Clark
Home Depot

---
"How do you think we will list that on our expense summary?"

Michael Pettit
Land's End
---
"Looks like you're steering and I'm working the peddles."
Dawn-Marie Landini
I.D. Systems
---
"Last week my boss went for an oil change, and has been missing ever since."
Indraneel Dabhade
Clemson University