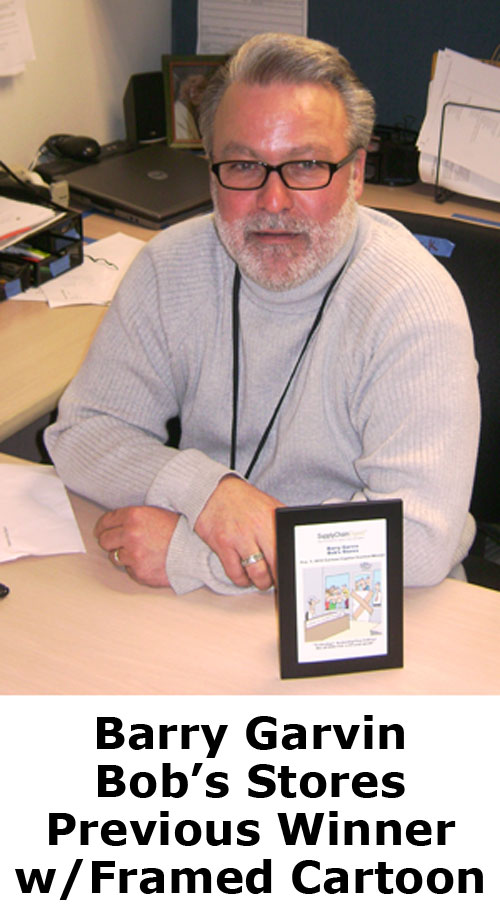 Other Good Entries:
"The file was way too large for his Kindle."

Barry W. Jones
Bosch
---
"Yeah, it's sad - we just discovered George frozen this way."

Andrea Willett
GT Nexus
---
"Stew is desperately looking for a loophole so he doesn't have to add another cubby-hole to his back wall."

Wil Biscardi
HALL'S WAREHOUSE CORP.
---
"Must not be too bad. He pulls out a microscope for the really fine print."

Tom Hammann
General Mills, Inc.
---
"I am kind of worried about that book Vender is suppose to be spelled Vendor you would think the compliance guy would catch that."
Earl W. Engleman, C.P.M.
Corporate Strategic Sourcing
---
"Milton? We're moving you downstairs until the audit is over. Take your stapler."

Mike Ossanna
Land O'Lakes, Inc
---
"He's trying to find the actual cost penalties. Not easy."

Jeff Givens
Retail Supply Chain
---
"Sometimes, when the light shines through that window at the right angle and he has the magnifying glass turned backwards, he sets his nose on fire!"
Dwight Boehm, P.Log
CF Managing Movement
---
"We treat him as a kind of 'compliance guard dog' around here but I still find it freaky when he totally freezes and makes those weird growling sounds like that."

Brian Hayden,
IT Tralee, Ireland
---
"Wait, isn't that John from accounting?"

Indraneel Dabhade
Clemson University
---
"The old saw is spot on – "the small print taketh away."
Paul Krumhaus
CALIBRE
---
"We were not in compliance because the shipment was going to DC #3 and their label requirements are significantly different from DC #2 across the street."

Deanna K. Peters CPIM, CSCP
Printpack, Inc.
---
"Really, it's not the fine print, it's the 100 pages duplication and contradictory requirements."

Kevin R. Clark

Western Digital, Branded