Category: RFID, Automated Data Collection, and Internet of Things
Will DNA-based Identifiers Supplant Bar Codes, RFID?

University of Washington and Microsoft Researchers Claim Breakthrough in Technology that was too Hard Previously

| | |
| --- | --- |
| Nov. 11, 2020 | SCDigest Editorial Staff |
| | |
Researcher from the University of Washington and Microsoft Research have claimed a breakthrough in producing item identifiers using strands of DNA.
Supply Chain Digest Says...

The research also found that by dehydrating the strands after the initial tag assembly, the tag's shelf life can be extended and contamination from other DNA in the environment can be minimized.

---
What do you say?
Click here to send us your comments

Click here to see reader feedback
The technology could replace existing bar code and RFID identifiers for some applications and even more broadly.

The engineers say they developed a fast, reliable and low cost system of "molecular tagging" that uses DNA sequences to identify objects.
The approach is not new. But writing in the prestigious journal Nature Communications, the University of Washington's Kathryn Doroschak writes that "Molecular tagging is not a new idea, but existing methods are still complicated and require access to a lab, which rules out many real-world scenarios."
With a very small physical footprint, the technology could be used to track objects that are too small or too expensive given the number of items needing to be tracked to use bar codes or RFID.
The university and Microsoft researchers call the method "Porcupine." While more traditional auto ID technologies use radio waves (RFID) or printed lines and reflected light (bar codes), Porcupine's identifiers are composed of predefined sequences of synthetic DNA strands called molecular bits, or "molbits".

"We designed the first portable, end-to-end molecular tagging system that enables rapid, on-demand encoding and decoding at scale, and which is more accessible than existing molecular tagging methods," the article says.
The initial prototype system used 96 molbits, which can be combined to create billions of unique combinations.

(See More Below)


In the system, a portable nanopore device is used to program and decode the tags within seconds.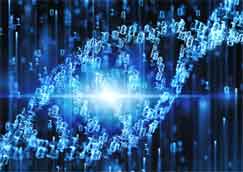 "We wanted to prove the concept while achieving a high rate of accuracy, hence the initial 96 barcodes, but we intentionally designed our system to be modular and extensible," says co-author Karin Strauss, from Microsoft Research.
"With these initial bar codes, Porcupine can produce roughly 4.2 billion unique tags using basic laboratory equipment without compromising reliability upon readout," the article adds.
Recent advances in DNA sequencing technology allowed the team to develop a system that is inexpensive and user-friendly. DNA is notoriously difficult to read and write, but by using synthetic, prefabricated strands, the cost could be lowered.

The research also found that by dehydrating the strands after the initial tag assembly, the tag's shelf life can be extended and contamination from other DNA in the environment can be minimized.
Because the molbits are just few hundred nanometres in length, a billion tags could fit within a single square millimeter.
This mean the molecular tags can be used on extremely tiny or flexible surfaces. It also means a layer of security can be added, because since they cannot be detected by sight or touch, preventing tampering.
"This makes them ideal for tracking high-value items and separating legitimate goods from forgeries," says Washington's Jeff Nivala. "A system like Porcupine could also be used to track important documents. For example, you could envision molecular tagging being used to track voters' ballots and prevent tampering in future elections."

Any reaction to the possibili ty of DNA as an identifier? Let us know your thoughts at the Feedback button below.
Features

Resources

Follow Us

Supply Chain Digest news is available via RSS

Newsletter

Subscribe to our insightful weekly newsletter. Get immediate access to premium contents. Its's easy and free
Enter your email below to subscribe:
Join the thousands of supply chain, logistics, technology and marketing professionals who rely on Supply Chain Digest for the best in insight, news, tools, opinion, education and solution.