---
Walmart, the world's largest corporation, is fresh out with its 2015 sustainability report, the eighth such document it has produced.
The 2015 document is quite remarkable, with Walmart more aggressively than ever redefining its corporate mission from delivering quality products at everyday low prices to making the world itself a better place, in almost missionary terms.

The Green Supply Chain Says:
So we now have the truly social enterprise, from the company that was once at the top of the blacklist for social progressives - what a change.

What Do You Say?

Click Here to Send Us Your Comments
"For years we've also been thinking in broader terms about what an item actually costs society to produce and deliver - from the bottom to the top of the supply chain - the "true" cost of a product." Walmart states early on. "The net true cost considers issues such as waste-to-landfill, greenhouse gas emissions, economic mobility, worker safety and food safety. These are all examples of the effects production may have on the environment, in local communities, or on the people who grow and make what we sell."
It adds: "We believe a business should strive for not just the lowest prices, but the lowest true cost for all. Low prices benefit customers, but low true costs benefit everyone."
The document is actually titled the "Walmart Global Responsibility Report," which by itself may give some indication of its tone, but the 2014 version - the first under current CEO Doug McMillon - was not nearly as in your face about Walmart's zeal to remake the world as the 2015 report is.
"In addition to tackling social and environmental issues in our own operations, we need to actively engage in and reshape the systems in which we work," it says.

As an example of this change in tone for 2015, Walmart says one of its missions is to create "economic opportunity for our associates, suppliers and people who work in retail and retail supply chains beyond Walmart." Yes, Walmart now is taking on the task of improving the lives of retail workers generally, whether or not they are employed at Walmart or some other chain. It says it will do that by "clarifying retail career paths, better pre-employment training, more innovative and relevant on-the-job and supplemental training and credentials that employers will accept for advancement."
Note that statement references "employers," not Walmart specifically.
This is some pretty deep stuff, and may have long term business and social ramifications, not only in the US but maybe even across the globe.
Another quote: "In everything we do, we set bold aspirations for social and environmental outcomes. We seek to change the way the retail industry operates so that the improvements go beyond Walmart and are lasting."
Walmart's Three Sustainability Platforms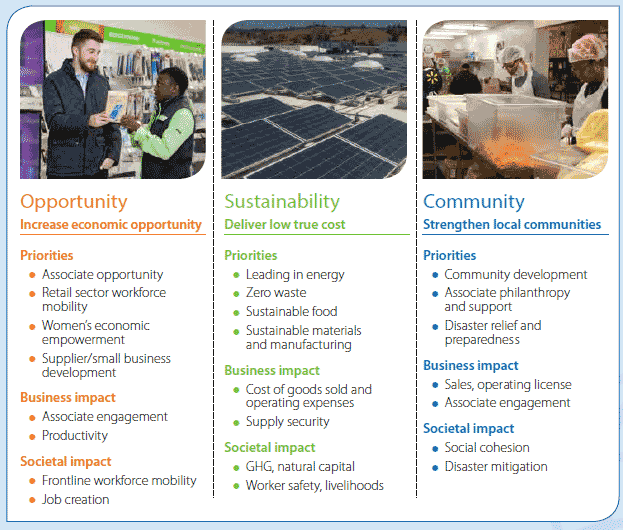 So we now have the truly social enterprise, from the company that was once at the top of the blacklist for social progressives - what a change. This is obviously going much further than the environmental focus that first pushed Walmart in this direction. Can it pull it off? Can Walmart do all this and keep its price advantages in the marketplace, if it starts focusing on what it views as true social costs?
Those of course will be among the key questions, in this remarkable change in direction for the company over the past few years generally and even more so with this 2015 report. Just a few years ago, the main focus was on keeping shelves stocked with Tide at a market leading price. Now, it's to save the world.
On the employee side, Walmart famously announced plans last year to move associate pay up to a minimum of $9.00 per hour immediately, and then to $10.00 in 2016. It is also increasing minimum department management pay from $13.00 per hour to $15.00 per hour.
Walmart is also addressing the growing concern over retail associates generally not getting sufficient hours, or having their schedules jerked around by last minute call-ins or cancelations of shifts, driven by workforce management systems that react to what is happening in-store right now. New York state just announced an investigation into this issue across 13 retail store chains.
Walmart says in the report that "associates in the US can see schedules two and-a-half weeks in advance, well above the standard in the retail industry." It also says that it is piloting a program called Scheduling Choice that will help coordinate fixed shifts for associates who want stability. These associates will work the same hours each week, giving them a predictable paycheck and allowing them to plan their lives around work.
So this is the new, new Walmart. Wow. It will certainly place pressure on other major retailers to adopt similar policies.
The report is 137 pages long, and we can't begin even to summarize all that's in here in one short article. So we are going to leave it here for this week, and will be back with more specifics on Walmart's Green supply chain programs and progress next week.
We could be at an inflection point in the global supply chain.

Is Walmart on the right track in its mission to save the world - or is it going to far? Let us know your thoughts at the Feedback button below.


TheGreenSupplyChain.com is now Twittering! Follow us at www.twitter.com/greenscm