SCDigest editorial staff
The News: A recent report from APCQ shows a significant gap between the best and worst performers in procurement effectiveness, even after dismissing areas where company specifics make comparisons difficult.
The Impact: Many of the measures are process and overhead related, which tend to be less visible to companies than raw spending. This report should give companies reason to look hard at procurement practices.
The Story: APCQ, as part of its Open Standards Benchmarking Collaborative, recently released a major report detailing comparisons between a large number of companies and their procurement effectiveness and results.
Broad industry benchmarks are difficult in any supply chain area because of industry and company-specific differences, but much of the data here should be useful and illuminating for most companies.
For example, while the cost and time to execute a purchase order can vary by the complexity of the transaction, the range of the costs in the benchmark report would seem to illustrate an important gap in pure effectiveness.
As shown in the figure below, the difference between the top performers ($5.37 per $1000 of procurement spend, $35.88 per PO) and the laggards ($28.09 per $1000 of procurement spend, $506.52 per PO) seem unlikely to be due to only procurement or industry-specific attributes.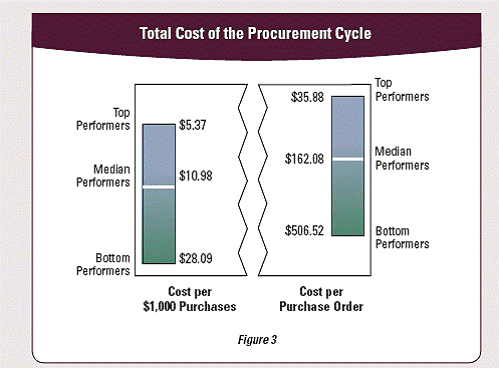 Source: APQC Performance Benchmarks: Procurement
Other highlights of the report include:
Number of Purchase Orders Processed per Procurement Cycle FTE: Leaders in the survey were able to execute 2214 POs annually per full time equivalent in procurement, versus 611 for the median performer and 248 for "laggards."
30.7% of respondents said they operated in a centralized procurement organization, versus 69.3% who were decentralized.
Automation has an impact on cost. While not clearly defining what "automation" means, the report finds that companies that either have automated or are in the process of automating have a cost per PO of just $7.41, versus $19.21 for those that are not pursuing automation. Similarly, companies with automation were found to be able to process $1 billion in procurement with 34.5 FTE's, versus 74.6 FTE's per billion without automation.
While seeing value in developing "strategic suppliers," 39% of respondents characterized less than 2% of their suppliers as being in the "strategic" category. 23% said 2-5% were strategic, 17% had between 5 and 10% strategic suppliers, 16% between 10 and 25% strategic suppliers, and 5% have more than 25% of suppliers as being deemed "strategic."
58.4% of respondents said the focus of supplier selection and management was on "total cost." While this is considered the right approach, SCDigest's experience is that this number is high in terms of true practice. The discrepancy may be simply the result of respondents indicating they follow this practice in theory, even if the reality is somewhat different. 15% said the main criterion was simply "price," while 10.&% cited quality as the main procurement driver, 6.4% the ability to deliver on-time, and 8.6% unique supplier capabilities.
Perhaps surprisingly, 43.5% of respondents said 100% of their purchase orders were executed electronically. A further 9.4 percent said more than 90% of purchase orders were electronically executed.
18% of respondents said they have formal scorecards for all or nearly all suppliers. 58% have formal scorecards for some suppliers, while 25.9% have not implemented formal scorecards.
The report also later attempts to identify the characteristics of procurement automation, and what the benefits are for both direct and indirect materials. Results are included in the figure below: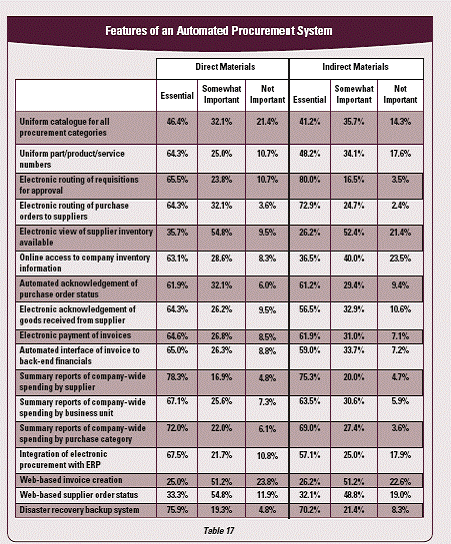 Source: APQC Performance Benchmarks: Procurement
There is a lot more, but these are the highlights. While as with all general benchmark studies the data has to be filtered in terms of all the variables that affect companies specific performance, there is enough here to provide a good indication to most of where they stand in terms of procurement effectiveness.
Does any of this data in the report surprise you? Do you believe the gaps between the best and laggard performers are a dramatic as the data suggest? Let us know your thoughts.