SCDigest Editorial Staff
Ingram Books is the world's largest wholesale distributor of books, managing over 1 million titles and servicing tens of thousands of customers retail customers.
At the recent CSCMP conference in San Antonio, Don Clayton, VP of Logistics Analysis for Ingram, described for attendees how an innovative approach to order wave simulation had uncovered key insights and enabled it to significantly improve fulfillment processes.
Ingram's DC operations have some inherent challenges, given that almost all of the volume is "piece pick" based, with same day order-ship policies, and some significant peaks and valleys of order flow. It also had to manage significantly increased levels of value-added services, and huge increases in consumer direct shipments. The consumer direct shipments not only drove up the total volume of work substantially, but significantly drove down the average number of lines per order, which in turn led to greater use of batch picking and downstream sortation.
As the scope and needs of these customers advanced, however, Ingram found the work in its four U.S. distribution centers was growing increasingly complex. To manage all the unique fulfillment scenarios, Ingram had developed a slew of different "pick wave" types to meet ever more precise customer order profiles and DC processing needs.
Sound familiar?
According to Clayton, the company decided that exploring simulation of this environment was likely to result in a number of benefits:
Provide insight into dynamics of a complex operation, and what the real bottlenecks and constraints were?
Improve staff utilization and scheduling
Better manage flow of work through the DC
Optimize use of sortation equipment (e.g., a Crisplant sorter), and improve batching rules and sizes
Create a test-bed for evaluating order processing strategies without adversely impacting operations
Ingram hired consulting company TranSystems to develop a simulation tool, which would basically ride on top of the company's existing, tier 1 WMS.
Ultimately, the tool enabled Ingram to do several things:
Get a better handle on what was really happening with order volumes by type, customer, seasonality, etc.
Understand what the cost and processing times were for different waves types and scenarios under current practices
Improve those practices based on understanding the data
Simulate what the effect of changes in wave practices and policies would be before actual implementation
Give wave planners better real-time tools to understand how the wave would flow through the DC and to better balance the work load for optimal results.
Like many companies, for example, Ingram sometimes found that completing the last few percent of a wave could take a very long time, leading to operational complexity. The simulation tool could help them better understand what was causing the end of wave issues, and present new approaches to mitigate the problem.
The graphic below offers just one example of the kind of insight the tool provided, here showing analysis of how long a order available for picking during a wave sat between initial release and picker activity, and how well utilized for the wave pickers would be by pick zone.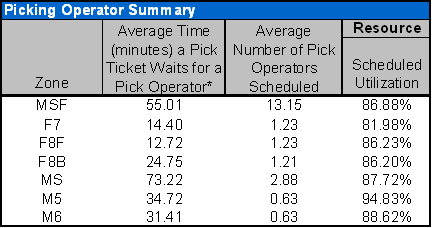 Source: Ingram Book Group and TranSystems
Through use of the tool, Ingram was able to make a number of operational improvements to reduce picking costs and streamline order and material flow.
In some cases, Ingram reduced complexity in the number of wave types it would try manage. The information highlighted some areas where it DC standards needed improvement, and even identified some problems in its actual configuration of the WMS (e.g., pick zone definition). The DC had been primarily optimized around picking efficiency, and according to Clayton the data is showing there may be benefits in making some trade-offs between picking efficiency and downstream packing and shipping operations.
Ingram also used the tool to confirm prior to deployment the positive impact of some new picking strategies in one DC, and significantly improve the actual order wave building and release process by giving planners better data about how the wave will impact various processing areas.
For the initial implementation of the tool in the company's La Vergne, TN distribution center, data was collected for about 5 months. For the second DC to go live with the simulator, only 2 months of data was used before deployment.
Clayton noted that in most cases, wave planners have no real incentive to dig into the issues and try to drive continuous improvement. While the tool has had a number of benefits, according to Clayton, "The main benefits were to force us to review our DC processes, and to better understand how specific decisions we made impacted operating results."
Key Insights: It's easy for creeping growth in DC complexity to really start to impact effectiveness without real insight into how or why. Simply blaming complexity itself doesn't lead to improved results. However, you do it, get your arms around what the data is telling you.
Is growing complexity in DC order processing and wave management negatively impacting DC effectiveness? What can be done about it? Are simulation tools like this the answer? Let us know your thoughts.
Related Stories:
Warehouse Management: To Wave or not to Wave?