SCDigest editorial staff
The News: New research from ARC Advisory Group shows very positive results from implementation of incentive pay programs in warehouse operations
The Impact: Labor Management Systems overall, and incentive pay programs as an element of those initiatives, are becoming increasingly mainstream in distribution and logistics.
The Story: ARC Advisory Group survey 200 companies about their use of and results from incentive pay programs in the warehouse. The results were very positive, with the vast majority of incentive program adopters reporting strong productivity gains and benefits in other areas, such as employee morale and retention.
The respondent base was somewhat skewed towards companies in the consumer packaged goods, grocery, food and food service industries, but would seem to have applicability more generally as well.
Of those companies using some type of incentive pay systems, results were strongly positive. As shown in the diagram below, approximately 77% of respondents reported productivity improvements of 10% or better from such programs. (Note: we suspect the results are really intermingled here between the results of LMS solutions overall and the incremental benefit from incentives).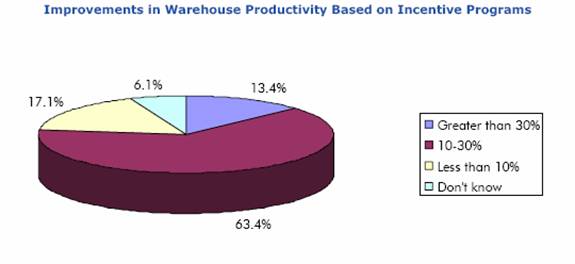 Source: ARC Advisory Group
In addition to these productivity benefits, a significant percentage of respondents also reported benefits in the following areas:
Employee morale/satisfaction
Worst performing employees migrate out
Overall turnover decreased
Barriers to Adoption
Given this strong track record of success, which confirms several other studies on related topics, why don't more companies adopt such programs?
Lack of accurate data to support the programs was the number one reason cited by the survey respondents. Of course, Labor Management System software is designed to provide such data. Increasingly, companies are looking to outside providers for such solutions, though historically some companies have built systems in-house.
The second reason cited as a barrier or reason not to pursue incentive systems was the perception that they would not be "fair." In reality, this is probably just the other side of the first objection, a lack of accurate data, because with the right data incentive systems can be very fair to employees. Where there is a problem is if an associate gets credit for say X number of cases from picking a full pallet while another has to make 10 stops to generate the same amount of case pick "credits."
Smaller percentages of respondents cited such things as the inability of the payroll system to handle incentive pay, the fear of decreased quality, and plans to use more 3PLs as reasons to not pursue incentive pay systems in distribution.
The report's author, Steve Banker of ARC, recommends that that companies that choose to build incentives on top of granular labor standards implement the program in two phases. In the first phase, use no incentives! Instead bring the great majority of employees up to the targeted standards. In the second phase, employ incentives to reward employees willing to exceed expected work levels."
Should most companies adopt incentive programs in the warehouse? Why or why not? Let us know your thoughts.