SCDigest editorial staff
The News: Aldo, a leading retailer of footwear and related products, was not only able to implement a new highly automated distribution center and WMS very successfully, it did so while simultaneously implementing a variety of other enterprise technology.
The Impact: Aldo's story illustrates how a detailed, fully staffed, and disciplined project can lead to success, whereas many other such projects run into major difficulties before ultimate success, and sometimes outright failure.
The Story: Consultants from Deloitte Canada detailed last week at the Catalyst International's user conference how Aldo Corp. was able to successful implement a new highly automated DC.
Aldo is a leading international retailer of footwear and related produces, under a variety of store banners including Aldo, Feetfirst, Stoneridge, and others. It has over $1 billion dollars in sales, with more than 800 stores in Canada, the U.S. and the U.K., and has been experiencing rapid growth.
Facing inadequate distribution capacity to support that growth, Aldo decided to build a new, highly automated DC near its headquarters in Montreal. The facility ultimately would comprise more than 500,000 square feet (over 800,000 including mezzanines), and be highly automated, with more than 6 miles of conveyor and use a very high speed tilt tray sorter.
Incredibly, this major project was undertaken at the same time the company was implementing a new ERP system (Retek/Oracle), new supplier collaboration tools, and new point-of-sale software. Many of these systems had to go live on the same date. In an era where too many "big bang" projects go sour, Aldo's highly successful implementation is a testimony to its highly disciplined approach.
The DC itself needed to support both push (original distribution) and pull (replenishment) models, as well as both flow through and wave processing. The company selected Catalyst as its WMS provider based on its close fit with operating requirements, but even then a number of modifications were required to support all the interfaces to the automation systems, adding to project complexity.
The project took about two and a half years from the beginning of the detailed design to the first go live date in mid-2004 (see total time line nearby). It has delivered a number of benefits to Aldo, including supporting expected growth through at least the rest of the decade, dramatically reducing the receipt to shipment cycles (in some cases, from 36 hours to 10 minutes ), delivering a 32% increase in labor productivity, greatly reducing the DC processing time required to "open a new store," and increased overall flexibility. Because the overall processing of the system is so fast (up to 14,000 items per hour on the tilt tray sorter, for example), Aldo can make different decisions about how to process a given day's worth of work based on its profile.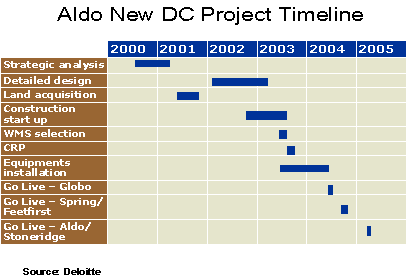 What is most impressive is the efficiency with which it seems Aldo, with Deloitte's help. managed the project. Keys to this success, which provide some potential lessons to others implementing new DCs or supply chain projects, include:
Use of a dedicated project manager (Deloitte) with both significant responsibility and accountability
Disciplined project management structure, starting with an executive steering committee and a variety of sub-teams and committees, with strong coordination among these teams. A lack of such team coordination often is the root of project challenges.
Hiring of new managers at Aldo to help with the project effort, rather than relying on existing staff with other jobs to do.
Incredibly detailed and on-going engineering effort, leaving nothing to chance, from the installation of the sorter to height of aisle lights.
A strong focus on communication and use of a series of project management to not only keep the project on track, but to facilitate that communication. Those tools included traditional project management-type applications, but with "event management" systems built-in to alert team members when say a due date for a specification was missed; and on-line "war rooms" where team members could see and post a variety of information related to their efforts.
Use of actual "super users" to do much of the system testing, which then also served to train these employees in detail how the system worked
In a project of this scope, a strong cross application/system testing schedule, which highlight testing dependencies and where there was risk to the testing schedule
Smart phasing in of the business to the new DC
Like all projects of this size, there were challenges. In some cases, delays in one area meant testing had to be focused on truly critical items necessary to meet the go-live schedule, with catch-up testing plans for non-mission critical items.
Said SCDigest editor Dan Gilmore: "The Aldo DC story is one of the more rigorous and relatively painless implementations of this scope I have seen in recent years."
The Deloitte team consisted of four full-time consultants for the overall design and project management, and 8-12 additional Deloitte team members on the software/technical side depending on the period.
What is the key to large scale DC or other supply chain system projects? Can "big bang work if done right? Let us know your thoughts.