Supply Chain Digest has released its 2006 Warehouse Management System (WMS) Total Cost of Ownership calculator. The spreadsheet model is free for registered and new subscribers to Supply Chain Digest. It will allow you to easily calculate the TCO for a general warehouse management system project, or to compare the TCO of WMS systems between vendors. This is a critical step in WMS vendor selection and evaluation.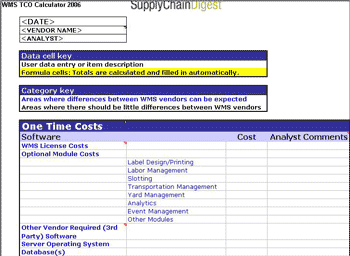 To download Supply Chain Digest's WMS TCO calculator, click here.
To read SCDigest editor Dan Gilmore's column on Supply Chain Software TCO, click here.
Look for TCO calculators in other applications areas as well as other new tools from Supply Chain Digest soon.