Dan Gilmore
Editor
The News: Alien Technology opens new testing and training facility, among the most physically impressive in the industry.
The Impact: The center offers companies an attractive new alternative for testing and education, as Alien continues to move beyond being simply a manufacturer of tags and readers.
The Story: Alien Technology, a provider of RFID tags, readers and related services, opened its new RFID Solutions Center near Dayton, OH, on Monday. The new center features 23,000 square feet of testing and educational space, and will offer companies a broad array of capabilities, technologies and expertise in support of real-world RFID applications.
As the number of RFID labs and testing facilities continues to grow, Alien may have upped the ante with the scope of its new center. The facility is organized into different application areas, such as shipping, material handling, and retail in-store applications, which are designed to closely emulate real-world conditions. Each area is supported with a wide range of hardware and software components, including product from Alien's competitors, as well as a long list of providers of tag printers, print and apply machines, material handling equipment (e.g., high speed conveyors, storage racks, stretch wrappers, etc.), RFID middleware and other application software, and other technologies.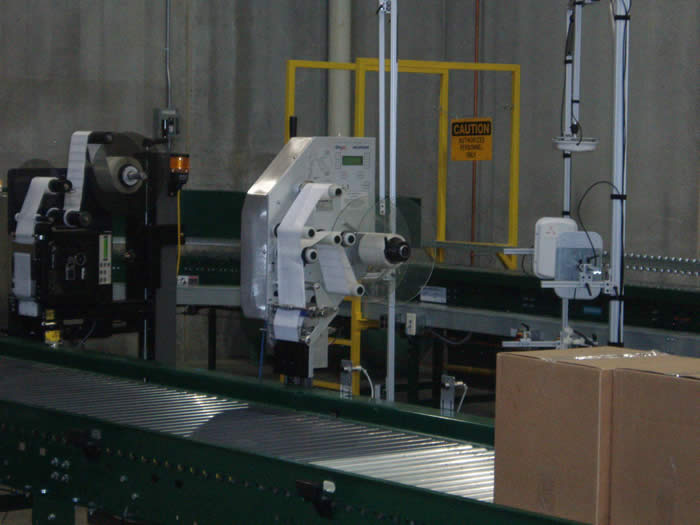 The High-Speed Conveyor Loop in the Alien Solutions Center Features Several Print and Apply Machines. Behind the Conveyor Sit Different Reader Arrays that Can Be Wheeled into Place to Test Performance from Different Manufacturers.
Stav Prodromou, CEO of Alien Technology, told SCDigest that the initial staff of 12 could double within just a few months, with an ultimate target of 75-100 employees. The company will begin holding most sessions of its popular "RFID Academy" education at the new facility, and provide many services to help companies move "from pilot to fully scaled roll-out," said Prodromou.
The idea for the center started in 2002, Prodromou said, and the Dayton area was quickly among the short list candidates do to the level of related expertise in the area, its location, and cost of operation. The Dayton area, which was pivotal in the growth of bar code technologies, has many companies and universities involved in auto ID solutions and research. As part of the opening, Alien announced collaborative relationships with five nearby universities involved in RFID education and research, including the Auto ID Center at Ohio University in Athens, OH.
General Manager of the center is Damon Bramble. Bramble announced a new program in conjunction with center's opening that Alien calls FLIER, or "Flexible Logistics Information Environment for RFID." The idea of FLIER is to offer at the center a broad array of RFID application software, such as middleware, analytics, integration software, etc., and let customers experience performance and results with different combinations of these tools as an element of their testing.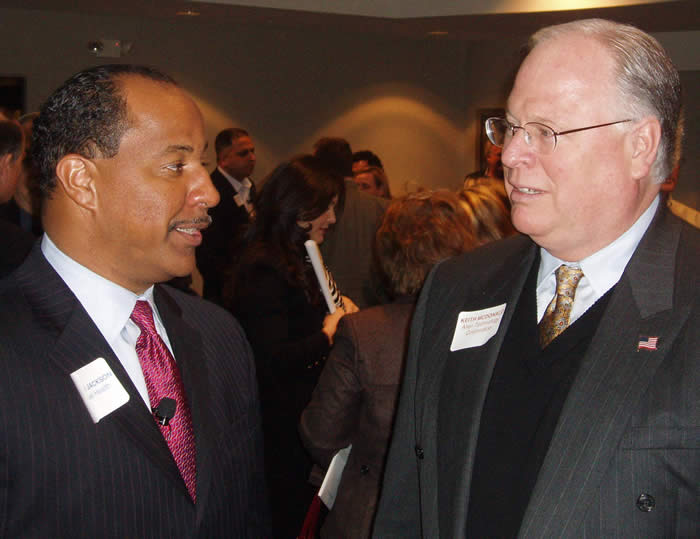 Cardinal Health's Renard Jackson and Alien's Keith McDonald, Sr. VP of Sales and Marketing, at the Solution Center opening.
The opening featured a number of end user guests, including Renard Jackson of Cardinal Health, Jamshed Dubash of Procter & Gamble/Gillette, Denton Clark of Lockheed Martin, Lorna Estep of the U.S. Air Force Material Group, and Alan Estevez of the Department of Defense, each of whom offered some comments on RFID and the center.
Cardinal's Jackson said his company, a drug wholesaler, is currently working on a pilot with Alien for RFID tracking of individual pill bottles, which will then be aggregated into cartons and onto pallets all using Electronic Product Code (EPC) technology. But the application is challenging, Jackson said, requiring the tags to be read, encoded, and read again at minimum speeds of 120 items per minute.
"Pharmaceutical industry technology in this area [tracking] has not really changed on a long time," Jackson said. He also noted that some estimates suggest up to 10% of the drugs in the marketplace are counterfeit, and that RFID can likely provide a consumer benefit by ensuring authenticity.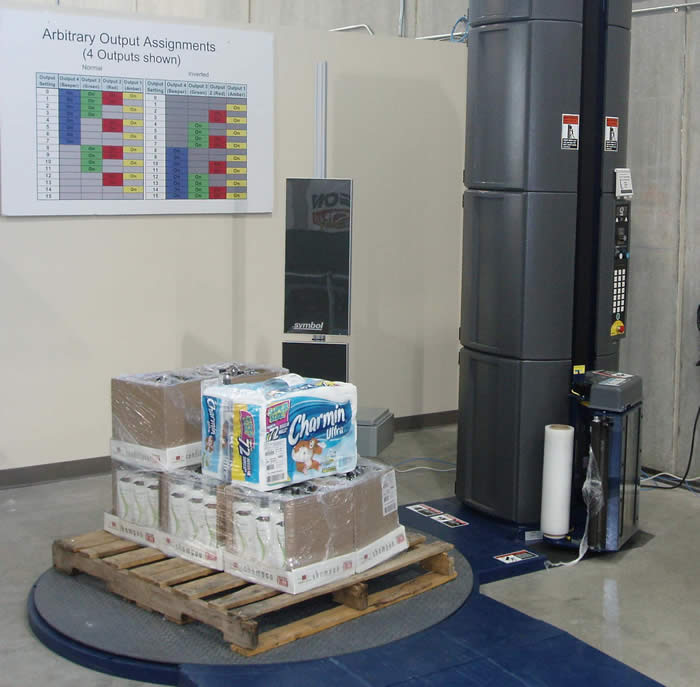 The Solution Center features a variety of material handling and storage equipment, including this stretch wrapper with RFID reader for product testing.
Prodromou said there are several ways for companies to contract with the center, and that a price sheet for various services and rental of the facilities is available from Alien. He also said there is a defined process for other hardware and software providers to be included in the center's technology portfolio, through a Solutions Partner Agreement, which generally requires a modest fee for vendor participation.
Article key words: RFID, RFID Test Labs, EPC