Category: RFID, Automated Data Collection, and Internet of Things
RFID, AIDC, and IoT News Round-Up for Feb. 10, 2021

RFID Data Driving New Level of Analytics for the NFL; RFID Maker Impinj Sees Stock Price Soar; Popular Bar Code Scanner App Contains Malware

| | |
| --- | --- |
| Feb, 10, 2021 | SCDigest Editorial Staff |
| | |
Below are three of the top stories in automated data collection, RFID and the Internet of Things in recent weeks.
RFID Revolutionizing NFL Analytics
Did you know the National Football League is broadly using RFID to track movement and activities of players, officials, balls and more.
It is – and the resulting data from the tracking is revolutionizing analytics in the NFL.
According to an interview by digitaltrends.com with John Pollard, vice president of business development for Zebra Technologies, the NFL has bought into this in a big way.

Supply Chain Digest Says...

This week, Impinj was trading at about $64.00 – a nice gain if you bought it at $13 per share when the market tanked in March

---
What do you say?
Click here to send us your comments

Click here to see reader feedback
"Every player that participates in a game, whether they're on the sidelines or on the field, has RFID tags in their shoulder pads." he said in an interview with Digital Trends. "Most players have two tags - one on each shoulder pad, sometimes with a third one between the shoulder blades."
Pllard says the field officials are also tagged, as are the pylons and the yardsticks on the field. The ball itself has an internal RFID tag as well.
The tags communicate with a series of receiver boxes that are permanently installed around the perimeter of all the stadiums in the NFL.
The tags on the players communicate receivers 12 times per second. The ball itself resends its data 25 times per second.
With that ocean of data, you can track where players are on the field, accurate within a couple of inches. The analytics can tell a player's proximity from their own teammates and opposing players, and also capture their speed for an independent player or a series of players.
The tag inside of the ball allows measurement of metrics such as velocity and rotational information, and to determine the height of throws, punts, and kicks.
All this, in case you didn't know, has been happening for the past seven NFL seasons.
The RFID-based technology is transforming the use of metrics to gauge performance, adding information about each player's speed, acceleration, location, and time.
"But really, those raw measurements are just the tip of the iceberg," Digital Trends says.
There's a large array of derivative statistics that can be calculated by combining and correlating all these data points — things like Average Intended Air Yards, Expected Completion Percentage, and Completion Percentage Above Expectation.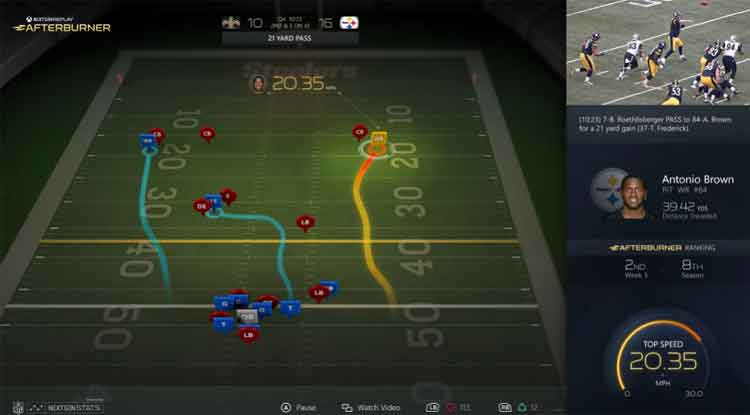 So, for example, with this data the NFL calculates "completion probability," based on numerous factors such as receiver separation from the nearest defender, where the receiver is on the field, the separation the passer had at time of throw from the nearest pass rusher, and more.
Does what the NFL is doing with RFID lend some insight on how supply chain professionals might think about use of RFID in their operations? It would seem quite likely to us.
Impinj Stock on a Tear
We have been following the interesting path of the stock price of RFID tag and reader maker Impinj since it went public in mid-2016.

(See More Below)


At its IPO, Impinj opened at a price of $14.00 per share. From there, the stock price headed generally higher through July of 2017, when it reached more than $49 per share, more than triple the IPO price.
Since then it is largely been a rollercoaster ride, with the stock bounding up and down – until recently.
As can be seen in the chart below, starting in November Impinj's share price started rising, then after a month of flatness in December at around $42 per share, it took off in early 2021.
Impinj Stock Price

This week, Impinj was trading at about $64.00 – a nice gain if you bought it at $13 per share when the market tanked in March. The recent rise came after the comfpany released preliminary fourth-quarter results that were far above its previous guidance.

Impinj will release its final fourth-quarter results on Thursday.
Update to Popular Barcode Scanner App Contained Malware
Downloaders of a popular bar code scanning app on the Google Play Store in December found it generatirf adware on potentially millions of Android phones.
The issue just made news this week.
The free app is simply called " Barcode Scanner," and was developed by a company named Lavabird, based in the UK. The app as been downloaded more than 10 million times over many years on Google Play.
The mobile app for a long time was legitimate, trustworthy software - until December.
According to security software maker Malwarebytes, users recently began complaining of ads appearing unexpectedly on their Android devices.

Upon investigation, the researchers pinpointed Barcode Scanner as the source of the ads, and that the change "was heavily concealed to avoid detection."
The update published in early December changed the functions of the app to push advertising without warning. While many developers implement ads in their software in order to be able to offer free versions, recently the shift of apps from something of value to extreme adware generators is becoming more common.
No media sources appear to have been able to contact anyone at Lavabird.

Any reaction to the stories in this RFID/AIDC/IoT round up? Let us know your thoughts at the Feedback button below.
Features

Resources

Follow Us

Supply Chain Digest news is available via RSS

Newsletter

Subscribe to our insightful weekly newsletter. Get immediate access to premium contents. Its's easy and free
Enter your email below to subscribe:
Join the thousands of supply chain, logistics, technology and marketing professionals who rely on Supply Chain Digest for the best in insight, news, tools, opinion, education and solution.