The Widening Impact of the Virus on Society, Business, Supply Chain
I was on the phone this week with a staff member of a major supply chain organization. Like many, he has almost exclusively worked from home since the second week of March.
Nothing surprising there. But what was perhaps somewhat unusual was the fact that he had filled up his car with gas in that early March time frame - and was still on the same tank all these months later, so little was he now getting behind the wheel or travelling any distance.
This just to provide an anecdote on how profoundly the virus pandemic has and will transform our society and therefore our businesses and thus our supply chains.
GILMORE SAYS:
The airlines are only still in business because of huge government bailouts. How long can that go on?


WHAT DO YOU SAY?
Seven months ago, the coronavirus was some odd thing happening in China. But with not quite Walking Dead speed, the virus perhaps literally flew across the globe in short order, and is obviously with us still, accelerating in many ways.
While I get out a bit more than it appears the person referenced at the top of this column, like I assume many of you I live a sort of strange existence. Work at home, make it to the grocery store every other day or so, pick up pizza on Friday, maybe hit a home products store on Saturday morning.
I actually am modestly obsessed with thinking through the multi-level impacts of our changing behaviors on so many things.

Let's consider our now rarely driving friend again. He and others like him are buying much less gas, so gas station are hurting. So I assume are soda makers and companies that make cracker packs and other suppliers to convenience stores, where there must clearly be large drops in store traffic.
I would assume oil changes are down, as are new tire sales, and the auto repair sector and anyone else whose business is tied to miles driven (not to mention state gas tax revenues).
Insurance companies are issuing refunds for auto policies, as the risk for accidents fall with the reduction of time on the road. That could become a big issue for insurers eventually.
Soon it will hit the auto sector itself hard if things don't turn around quickly. Cars will last longer, and need to be replaced less frequently. The perceived value of a new car may decline if all it is needed for is to drive to the grocery store every now and again. No SUV needed for carpooling to school in the morning.
The millions of workers connected to the auto industry one way or the other will be impacted, maybe dramatically. Not only factory workers at OEMs and parts suppliers, but at steel and aluminum companies, dealer sales people, and so many more.
You get the idea.
There may be some modest return to normalcy if we do come up with a vaccine or cure for the virus. But so much of the change will be permanent, and transform how most of us live our lives.
Here are a few areas I have been especially following:
The Economy: Is a new Depression coming? It seems certainly possible. The first estimate for Q2 US GDP came out Thursday, showing a massive decline of 32.9% versus Q1 on an annualized basis.
That is by far the worst quarterly reading since they started measuring it in 1947, nearly four times the worst quarter in the Great Recession of 2008-09.
Another 1.4 million laid-off Americans applied for unemployment benefits last week. It was the 19th straight week that more than 1 million people have applied for jobless aid. Before the coronavirus erupted in March in the US, the number of Americans seeking unemployment checks had never exceeded 700,000 in any one week.
The economy is terrible, but so far we have avoided huge corporate layoffs. That may not be far away. It is clear millions of the jobs lost are not coming back for years.
The initial stimulus package and the Federal Reserve pumping cash into the economy have avoided catastrophe and kept the stock market high, but even with a new stimulus bill in the offing that scenario will not last forever. Worse times are to come, I am unfortunately believing.
The Retail Sector: Brick and mortar retail was already of course in decline, a victim of ecommerce generally and Amazon specifically, and new consumer behavior. That decline has accelerated.
Ecommerce sales were up a strong 14.8% in Q1, about in line with previous quarters. But awaiting Q2 numbers from the Commerce Dept., many predict in the stay at home economy that we will see 20% ecommerce growth.
It will not take many quarters of that to kill off most traditional retailers outside grocery, mass merchants, home products, auto parts and maybe a few others. The apparel sector is of course most at risk, with many questioning whether department stores or malls - and hence specialty apparel stores - are even viable. I sure hope they are wrong, even as I never go to a mall.
But things are going to be very different from here on out, as Amazon and Walmart eat what's left of the retail world.
And again looking to the cascading effects, think not only of the huge number of workers in retail who may be out of jobs with nowhere else to really go, but all the businesses beyond product vendors that depend on the retail sector for their own sales, from point of sale system providers to manikin makers to secret shoppers. And just when RFID was actually starting to gain some critical mass at last.
Robotics: As with many of the trends, this one is really seeing a pandemic-induced acceleration of an existing movement, but who doesn't believe the use of robots will rise even more rapidly than the fast trajectory it was already on?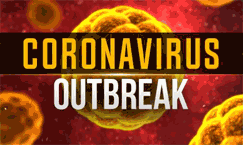 Some will be adopted to reduce infection risk. As we've reported previously, Tyson is rapidly testing robotic chicken deboners even though humans can for now at least do the job better - because robots don't get the virus.
Restaurants are said to be looking hard at robots of all sorts to take the human out of the equation for customers that are demanding "touchless" food preparation.
The pizza guy spinning out dough into a 16 pie - likely an endangered species, as with burger flippers, onion ring makers and many more.
The robots of course are coming fast and furious in supply chain too - with the pandemic giving some cover to companies looking for the right timing for robotic transformation.
The Airline Industry: I have a friend that flew his family to Montana this week. I ask him if he felt safe.
He said Yes - because here was hardly anyone else on the plane. That with flights down like 80% from normal levels.
The airlines are only still in business because of huge government bailouts. How long can that go on?
Air travel volumes will take many years to recover, and they likely won't even modestly improve until a cure or vaccine is found.
So do giant government subsidies simply go on forever? Does air travel almost go away here in 2020?
Millions of jobs and our way of living our lives are at stake.
There is so much more to write about, and I soon might: the impact of on-line schooling, the end of sports, the end of museums, theater, etc., the hollowing out of big cities, declining populations, the end of newspapers, so much more.
It won't reverse and or even slow much of this, but a vaccine can't get here fast enough.

Any reaction to Gilmore's thoughts on the huge impact of the virus on everything? Let us know your thought at the Feedback section below.