More Predictions from Our Supply Chain Gurus for 2013


We're back this week with what will be another fun column on the supply chain and logistics predictions from some of the industry's top thinkers.


Last week, we featured highlights from the prognostications of analyst Lore Cecere of Supply Chain Insights and combinations of analysts at Gartner and IDC Manufacturing Insights. Then in our OnTarget newsletter, as promised, we provided the full, longer text versions of what each sent SCDigest. Very good.


GILMORE SAYS:
"As surprising as it may be, Tyndall says a growing number of companies are realizing they do not really have a clear operations/supply chain strategy."

WHAT DO YOU SAY?
Same pattern this week: I will summarize some highlights here from the six other gurus I cajoled once again into sending me their predictions. Some you undoubtedly will know by name, others maybe not, but I can assure you each is a smart observer of the supply chain scene, or we wouldn't have them. Then next week you'll get the full transcripts of what each sent me under the duress of my constant email reminders relative to the impending deadline. You will enjoy that.
So with that, let's get right to it, starting with Mike Regan, president of TranZact Technologies, a very active member of NASSTRAC, and real advocate for shipper interests, whom I asked to ponder likely developments in the transportation sector.
Unless there is another "Double Dip" recession, "truckload shippers will be dealing with carrier capacity issues this year, especially in the third and fourth quarters." Regan predicts. That is in part because "The looming change in the Hours of Service rules, effective July 2013, will reduce capacity in the truckload sector. According to some experts, the change in the "Restart" provisions could reduce capacity by as much as 3% to 5%," Regan adds.
Driver shortages will also come into play, with a key questions being "How much are trucking companies willing to raise wages to fill the gap?" (Never enough, history shows, from my view.)
Naturally, "Tighter capacity means that carriers will ask for and get higher rates. The magnitude of these rate increases (5% to 7%) will be higher than what most companies have budgeted," Regan says.
Regan also believes LTL carriers are going to get serious about "dimensionalizing" freight charges similar to what UPS and FedEx have done in parcel - which will be bad news for shippers.
"Shippers who rely upon a single class FAK tariff will hear carriers talk about a multi-tiered FAK rate structure or push for actual class-based pricing based on the freight that is being tendered," Regan predicts. Good stuff - shippers watch out!
I asked my good friend Gene Tyndall of Tompkins International to make some predictions relative to supply chain strategy. He prefers the term "views" to predictions, smartly giving himself a little wiggle room in these volatile times, and here are some of my favorites from the five he offered:
First, as surprising as it may be, Tyndall says a growing number of companies are realizing they do not really have a clear operations/supply chain strategy.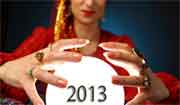 "What capabilities do our supply chains need to provide to the business? My view is that CSCO's are more and more realizing that this is the key strategic question," Tyndall told us. I agree with this completely. My experience is that the SCM capability portfolio is most often reactive - someone in the business says we need this - versus being the result of real analysis and internal collaboration.

Tyndall also believes 2013 and beyond will see true improvement in trading partner collaboration, out of necessity.
"The simple fact is that trading partner cooperation has begun, but collaboration has not evolved," Tyndall observes. He believes that new Cloud-based platforms will support higher levels of collaboration, and this will push more companies into true "demand-driven supply chains."
"I believe more and more chief supply chain officers will jump onto this new operations strategy and "reinvent" their supply chains," he says.
Evan Armstrong of Armstrong & Associates, the 3PL industry's top researcher and analyst firm, offered a number of interesting predictions from that sector.
First, he predicts further continued solid growth in logistics outsourcing that is several times the rate of overall economic growth.
"2013 US GDP growth is estimated at 1.5%. Therefore, overall US 3PL market growth should be similar to 2012, at around 6%, four times GDP growth," Armstrong says. "In terms of 3PL segments, DTM (Domestic Transportation Management) should lead again with strong 8-10% market growth." That's a lot of outsourcing going on.

But the competition is heavy.
"Domestic Transportation Management/Freight Brokerage will continue to become increasingly competitive. The greatest pressure will be on small brokers as bigger players, including Coyote and XPO, strive to gain market share. Gross margin pressure will continue as most players aggressively market services to achieve operational scale." That means rates should come down for shippers, as brokers continue for now to achieve fat margins.
I asked Marc Wulfraat, president of consulting firm MWPVL International, for some thoughts on distribution strategies and technologies. He notes that he spent much of the last year in Europe, where he saw the highest levels of DC automation.

"Ironically, one has to spend time in the old world to see the future!" he notes.
"There is no doubt in my mind that we in North America are on the cusp of a major increase in automation investment for logistics operations in the manufacturing sector, especially for companies producing fast moving consumer goods (FMCG) such as food, beverage and paper," he told us. "In Europe, there are now ASRS warehouse facilities as high as 150 feet that ship 7,000-10,000 pallets daily with only a handful of people."
He adds: "Similarly, in the North American retail sector, we foresee a significant growth in the demand for semi-automated goods to person (GTP) systems. This is a major inflection point, as we have noted many times. "The level of innovation that is happening in this market segment is unprecedented and there is no shortage of companies that are highly interested in acquiring this technology." We agree heartily with all of that.
David Johnston heads up manufacturing industry strategy for JDA Software and is one of the top thinkers in the consumer goods to retail supply chain, the area for which I asked him to offer some predictions. He said he was focused on how "companies will leverage the supply chain to drive business success."
Among a number of predictions, I especially like one that said "Deployment strategies will become more fluid."
What does that mean? "As consumers become masters of 'all channel shopping,' the supply chain will have to adapt to profitably deliver to the consumer. This means that the days of a static product flow of products through the supply chain are over. Investments will be made in profitability managing more fluid deployment strategies throughout the extended supply chain," Johnston says.
Another good one is related to so-called "big data."
"Much of the focus of 'big data' initiatives has been on how to leverage unstructured social data," Johnston says. "In 2013, companies will begin to deliver tangible benefits from initiatives that leverage the massive amounts of data they already have from their supply chain (such as, POS sales, inventories, time-phased plans, promotional programs, inventory policies, replenishment strategies, etc.) to mine for insights, systemic issues and their root causes.
Last, but by no means least, David Schneider of David K. Schneider & Associates and former retail industry logistics executive came through with some thoughts on that sector.
"On the retail inventory management and stocking front, watch many of the brick and mortar big box retailer move more and more assortment to on-line store only," he says. "With all of the talk of OmniChannel distribution, the trend is entering the full swing in 2013."
Along the same lines, "Watch as more e-tailers work hard to figure out same day delivery of the order," Schneider says. "Amazon can throw down the gauntlet by opening up over 100 fulfillment centers and leveraging an inventory mostly owned by others, but what about other e-commerce players? The UPS machine is not set up for this kind of program, and the USPS effort will not have sufficient capital to play in all markets... Still, what price will customers be willing to pay for the ability to get something today?"
Totally out of room, but hope you enjoyed this as much as I did. Trust me, it's not easy. Again, full transcripts next week in OnTarget, including maybe just a few from me this year.
Any reaction to this set of supply chain predictions? Care to send any of your predictions? Let us know your thoughts at the Feedback button (email) or section below.