We have to be impressed with the increased focus in recent years by prestigious organizations like the World Bank and the International Monetary Fund on the role of supply chain and logistics on the global economy.
The latest example: a new report from the World Bank, in conjunction with Bain & Co., released to coincide with the World Economic Forum in Davos this week, that says reducing the friction in global trade in terms of process and infrastucture would increase GDP globally and at a country level by significant amounts, and much more so than reducing tariffs on imports.
First, SCDigest found the following graphic of interest, which shows changes in average tariff levels across the globe versus the growth of global trade. While association does not equal causation, it certainly seems a reasonable assumption that the dramatic decline in tariifs is at least an important factor in dramatic global trade growth.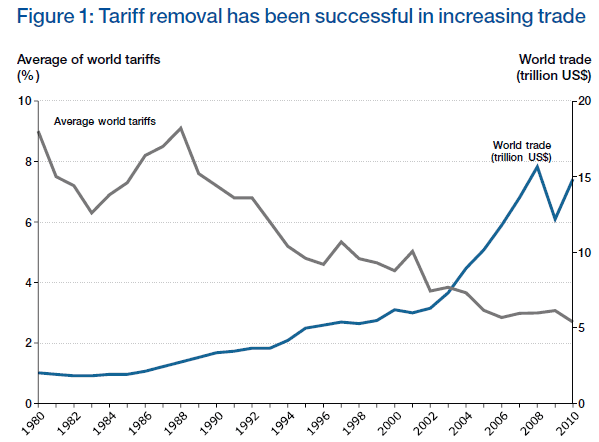 Source: World Bank
Later, the report identifies nine areas where it sees large barriers to trade, broken into four main categories:
Market Access: Quotas, import fees, local content requirements, etc.
Border Administration: Customs efficiency, efficiency of import-export processes, transparency of border administration, etc.
Telecom and Transport Infrastructure: Quality of telecom and transport infrastructure, logistics tracking systems, etc.
Business Environment: Regulatory barriers and rationality, security, etc.
Certainly the middle two categories are directly related to supply chain, and the other two have a big impact on supply chain efficiency.
If improvement could be made in these areas, the impact on economic growth would be substantial, the report says, well above gains that would be seen from futher reduction in tariffs, as can be seen from the chart below.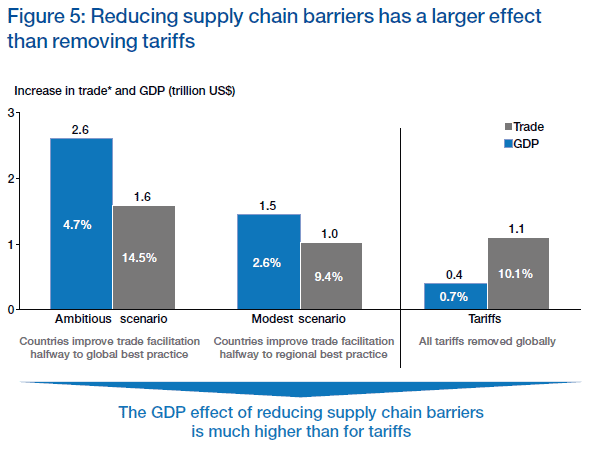 Source: World Bank
Even under the "modest" scenario, in which countries made middling gains in these areas, the World Bank projects a 2.6% increase in global GDP, and a 9.4% increase in total global trade. The numbers for the "ambitious" scenario are even higher, projecting for example a substantial 4.7% increase in GDP - growth that would solve a lot of problems in the world right now.
Will it happen? Progress is generally slow. And not addressed in the report is "balance" - some argue the growth in world trade has led to lost jobs in the US, for example. But interesting nonetheless.
The full report can be found here: Enabling Trade, Valuing Growth Opportunities

Any Feedback on our Supply Chain Graphic of the Week? Let us know your thoughts at the Feedback button below.