Well, I think I am actually in town for a few days here after a number of weeks on the road.
That included stops at the user conferences of Manhattan Associates, RedPrairie, and JDA Software, all large and well known companies, as well as a smaller but interesting company called Datalliance that focuses – very well, it appears - on vendor managed inventory solutions.
I put together video reviews of the Manhattan Momentum conference and RedPrairie's RedShift event, which you may find of interest whether or not you are a customer of either company, as I tried to focus on more general trends and issues rather than vendor specific topics. My review of the JDA Focus conference will be on our web site on Monday.
Attending a string of events like that back to back gives you a pretty good sense of what is going on in the supply chain software market and how companies are thinking about these tools, so I thought I would offer some overall observations.
Gilmore Says:




"The big drivers of competitive advantage will really now be in the skill companies have in best using those tools, and avoiding getting stuck in one place for very long."

What do you say?

Send us
your Feedback here
First, it was simply nice to be at these events in 2010 versus this same period a year ago, when there was a bit of a pall cast over everything as we were near the bottom of the Great Recession. This year, attendance was up substantially at all of the events, the vendors were in very positive moods as the enjoy the growing surge in demand, and attendees overall clearly were back in the market for technology.
This technology interest of course comes from many quarters, but I think I can characterize several main vectors:
The incredible Lean-ness with which companies need to run their ships today from a human capital perspective has them looking for tools that frankly can keep the head count low while they re-grow the top line. More software, fewer planners for inventory or transportation, fewer associates in the distribution center, etc.
Companies really do believe now, in a way that we haven't seen before, that it is possible to build to a truly demand-driven supply chain that makes a step change improvement in inventory management performance. But you need some new tools to get there.
As we noted a few weeks ago, "on-demand" supply chain software is rapidly becoming the rage, and companies are seeing the opportunity to acquire tools with much less pain, risk and upfront cost than they might have experienced in the past. That potential is creating demand.
The breadth of offerings from these big supply chain "suite" vendors is becoming almost breath-taking. In fact, half the battle is figuring out what exactly all the piece parts are and which can be best applied to your situation. That takes some real work.
And, while not perfect, in general the stuff really does work together in increasingly leveraged ways. JDA, Manhattan and RedPrairie all now have a "process platform" of some kind (JDA is smartly adopting the Agile Supply Chain Process Platform that came with the i2 acquisition earlier in the year) that take advantage of Software Oriented Architecture (SOA) to enable, in theory at least, highly flexible capabilities to build tailored workflows and processes much more rapidly and consistently than in the past.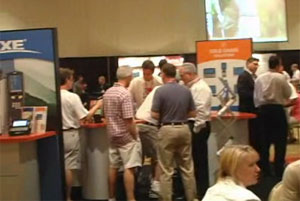 Attendance Up Big at Most Conferences this Year
What this means in part is that you will be able to gain competitive advantage from something that feels a bit like "customization" but really isn't. We're on the journey, not at the destination, but we weren't really on this road at all until very recently.
My sense that we are at a bit of a stand-off in terms of "ERP versus best-of-breed" software. More on this soon from SCDigest, but certainly the best-of-breed folks do not seemed consumed with SAP/Oracle worry as they were five years ago or so. Don't get me wrong, the ERP vendors are still getting their share, but for the moment, we're at something of a point of stability in this on-going battle.
However, as the scope of the offerings from the largest supply chain software players (including some not specifically referenced here), the message from them about the advantages that a large, well-integrated suite can bring (i.e., 1+1+1 = 5) starts to take on an almost ERP-like quality to the story. Walking this line successfully – comprehensive supply chain suite, but focused just on supply chain – will be the key challenge for many of these vendors.
Overall quality of the software is simply better. There are still "bugs," but their scope and severity is simply a shadow of the kinds of problems you could run into in the not too distance past. Indeed, the worry about the "software not working" has dramatically shifted from poor software quality to highly complex configuration requirements coming from more and more capabilities – making it very tough on users to get it right.
I think the vendors all have some work to do in making this process easier to understand and execute – an opinion supported by several casual conversations I had with attendees at all these events. "Give us some help to manage set-up and configuration," they are saying.
Upgrades are an issue still, and users want the vendors to make the process much easier and less expensive. There is still work to do here for sure – and it becomes one of the appeals of on-demand, where in general you would be continually upgraded to the current version without any real technical headaches – or need to justify the upgrade costs. Users realize they are in this bad place where it is hard to justify upgrades or they just don't have the bandwidth to do them, but then they later look up and find themselves years behind the technology curve.
Georgia-Pacific, as just one example, went from 2001 to 2009 without upgrading its planning systems. A lot changed in that time. Some combination of on-demand and better approaches to upgrades from traditional deployments will solve this problem soon, I believe.
Kind of relatedly, I spoke with or attended sessions with several companies which had recently acted on technology-related initiatives that they had known they should have done for years but just had not pulled the trigger. What's interesting is that in several cases they had no real good answer for why the delay.
I am of course not saying companies should be some sort of perpetual-motion supply chain software adopters, and everyone has bandwidth constraints today even if they have the dollars. That said, I do think companies need some way to keep these opportunities more front and center so they get less lost amidst the day-to-day and you wake up and five years have gone by without action in an area where there was clearly ROI. The "Important but not Urgent" opportunities, as Stephen Covey would say.
The bottom line for me: we have simply entered a new era of supply chain software maturity, being shaken up a bit by the on-demand movement, and the big drivers of competitive advantage will really now be in the skill companies have in best using those tools, and avoiding getting stuck in one place for very long.
I have a few sentences left, and just want to say that the recently introduced Senate climate bill has the potential if passed to dramatically impact supply chain practice. We spent a lot of time trying to understand the bill, and created an excellent summary that you can find in our On-Target newsletter that is linked nearby under the Green Supply Chain section. I encourage you to do so. BTW, you will also find a video review of the Warehouse Education and Research Council (WERC) event there as well. I was just in to give a presentation, but was ably assisted in the review by Doug Sampson of Acme Distribution Centers and Jack Ampuja of Supply Chain Optimizers - I think you will enjoy their comments. Supply Chain Digest readers are always above average!
What is you sense about the supply chain software market now? Do you agree or disagree with Dan's perspectives? What other major trends do you see? Let us know your thoughts at the Feedback button below.