From SCDigest's On-Target E-Magazine

- Jan. 5, 2016 -
Supply Chain News: Label Print and Apply Systems in Distribution Center Operations Can Drive Real Value, but It Takes Sophisticated Technology

Labels for Inbound Receiving, Parcel Deliveries and Retail GSI-128 Labels are Common Applications, But Just How Does the Applicator Know What Retail Label to Print?
SCDigest Editorial Staff
Label printer-applicators are of course very prevalent in manufacturing operations, but certainly have many distribution center applications as well, notably for printing of shipping labels, and especially for printing and applying GS1-128 labels (formerly the UCC-128) to meet retail compliance requirements.
The big difference in distribution center applications as opposed to manufacturing is the dynamic nature of the requirements. In general, manufacturing applications involve batches of product that for a time are uniform in size/shape (e.g., cartons of the same SKU), and perhaps more importantly may have the same static product information and bar code identifiers for every label in the batch.

SCDigest Says:

As cartons approach the print and apply system, the GS1-14 SKU bar code is scanned. That triggers the print and apply control software to find the next order for that SKU in the wave.

What Do You Say?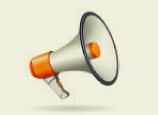 Even serialized individual products, such as in the high tech industry, may not have a unique serialized bar code identifier on the master case itself built in assembly operations (though some certainly do).
Contrast that with compliance shipping label applications, where the size of every box coming down a conveyor line might be different, and more challengingly, not only will some of the data on the label likely change with every label printed, the format (design) of the label itself will vary from retailer to retailer even under the broad GS1-128 standard.
That requirement not only adds to the processing time needed to print and apply a label, it means the printer-applicator needs to be controlled by an integrated software application, often a module of a warehouse control system (WCS), though it might also be a standalone application, or even involve direct control by the WMS, though this is not common.
Many manufacturing applications, by contrast, could be managed with just a standard bar code labeling program such as Loftware, Teklynk, Seagull Scientific and others that operate more in a standalone mode, though those programs can also be connected to enterprise systems as well.
Benefits of Automated Print and Apply in the DC
As the name implies, automated print and apply systems (and they are certainly systems, not just labeling machines) are primarily designed to reduce the labor costs required to label cartons. In receiving operations, for example, floor loaded cartons might be placed on to a conveyor to have a simple bar code serial number label applied to each box. That identifier would later be used in picking and/or pallet build, and the auto labeling process would generally be a lot more efficient than having receiving workers manually applying those labels.
Another common application is to print labels required by UPS, FedEx and others for parcel shipping, either on a standalone basis or integrated into a retail compliant label. Here again, the goal is to let a machine do the labor of applying the labels rather than a DC worker.

In some cases, the print and apply system could be on a conveyor that serves one or more parcel processing lines, where operators use software that communicates with the carrier systems, obtains the correct rate and service information, etc., before pushing the case on to the conveyor for automated labeling. However, many companies use traditional desk top printers for this job and let workers apply the labels themselves as part of the parcel process.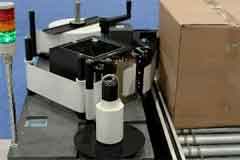 Other systems are fully automated and do the carrier communication and rating right in line as the package moves on the conveyor, often not long before the parcels are loaded into the appropriate carrier truck or staging area.

Typical Shipping Label Application Flow

Similar in many regards from a system perspective to automated labeling for parcel shipments is shipping label application, with again the GS1-128 label figuring prominently for most consumer goods manufacturers, as these labels are required by their retail customers.
(Distribution/Materials Handling Story Continues Below )