From SCDigest's On-Target e-Magazine
Aug. 4 , 2011

Supply Chain News: Survey Shows Procurement Organizations getting Some Relief from Deep Cost Cutting Focus to Adding Value
Lots of "Transformation" in the Air in Procurement, Surevey also Finds
SDigest Editorial Staff
The tepid economic recovery has progressed enough that procurement managers are starting to get some modest relief from the extreme pressure to reduce costs, enabling them to get more strategic and focus on adding value, a new survey from Europe's CPO Agenda finds. Whether that will withstand the latest economic headwinds that has many worried about double-dip recession in the US and Europe remains to be seen.
SCDigest Says:

There remains strong concern about price volatility and supply shortages, with 91% saying they were either very concerned or concerned about these issues, up from 83% six months ago.

What Do You Say?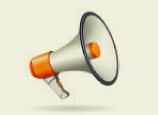 The semi-annual report looks at a variety of procurement issues, based on surveys of mostly European but some North American procurement professionals.
The most recent survey showed, for example, a big decrease in the number of respondents reporting intensified pressure to reduce costs: 68% currently compared with 89% six months ago. The survey also showed some relaxation in pressure to cut spend in discretionary areas such as travel and use of consultants.
This is leading to a move towards an environment in which more sustainable approaches to cost saving is thankfully replacing the more reactive tactics employed during the downturn.
"Companies are broadening their mission for procurement from cost and cash to include adding value," says Rob Woodstock, senior executive in the supply chain management practice at Accenture, commenting on the data.
The data also showed company executives were looking for more help from Chief Procurement Officers to support their company's new growth agendas. The report, for example, cites the case of one consumer packaged goods company in which the CEO is asking the procurement organization to increase the percentage of innovation that is achieved from suppliers.
This environmental change has also led to changes in the priorities procurement organizations have with their suppliers, as shown in the chart below. For example, substantially fewer said they were asking for price cuts compared to six months ago (52 %, compared with 71% respectively); or that they were renegotiating contracts/enforcing price terms (64% compared with 80%).
The overall generally improving economy, and with it a sense of some improvement in stability, has somewhat reduced concerns about potential supplier failures, though the data is mixed. In this latest survey, however, 25% say they had experienced bankruptcy of a key supplier recently, down from 34% six months ago.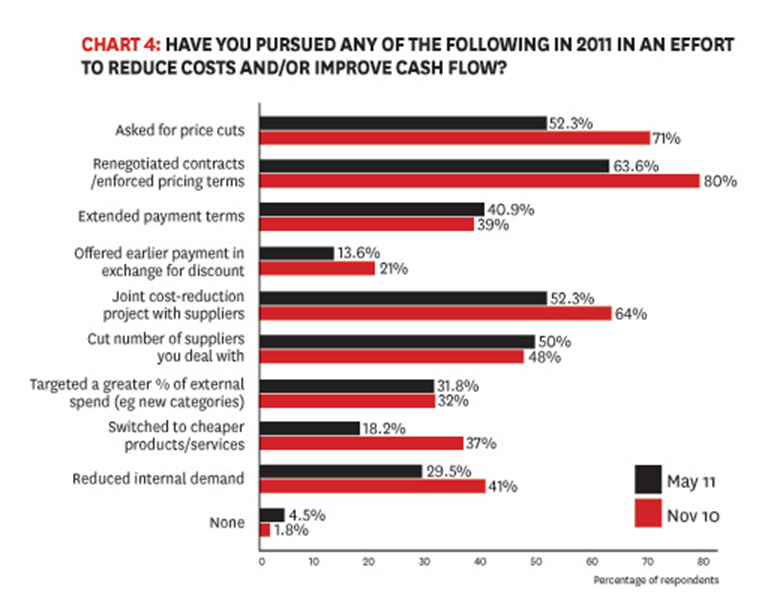 Source: CPO Agenda
The report notes that improved supplier monitoring systems and risk management programs may have somewhat reduced company's concerns about business failure by suppliers by being better prepared and getting earlier warnings about looming supplier financial problems than they would have had before the financial crisis.
"Transformations" of the procurement organization also seem to be in the air. While not providing a clear definition of what transformation means, the survey found that 64.4% of procurement organizations either had gone through a transformation program in the past 12 months or had one planned.

(Sourcing and Procurement Article Continues Below)