From SCDigest's On-Target e-Magazine
July 20, 2011

Supply Chain News: Procurement Outsourcing Growth Has Never Really Reached Predicted Levels
Procurement Processes Connect to Directly to Bottom Line to be Easily Given Up, AT Kearney Says
SDigest Editorial Staff
For the last 5 or 6 years, many studies and pundits have predicted rapid growth for "procurement outsourcing." While the market continues to grow and evolve, it has still yet to take off the way many predicted it would just a few years ago.
Why? Maybe because it is just very hard to do.
SCDigest Says:

"It is difficult to envision it expanding to all indirect spend areas across companies, let alone into direct spend," the Kearney report says. "Expectations that procurement outsourcing will achieve high growth over the next several years may need to be tamped down."

What Do You Say?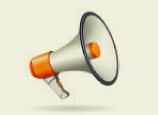 Procurement outsourcing involves the outsourcing of parts or all of a company'sprocurement functions (people, processes, systems, and expenditures) to an external service provider. Not long after the concept started to gain some level of critical mass, a 2007 study by the analysts at The Black Book of Procurement Outsourcing predicted growth rates of 37% for 2008 in the US, and similarly impressive numbers for subsequent years. Most later analyses said those numbers were not closed to being reached.
The consultants at AT Kearney earlier this year forecast a procurement outsourcing growth rate of 12.4% this year and 12% in 2012 (up from 10.6% in 2010 and just 6.6% in 2009). These are decent growth numbers, but not the turbo growth earlier studies had predicted when the concept of outsourcing was first coming to procurement as it long ago had to IT, logistics, and many other functions.
In a report it released earlier this year, Kearney noted that "As far back as 1999, in A.T. Kearney's Assessment of Excellence in Procurement study, executives said they expected to increase their outsourcing of day-to-day procurement activities significantly, and deploy more strategically managed consortia. Yet more than a decade later, procurement outsourcing continues to trail outsourcing in other functions."
Kearney nicely quantifies the gap between predictions for procurement outsourcing growth a few years ago and the reality today, as seen in the graphic below. For example, 40% of respondents to a 2007 Kearney survey expected to be outsourcing at least some operational procurement activities by 2010.
Instead, the actual number last year was just 14%. Not only was that well below the forecast in 2007, the actual percent of companies outsourcing at that level in 2010 was only 4 percentage points above the 2007 figure (10% to 14%).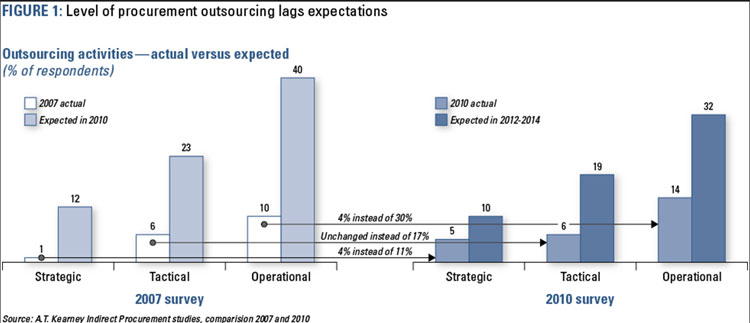 Source: AT Kearney
Kearney notes that procurement activities and effectiveness - whether for direct or indirect materials and services - have a very direct connection to the bottom line, and that as a result "companies are careful not to lose their grip on this important function."

(Sourcing and Procurement Article Continues Below)