CSCMP and MIT on Supply Chain Sustainability
About a month following its State of Logistic report in late June, it is back for the second time with the State of Supply Chain Sustainability 2021 report. It is based in large part on survey data from 2400 respondents truly across the globe, plus in-depth interviews with 21 supply chain executives.
GILMORE SAYS:
WHAT DO YOU SAY?'
CSCMP members can download the report for free. It is available for a modest charge for non-members. I recommend it.
The report was produced by MIT - more specifically, the MIT Center for Transportation & Logistics. The report is certainly smart and thorough, but has a bit of an academic tone.
Here is my review and comment.
Let's start with this. How do you define Sustainability? Here is MIT's take, and it's a mouthful: Sustainability is the management of environmental and social impacts within and across networks consisting of suppliers, manufacturers, distributors, and customers in line with the UN Sustainable Development Goals. This spans every phase of the supply chain, from raw material sourcing and extraction to product use and end of product life."
With that out of the way, the report notes that in 2020, many expected that companies would at least tamper down Sustainability efforts in the face of disruptions and uncertainty.
But MIT says that this was not the case, noting that the "research shows that many large companies in a variety of industries announced new, bold goals on climate change mitigation; employee health and safety; fair pay; diversity, equity, and inclusion; and other issues despite the severe impacts of 2020."

MIT in fact said some executives believed that the pandemic had a limited impact on Sustainability and may even have "accelerated" their company's sustainability efforts.
---
Corbus has a Powerful Portfolio
of Demand To Fulfillment Solutions

---
I will note that didn't necessarily translate into major increases in Sustainability-related spending, as I will cover in just a bit.
The survey found approximately 80% of respondents believe their firm's commitment to Sustainability had either increased or stayed the same since the start of pandemic, while 9% said it had decreased, with another 9% not sure.
Half of the executives interviewed said that customers were the largest driver for change, with only 20% said that governments and investors were a source of pressure on their companies to become more Sustainable, which was different than the survey data.
Of course, that depends on how you define "customer." If it means B2B customers, there is no doubt Walmart, Procter & Gamble, Ford, Apple and many others are providing major pressure on suppliers in this area.
End consumers - you and me - I still think not that much, but growing for sure.
Interestingly, 52% of companies of all sizes (and across the world) said that their companies have Sustainability goals, an increase of 4% from 2020. One-third said their companies do not have such goals, and 15% were unsure.
Did companies really walk the Sustainability talk? MIT in probably its most important observation notes that "while there have been bold commitments in the public sphere, there has been limited change in companies' willingness to invest in Sustainability programs."
The survey found the percent of firms that invested in Sustainability increased by just 1.4%, to 58.7%. However MIT wonders if the lack of growth in Sustainability investments may have been the result of the financial impact and risks associated with the pandemic. Small- and medium-sized firms, actually invested fewer financial or human resources in sustainability efforts
I will end it with this: among a laundry list of Sustainability practices, the most common was codes of conduct for employees and suppliers, in place at 44% of respondents. Number 2 was supplier collaboration (33%) and then "sustainability standards or certifications" (32%).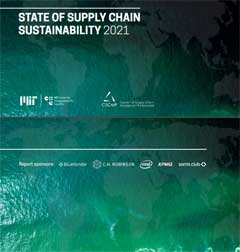 The report concludes with a number of future predictions, including this one: when it comes to Sustainability, very "important will be a willingness to go beyond the basics."
It also raises this question: To what degree will companies with recent net-zero commitments be able to translate them into Sustainability initiatives over the next five years? A very good question indeed.
All told, a very good effort again here from CSCMP and MIT. I found the chart style used for presenting much of the data - a stacked horizontal bar I have used myself in the past - here hmade for very difficult understanding of what the data was actually saying. That is my only real critique.
"This annual status report aims to help practitioners and the industry to make more effective and informed sustainability decisions," MIT noting it all starts up again soon. The questionnaire for next year's report will open in September.


CSCMP members can download the report for free. It is available for a modest charge for non-members. I recommend it.

Any reaction to this report summary? Let us know your thoughts at the Feedback section below.