On a Path to Global Supply Chain Armageddon?
The troubles in the seas and air across East Asia continue to ratchet up. As I have written several times before, this is unlikely to end well, and could make the supply chain disruption seen from the virus pandemic seem trivial by comparison.
I first started writing about this in 2015. Some small number of years before that, China had begun claiming ownership of something called the Spratly Islands, a collection of small landforms - not really what most of us would consider true islands - in the South China Sea.
As the map below shows, these so-called islands are far, far from the Chinese mainland. The sea itself is a huge area, some 3.6 million square kilometers, more than double the size of the Gulf of Mexico.
GILMORE SAYS:
WHAT DO YOU SAY?'
China is clearly hell bent on establishing an ever growing physical presence while claiming control over a vast ocean territory completely contrary to world law.
The waters of the South China Sea generally and around the Spratly Islands specifically are thought to be rich in resources, such as natural gas, with prime fishing areas. The control of the islands would also provide China an attractive position for military control of the entire South China sea, to put it mildly, through which some one-third of all global trade is thought to travel on cargo ships.
Which means this is very serious business.
Vietnam, Philippines and other Asian countries, naturally dispute China's claims, but lack of course the military might to defend their rights.

Official Chinese maps show nine or ten dashes that enclose about 85% of the South China Sea. Beijing takes the position that it has sovereignty to every island, shoal, atoll, rock, and other feature inside that infamous line - claims vigorous disputed by the US and several Asian countries. (See second map below.)
In a decision in 2016, an international tribunal in The Hague World Court ruled against most of China's claims to the sea in a case brought by the Philippines. China has rejected the authority of the tribunal and its finding in the case.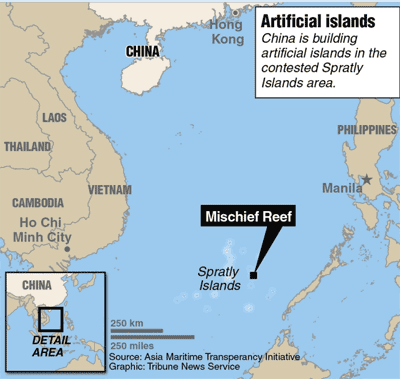 Over the past few years, the US has sporadically sailed naval ships past the islands - almost always "escorted" by Chinese military ships and with threatening rhetoric. Most critically, the US is asserting its "freedom of navigation" rights, as defined by a global treaty that was signed by the Chinese.
In 2018, the US also flew military aircraft over the islands. Across the radio came this warning, delivered in harsh staccato English: "US military aircraft, you have violated our China sovereignty and infringed on our security and our rights. You need to leave immediately and keep far out."
Competing Territorial Claims in the South China Sea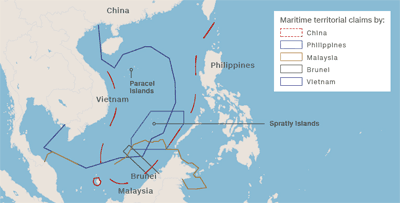 The US is often sailing its navy ships within 12 nautical miles of the Spratly Islands - ignoring the claimed rights to the waters. The UN Convention on the Law of the Sea (UNCLOS) generally grants coastal states jurisdiction over a 12 nautical miles area emanating from the coast.
China is asserting it has the rights to control the waters around the islands it has itself largely created, despite being a huge distance from the true Chinese shoreline.
Actually, this growing cold war involves more than just the Spratly Islands. Six other nearby shoals have been similarly transformed by Chinese dredging to create artificial islands. After that, it has added ports, airstrips, military type facilities and more.
As the New York Times wrote in 2018, "An unexpected encounter in the South China Sea could also set off an international incident. A 1.4-million-square-mile sea presents a kaleidoscope of shifting variables: hundreds of disputed shoals, thousands of fishing boats, coast guard vessels and warships and, increasingly, a collection of Chinese fortresses."
Chinese president Xi Jinping of China has held up the island-building effort as a prime example of "China moving closer to center stage" and standing "tall and firm in the East."
In a 2018 meeting with Defense Secretary Jim Mattis, Xi vowed that China "cannot lose even one inch of the territory" in the South China Sea.
Just within the past week, in what was the trigger for this column, China filled the South China Sea with more than 200 boats lashed together in rows in an act of aggression designed to "squeeze out" other countries in Asia, according the UK's Daily Mail.
The Philippine government's National Task Force-West Philippines Sea said it counted 254 ships as well as four Chinese warships in the Spratly Islands on March 29. The regular ships are believe to be manned by China's maritime militia, a group of sometimes armed civilians in the sea.

In response, on Sunday a US aircraft carrier strike group led by the USS Theodore Roosevelt entered the South China Sea from the Strait of Malacca.
On top of all that, tensions between China and Taiwan, which China claim as its own, are at perhaps all-time highs.
In recent months, China has significantly increased its military activity near the island in response to what it calls "secessionist forces" and "collusion" between Taipei and Washington. That includes flying military aircraft over Taiwanese air space.
Just this week, US admiral Philip Davidson, commander of the U.S. Indo-Pacific Command, said that Taiwan is in China's military sights, warning of possible military action in the next six years, in testimony in front of a Senate committee.

And by the way, under the rubric of the Taiwan Relations Act, enacted in 1979, the US is obligated to come to Taiwan's defense in the case of such an attack.
I am hardly a geo-political expert. But a few things seem clear. The rhetoric continues to escalate, as is the military posturing. And China is clearly hell bent on establishing an ever growing physical presence while claiming control over a vast ocean territory completely contrary to world law.
It is unlikely the US will allow China to simply gain military - and with it economic - control over all of South East Asia. So it will have to push back - and that may at some point turn a cold war into a hot one.
And if that happens, let's just say China souring may turn a bit problematic. As will sourcing computer chips out of Taiwan if China does at some point make a military move there.
The only alternative to a shooting war (though perhaps a small contained one) might be for the US to bail out and simply cede hegemony to China over the whole South China sea - and thus the countries that boarder it.


What do you think of these South China Sea island conflicts? What do you expect to happen? Let us know your thoughs at the Feedback section below.