The Thin Supply Chain Line for April 30, 2020
Seven weeks ago, I wrote a column titled "The Thin Supply Chain Line," which argued that we are seeing supply chains that for now are mostly managing to keep grocery store shelves filled with food and other products - with the once exception of course of toilet paper, but now that problem appears solved and the question has become "Where's the beef?"
But it is a complex process across numerous supply chain functions, from global sourcing to store replenishment, to keep that flow of goods happening - and right now the supply chain line is stretched very thin indeed, with many pressure points and risks.

So once again I am going to report on the past week's news and developments in the thin supply chain line - because who can think of anything else right now?
GILMORE SAYS:
Amazon's Clark declined to cite the numbers of Amazon FC workers that have been infected or died, telling Stahl the number is not that useful.


WHAT DO YOU SAY?
As I indicated last week, I am following three inter-related news threads: public health, the economy, and the supply chain.
On the public health side, we are really in it now, with the "opening up" of many states in terms of what businesses can operate, etc. - even as Los Angeles said it will stay on lock down for at least three more months.
This is of course a huge gamble, and could very likely result in a jump in new cases and, yes, a subsequent return to lock down, which would be a disaster. Why risk lives? As I said early on, I believe the government has models showing the likelihood of an economic collapse maybe even worse than the Depression would result if the economy remains closed. While you may not agree, many are frankly willing to see more lives lost to avoid that also tragic economic outcome.
There was some other interesting if depressing news on the health front this week. Dr. Michael Osterholm, director of the Center for Infectious Disease Research and Policy at the University of Minnesota, issued a dire prediction in an interview with USA Today, saying that without a vaccine, which is likely more than a year away at best, the virus will continue to spread until it is halted by herd immunity. He estimates that would not kick in until 60-70% of the US population has been infected.
In other words, the virus is coming for all of us, lock down or not.
Similar thoughts this week from Swedish doctor Johan Giesecke, writing in the prestigious Lancet medical journal, who said that "Everyone will be exposed to severe acute respiratory syndrome coronavirus 2, and most people will become infected."
He cheerfully added that "There is very little we can do to prevent this spread: a lockdown might delay severe cases for a while, but once restrictions are eased, cases will reappear…[Therefore] our most important task is not to stop spread, which is all but futile, but to concentrate on giving the unfortunate victims optimal care." That actually makes a lot of sense to me.
The economic news trends were almost equally bleak. After one of its economists last week said the global economy was near the bottom and would start growing in Q3, Wall Street giant Goldman Sachs was a lot more negative this week.
Goldman now predicts the unemployment rate in the United States will peak at 25%, matching Depression highs, and up from its estimate of 15% just a couple of weeks ago. And even by the end of 2021, Goldman Sachs sees unemployment above 8%, even though it sees economic recovery in that year.
Meanwhile, a Wall Street Journal article this week said that a growing number of economists now expect a "swoosh" recovery - not the more rapid "V" shaped rebound.
What is a swoosh trajectory? "Named after the Nike logo, it predicts a large drop followed by a painfully slow recovery, with many Western economies, including the US and Europe, not back to 2019 levels of output until late next year - or beyond." I predict "beyond."
Still more bad news - sorry - in the manufacturing sector. Many US factories supposedly closed temporarily due to government mandates or lack of demand are moving to permanently closed status.
For example, Michigan Maple Block Co. furloughed most of its 56 workers at its plant in Petoskey, MI, when the state implemented a stay-at-home order on March 24.
But one month later, the manufacturer of cutting boards and industrial table tops told employees their status had changed from furloughed to fired, as the plant would close for good. The company is moving all the work to a lower cost factory it has in Pennsylvania.
But it's not just small plants that are shutting permanently. Outdoor equipment maker Polaris plans to permanently close a plant in Syracuse, IN, while Goodyear Tire & Rubber is doing the same with a plant in Gadsden, AL.
There are plenty more examples already at companies large and small. US manufacturers shed an incredible 1.33 million jobs in April, though number includes workers in theory just furloughed until better times return.
In more positive news for workers at automobile factories in the US and the parts makers they rely on, the OEMs will soon re-open their US factories - though how many customers will be in a position to buy those shiny new cars remains a question.
There is also some hope more production work will migrate out of China, blamed widely for not being honest about the details of the virus crisis, and move to the US.
There were rumors this week, for example, that Apple will be moving 20% of its iPhone production out of China - but not back to the US, but to low cost India instead.
In the most interesting news of the week, on Sunday night CBS's iconic 60 Minutes television show dug into the issue of whether Amazon is doing enough relative to protections for workers from the virus. The segment featured long-time correspondent Leslie Stahl and a remote video interview with Amazon Sr. VP of Operations Dave Clark and tour of an Amazon FC
SCDigest did a full review of the segment, which you can find here: 60 Minutes Investigates Amazon Virus Protection for Workers in its Fulfillment Centers
Here are a couple of highlights.
While Amazon had previously announced its plan to build its own virus testing labs in its FCs, 60 Minutes notes that "this is still a work in progress. Right now the swab is sent offsite for analysis, and results can take as long as five days."

On the tour, there was video of workers in hazmat suits spraying surfaces with a misting disinfectant.
Stahl ask "And this goes on all day?"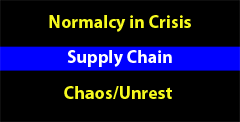 To which Clark responds "Some sites this happens once a week, and some sites this occurs throughout the day every day."

Amazon also showed new portable washing stations that are being deployed in all FCs so workers can wash their hands without needing to walk to a restroom, which are often some distance away.
Amazon also played a video of something in development: a robot that emits a certain type of UV light to kill the virus on surfaces. It could be used one day at FCs and at its Whole Foods unit.
Clark declined to cite the numbers of Amazon FC workers that have been infected or died, telling Stahl "The actual…sort of total number of cases isn't particularly useful because it's relative to the size of the building and then the overall community infection rate."
Well, others disagree. I will note that on Tuesday, a letter sent by 13 US attorneys general asked Amazon and its Whole Foods unit to provide a state-by-state breakdown of workers who tested positive or died from the coronavirus. That could get interesting.
It was another "Where's the Beef?" week, with some 40% of beef and pork processing capacity closed, causing shortages and purchasing limits by many retailers. In fact, a government report found that the majority of US counties identified as hotspots right now are due to rising coronavirus infections linked to outbreaks at meat processing plants.
Think I will end it here - once again, I could have filled up two more such columns.
What are you thoughts on the "thin supply chain line?" Is it the right term for the times? Let us know your thought at the Feedback button below.